The 2015 GTA Spano, also known as the 2015 Spania GTA Spano, is an updated version of the GTA Spano supercar built by Spanish supercar maker Spania GTA.
Description
The 2015 GTA Spano debuted at the 2015 Geneva Motor Show. It is a visually and mechanically refreshed version of the 2010 Spano.
The 2015 Spano uses butterfly doors which are opened by pressing the Spania GTA logo that is located on each door, just between the window and engine. The doors lack door frames.
The front of the car features two large lateral air intakes and a convex bonnet, complete with an aerodynamics streamlining zone to help the flow of air. The rear of the car uses glass with small openings that refrigerate air for the engine. The active rear wing uses under air channeling, fitting into the newly revised rear, while two air intakes and a twin exhaust system emphasize the Spano's supercar character. At the rear is a rear barrel to channel air flow and improve aerodynamic performance.
The car is powered by a 8.0L (7,990 cc) twin-turbocharged, intercooled V10 based on that of the Dodge Viper. The car produces 912 hp (680 kW) and 900 ft·lb (1220 N·m). The car uses a seven-speed CIMA-developed sequential automatic transmission with paddle shifters behind the steering wheel.
The 2015 Spano is claimed to accelerate from standstill to 60 mph (97 km/h) in 2.8 seconds and reach a top speed in excess of 230 mph (370 km/h).
Asphalt 8: Airborne
Summary
The 2015 GTA Spano was added in the Rio de Janeiro Update as a VIP-exclusive car, unlockable at VIP Level 15, the highest possible VIP level.
The 2015 Spano appears as a mid Class S car with the following rank statistics:
Starting rank: 1544
MAX rank: 1681

This was changed to 1680 in the 2019 Spring Update.

MAX+PRO rank: 1770 (+89)

This was changed to 1769 (+89) in the 2019 Spring Update.

0808 Elite Tuning rank: 1763 (-7)

This was changed to 1797 (+28) in the 2019 Spring Update.

Tuning Kit bonus: +32

This was changed to +42 in the 2019 Spring Update.

Stock to MAX+PRO rank difference: 226

This was changed to 223 in the 2019 Spring Update.

Speed Modifier: 97.14%
Performance
The 2015 GTA Spano acts as a Class S, Elite Car version of the Lotus Exige S Coupe, with a high rate of acceleration due to using a high nitro stat. Nitro efficiency has been improved from the 2010 Spano, with 6/12/16.
On a different note, though, the 2015 Spano now has a wider drifting radius, as well as slightly worse handling. This makes the 2015 Spano an impractical choice for tracks like Venice, Sector 8, and Patagonia.
Official review
This is the official review of the 2015 GTA Spano on the Asphalt YouTube channel, made by Viesky Hypersonic and published on September 8, 2016:
Time to reach end of Tokyo straight: 7.080s
Perfect nitro duration: 9.020s
Triple nitro duration: 6.090s
Alps Reverse lap time: 47.388s
Final verdict: N/A
Price
Upgrades cost

 2,026,000 while Pro kits require 15 of each

Epic Drivetrain,
Epic Exhaust,

Epic Suspension,

Epic Tires, 60

Epic Engine, 60

Epic Tech and

 3,348,000.
To obtain the 2015 Spano, a minimum of 40 Vault of Tokens / Master Credit Pack purchases must be made, a total of US$3,892.84 - 4,000 for an equivalent price of

 120,000,000 or 

 600,000. Its debut update required an additional

 2,400 to be paid even after reaching VIP Level 15 but has since been phased out.
This huge paywall, coupled with the Elite Car status and very high upgrade costs, makes the 2015 GTA Spano the most expensive car in the game. Due to the absurdly high cost and a very low "bang for your buck" level, it is never viable to go through the VIP levels to get this car.
Usage
Overall, the 2015 GTA Spano is nothing more than a collector's item and a showcase of its owner's wealth as practically every other high-end Class A/S car is significantly less expensive in comparison to purchase and upgrade with comparable performance.
While the 2015 GTA Spano was updated in the 2019 Spring Update to only require 32 V12 Engine cards from the original 52, its extreme buying price negates any benefit in saving the engine cards over upgrading the Icona Vulcano V12 Hybrid (x80), Lamborghini Aventador SV (x64), Pagani Huayra BC (x64), Aston Martin Vulcan (x64), Ferrari Enzo Ferrari (x32) or Apollo Intensa Emozione (x92).
Even the TRION NEMESIS is a better choice, as it can be obtained for

 3,275,000 - 4,000,000 (worth one Master Credit Pack and an extra

 275,000 - 1,000,000) and McLaren P1™ GTR is priced at

 13,500 (worth one Vault of Tokens), respectively; although the NEMESIS requires 64 Forced-Induction V8 cards and the P1 GTR requires 64 Hybrid Engine cards, both are still better choices than the 2015 Spano, especially due to lacking Elite Car status yet still being better than the Spano in terms of overall performance. In fact, the amount of Credits that can be obtained from 40 Master Credit Packs is equivalent to buying a TRION NEMESIS 30 times.
In terms of pre v4.1 Car Mastery rewards, the 2015 Spano awards only

 100; while that is the most for any vehicle in the game, the 2015 Spano does not award any other useful rewards.
Being an Elite Car, the 2015 GTA Spano is not capable of being fully utilized for farming in its Mastery Challenge 15 (set in Ipanema Showdown and a Flawless race), something which the aforementioned McLaren 675LT, GT by CITROEN, and McLaren MP4-31 are capable of (with Dubai Reverse, The London Eye, and Dubai respectively as the Mastery Challenge 15 tracks for the latter three cars).
Tune-ups cost

 3,500 and takes 2h 30 min to finish. The Sixth Anniversary Update removed the car's Elite status.
Alternate procuring methods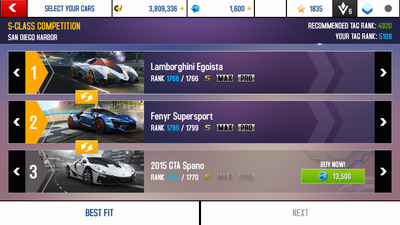 With a short-lived glitch, the 2015 GTA Spano could be obtained more easily outside of the VIP System, but was priced at

 13,500. This has since been patched with the 2015 GTA Spano no longer viewable in the garage or selectable for races.
Certain YouTubers that played the game and were promoted as the "faces" of the game, such as NEKON, did receive the car for free as a gift from Gameloft, regardless of their VIP level.

Vehicles in Asphalt 8: Airborne