The 2019 Spring Update is the 32nd update for Asphalt 8: Airborne.
Announcement
WHAT'S NEW
Embark on a new quest for the hottest rides!
SPYKER C8 PRELIATOR
Welcome the Spyker C8 Preliator: a striking, 600-horsepower beauty with a full carbon body. The perfect ride for aficionados of precision driving—now with its own dedicated Championship!
PININFARINA H2 SPEED
The first highly efficient hydrogen-powered race car in the world—and it's yours to experience! The Pininfarina H2 Speed is waiting for you in an all-new R&D Event.
EQUUS BASS 770
A premier muscle car is speeding into your garage. Win the Equus Bass 770 in an exclusive new Championship!
REZVANI BEAST X
Feel the power of the beast! Don't miss the Rezvani Beast X in the upcoming R&D Event; this Class-A ride won't be here for long!
INVENTORY REWORK
We're making significant improvements to the way our inventory system works! Navigating the inventory is much easier, and it's better structured to help you find what you're looking for.
New Vehicles
Class C
Class B
Class A
Class S
The new vehicles will need the following Engine cards:
i4 Engine

V8 Engine

Spyker C8 Preliator (x48)

Legendary Electric Engine

Pininfarina H2 Speed (x60)

Forced-Induction V8 Engine

Equus Bass 770 (x40)
McLaren 600LT (x92)
Game Changes
Gameplay Changes
Pro Kit Boxes

Following an official announcement [1], Pro Kit Boxes now do not grant bike-specific cards.

This includes the Finish Line Box which was one of the few boxes that had a very high drop rate of bike parts.
Bike-specific boxes can now only be obtained from Moto Blitz races. This makes it impossible to obtain any bike cards for players who have already played the available Moto Blitz seasons (besides buying the Special Offer: Bike Box for Tokens).
As there is no way left for theses players to obtain bike cards, the above-mentioned changes practically turn all bike upgrades into Token-only upgrades.

Not announced, but equally significant for the update: Pro Kit Boxes now do not grant Blueprints, except for the dedicated Beginner BP Box † and Advanced BP Box †.
Exceptions from the above-mentioned restrictions:

The Compact Shuffle Box and the Compact Split Box still grant bike parts and blueprints. If players have any of these boxes left in their pending boxes list, it is advised to open them wisely, for example during a bike event.
The Ultra Fusion Box † now doesn't grant blueprints, but did grant Rare Tech since the update (albeit with a very low rate of less than

1 %

). As this may change with the next update, players searching for bike tech may consider using their Fusion Points for Ultra Boxes before updating.
The time-limited Enhanced Split Box ( 

275

for 11 cards) still grants bike engines and bike parts. See box page for details.

New boxes: Rookie Biker Kit and Advanced Biker Kit. These boxes are only granted as rewards for Moto Blitz helmets and replace all other helmet rewards.
The amount of obtainable Finish Line Boxes per day has been reduced to 1 for non-VIP players and 2 for VIP players (already prior to the update, after the end of the Spring Fling 3 Multiplayer Season).
The B-, A- and S-Class Parts Special Offer boxes now have two different prices, depending on where they are offered:

B-Class Parts Special Offer:  

375

on "Get Boxes" tab,  

400

in Exclusive Deals
A-Class Parts Special Offer:  

425

on "Get Boxes" tab,  

450

in Exclusive Deals
S-Class Parts Special Offer:  

450

on "Get Boxes" tab,  

500

in Exclusive Deals

The content of R&D Basic Kit Boxes and R&D Advanced Kit Boxes has been redesigned. The percentage of Tech cards is now variable. This means that the official drop rates can no longer be used to infer a guaranteed number of Tech cards for every particular box, but show the average relative frequency in the long run.

This also means that there is no more distinction between type 1 and 2 boxes.
The number of engines and parts is still fixed for every box.
R&D Boxes from former events are not affected.

Players can watch an ad after opening a box to get an extra card twice a day.
The

Hot Wheels Engine

cards are now unobtainable.

All the vehicles added from this update onwards have a base nitro stat of 6 mph (10 km/h).
The amount of Credits obtained from regular Career Mode races has been significantly reduced. Example: Base credits for Season 8, race 39 (Dubai)'s payout was reduced from  

4,550

to  

1,200

. Base Credits for Season 9 and McLaren Legends Season have been left untouched.
The Holden Coupe 60 is no longer Blueprint-buildable and has been removed from the Garage for non-owners.
Moto Blitz seasons are rebalanced.
MAX upgrades now require an online connection, presumably to prevent players that keep a single account on multiple devices from experimenting with MAX tunes.
Unlimited MP tickets: the refilling time per ticket was reduced from two hours to one minute.

Before the change, which took place on April 22, players entering free (non-ticketed) races were being rounded up into segregated lobbies, presumably to encumber team boosting.

R&D Proto Keys are now refilled individually.
Lamborghini Egoista Blueprints and Season Tickets are no longer offered as rewards for watching ads.
The maximum amount of credits that can be multiplied via Double Credits from ads were reduced from  

6,000

to  

1,400

.
The upgrade costs for 154 vehicles were decreased.
The upgrade costs for 94 vehicles were increased.
The ranks for the following 104 vehicles were changed:[1]
Several vehicle prices were changed.
Cosmetic Changes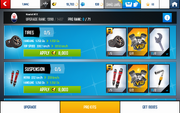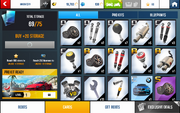 The Daily Kit Box † has been redesigned.
The UI for Pro Kits, Inventory and Festival Bundles were redesigned.

The price box, component icon, and upgrade stats are now smaller.
Pro cards are larger, and the required amount for an upgrade appears as an overlay.

Partially met requirements are highlighted in orange
Completed requirements are highlighted in blue with an accompanying tick

The inventory now has a separate tab for boxes, gives the option to open them all at once, and filters Pro cards and Blueprints.
Festival Bundle rewards now have resized thumbnails, no longer have the translucent background and are spaced more closely.
Events
Exclusive Vehicles
Bugs / Glitches
Unavailable Nitro Starter ads

: Some players experience a vanished Play ad! button for Nitro Starters when starting races while the Tuning Kit button is still displayed. Workaround: Playing a Tuning Kit ad first lets the Nitro Starter button reappear (Android).
The screen for doubling earned credits by watching an ad becomes unresponsive if an ad is played, race restarted with the "Replay" button and the race is finished for the second time (seen on Android).
System notifications about keys and tires being fully restored appear right after the first key (tire) gets available instead of when all keys (tires) get really available (seen on Android).
McLaren 600LT display error: The 600LT may be displayed as three question marks (???) on the car name at some devices.
The following glitches still persist from the preceding updates:

Temporarily higher box prices: When the update is rolled out, box prices in Exclusive Deals jump back to previous much higher prices for players who haven't installed the update, even if it's not yet available for their platform (Android). Installing the update fixes the box prices.
Old School collection notification.
Aggressive AI after restarting races
Pro kit inventory doubled
Post-Update Screen
Trailer
Trivia
This update has the following firsts:
References