The 2019 Spring Update is the 32nd update for Asphalt 8: Airborne.
Announcement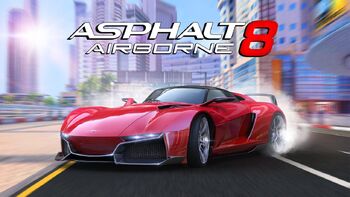 WHAT'S NEW
Embark on a new quest for the hottest rides!
SPYKER C8 PRELIATOR
Welcome the Spyker C8 Preliator: a striking, 600-horsepower beauty with a full carbon body. The perfect ride for aficionados of precision driving-now with its own dedicated Championship!
PININFARINA H2 SPEED
The first highly efficient hydrogen-powered race car in the world-and it's yours to experience! The Pininfarina H2 Speed is waiting for you in an all-new R&D Event.
EQUUS BASS 770
A premier muscle car is speeding into your garage. Win the Equus Bass 770 in an exclusive new Championship!
REZVANI BEAST X
Feel the power of the beast! Don't miss the Rezvani Beast X in the upcoming R&D Event; this Class-A ride won't be here for long!
INVENTORY REWORK
We're making significant improvements to the way our inventory system works! Navigating the inventory is much easier, and it's better structured to help you find what you're looking for.
New Vehicles
Class C
Class B
Class A
The new vehicles will need the following Engine cards:
i4 Engine
V8 Engine

Spyker C8 Preliator (x48)

Legendary Electric Engine

Pininfarina H2 Speed (x60)

Forced-Induction V8 Engine
Game Changes
Gameplay Changes
The amount of Credits obtained from regular Career Mode races has been massively reduced. Example: Base credits for Season 8, race 39 (Dubai):  1,200. Base Credits for Season 9 and McLaren Legends Season have been left untouched.
The Holden Coupe 60 is no longer Blueprint-buildable.
Moto Blitz seasons are rebalanced
Upgrading a vehicle now requires the player to have an active internet connection.

This is likely due to security measures.

R&D Proto Keys are now refilled individually.
Types 1 and 2 of R&D Basic Kit Boxes and R&D Advanced Kit Boxes now display misleading drop rates that reflect the average of both types instead of the correct percentages.

This also means that type 1 and 2 boxes now share the same slot in a player's inventory and cannot be distinguished any more.
R&D Boxes from past events, however, still have separate slots.

Following an official announcement,[1] the Finish Line Box does not grant bike tech and parts any longer. It was one of the very few boxes that granted Rare and Pro Tech, and it had a very high drop rate of bike parts.
Unopened Pro Kit Boxes are now kept in a separate tab.

The inventory gives the option to open all remaining boxes at once.
The inventory has a card filter for Pro Kits and Blueprints.
Players are given the option to watch an ad after opening a box to get an extra card.

The upgrade costs for 154 vehicles were decreased.
The upgrade costs for 94 vehicles were increased.
The ranks for the following 104 vehicles were changed:[1]
Cosmetic Changes
The Daily Kit Box † has been redesigned.
Pro Kits have been redesigned

The price box, component icon, and upgrade stats are now smaller
Pro Kit cards are now larger with the required number appearing as an overlay

Partially met requirements are highlighted in orange
Completed requirements are highlighted in blue with an accompanying tick
Events Schedule
Rezvani Beast X R&D April 10th, 2019
TBA
Bugs / Glitches
Unavailable booster ads: Some players experience a vanished Play ad! button for Nitro Starters when starting races while the Tuning Kit button is still displayed. Workaround: Playing a Tuning Kit ad first lets the Nitro Starter button reappear (Android).
The following glitches still persist from the preceding updates:

Temporarily higher box prices: When the update is rolled out, box prices in Exclusive Deals jump back to previous much higher prices for players who haven't installed the update, even if it's not yet available for their platform (Android). Installing the update fixes the box prices.
Delayed loading (Android)
Gameplay lag (Android)
Aggressive AI after restarting races
No loading screen when replaying/restarting races
Post-Update Screen
Trailer
Trivia
This update has the following firsts:

The first to no longer be compatible with iOS 8.
The first Asphalt appearance of Spyker.

This update reuses the Holiday Update icon featuring the Lamborghini Centenario.
References