The 2020 Lunar New Year Update is the 38th update of Asphalt 8: Airborne.
Announcement
The following text was published on the Gameloft forum[1]:
Celebrate the Lunar New Year with Special Edition red-and-gold cars, a ton of rewarding events and a Lunar New Year-themed limited-time track!
PARTY IN PATAGONIA
Patagonia has been re-skinned in honor of the Lunar New Year! Find this special version of the track for a limited time in the Events section!
LUNAR NEW YEAR COLLECTION
You can finally get your hands on the previously released Lunar New Year car designs, including the Mercedes-Benz SLK 55 AMG Special Edition, Audi R8 e-tron Special Edition and the TVR Sagaris Special Edition!
Play in the Lunar New Year event to win the Special Edition of the Infiniti Project Black S and finally complete your collection of Lunar New Year cars!
NEW WAY OF OBTAINING KIT CARDS
This new feature will allow you to collect Kit cards from previously released Festival cars like the Terzo Millenio! Coming soon after the Lunar New Year Festival is over!!
NEW SHOP SECTION
The "Get Boxes" section has been replaced with "Bundles", a new tab full of promotions, hot deals and free offers!
New Vehicles
The new cars will need the following engine cards:
i4 Engine
Car-Specific Kit Cards

Infiniti Project Black S Special Edition (x220)
Ferrari SF90 Stradale (x220)
McLaren Senna (x220)
Game Changes
Gameplay Changes
Cosmetic Changes
New app icon of an Infiniti Project Black S Special Edition.
New loading screen of an Infiniti Project Black S Special Edition in Patagonia with Lunar New Year decorations.
New icon type for the Festival Coin Pack which approaches the design of Card Packs in Asphalt 9: Legends.
New "Nitro Pickup" sign on the HUD to let the player know that a nitro bottle has just been picked up.

There is also a medal relating to nitro bottles picked up in a race.

Lunar New Year versions of Crystal Lake and Avalanche Alley, called Snowy Spring Festival, were added with modified routes and are only accessible during certain Time-Limited Events.
Exclusive Vehicles
February 5-8, 2020
February 10-14, 2020
Events
Bugs/Glitches
Pro kit issues: On Windows, the following issues were encountered with regards to Pro Kits. All of these were fixed 3-5 days after the update was released.

Selling a pro kit part for causes the game to crash.
The Cards inventory does not update when an entire stack of Common- or Rare-rarity pro kits is sold for .
The game now shows a "We are trying to connect to the server." message whenever a pro kit part is sold for regardless of the server's actual status.
Applying any pro kit upgrade causes the game to crash.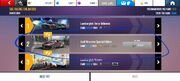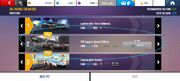 Post-Update Screen
Trailers
Trivia
References