The 2020 Lunar New Year Update is the 38th update of Asphalt 8: Airborne.
Announcement
The following text was published on the Gameloft forum[1]:
Celebrate the Lunar New Year with Special Edition red-and-gold cars, a ton of rewarding events and a Lunar New Year-themed limited-time track!
PARTY IN PATAGONIA
Patagonia has been re-skinned in honor of the Lunar New Year! Find this special version of the track for a limited time in the Events section!
LUNAR NEW YEAR COLLECTION
You can finally get your hands on the previously released Lunar New Year car designs, including the Mercedes-Benz SLK 55 AMG Special Edition, Audi R8 e-tron Special Edition and the TVR Sagaris Special Edition!
Play in the Lunar New Year event to win the Special Edition of the Infiniti Project Black S and finally complete your collection of Lunar New Year cars!
NEW WAY OF OBTAINING KIT CARDS
This new feature will allow you to collect Kit cards from previously released Festival cars like the Terzo Millennio! Coming soon after the Lunar New Year Festival is over!!
NEW SHOP SECTION
The "Get Boxes" section has been replaced with "Bundles", a new tab full of promotions, hot deals and free offers!
New Vehicles
Class B

Drako GTE (Festival, added on March 11, 2020)

Class A
Class S
The new cars will need the following engine cards:
Car-Specific Kit Cards

Drako GTE (x220)
Infiniti Project Black S Special Edition (x220)
Lotus Evija (x220)
McLaren Senna (x220)
Game Changes
Gameplay Changes
Pro upgrades for some vehicles now require different amounts of Tech cards for Drivetrain than for other sections (maybe the same with Nitro for Nitro-focused vehicles). For example, the Ford GT (2017) now requires 7x Mid-Tech and 18x Advanced Tech for Drivetrain, but 7x Early/Initial Tech, 11x Mid-Tech and 7x Advanced Tech for all other sections.
The "Get Boxes" menu in the Shop has been replaced with a new "Bundles" menu that consists of four Daily Bundles—Free, Beginner, Master and Champion—with the latter three costing real money to purchase. Unlike the Daily Kit Box, where the timer was only reset when it was claimed, the Free Daily Bundle's timer counts down to 0:00 UTC.
Pro Kit Boxes:

Due to the replacement of the "Get Boxes" section, the Daily Kit Box † and the Super Fusion Box † are no longer obtainable.
As a further consequence, all purchasable boxes cannot be bought with in-game currency any longer, for example Champion Kit Box, Black Friday Kit Box, Limited-Edition Mid-Tech etc. Some of them can still be earned as rewards in Mastery or other sections of the game.
While this can be seen as one aspect of Gameloft's annnounced intention to move away from the Pro Kit system, it is most probably also a reaction to the changed legislation on simulated gambling in many countries of the world. For example, China requires the publication of complete sample spaces with drop rates for every single item since 2017.[2] Direct offers of Pro Kit Boxes for real money would be prohibited by law in Belgium since 2018.[3]

Festival Specials simulating a wheel of fortune were added after the New Year Festival and McLaren Senna Festival. This is the first random process in Asphalt 8 to to provide all possible rewards together with their drop rates.
TLEs:

Tokens are no longer offered as rewards in Showdown Cups.

Leaderboard rewards have been removed in Showdown Cups, instead with rewards given for wrecking opponents with the different power-ups.
As a further consequence, Tokens are no longer offered as rewards in Division Cups.

Weekly Sprint Tournaments are no longer featured in Time-Limited Events.
Credits are no longer offered as rewards in Class, Development and Engine Cups.

The rotation for Class Cups was changed from S-D to D-S.

The amount of Credits obtained from Season 9 races in Career Mode has been significantly reduced. Example: Base credits for the Season 9 race for the Falcon F7, set in Rapido Park (Rio), has its payout reduced from  

5,700

to only  

600

. Base Credits for the McLaren Legends Season have been left untouched.
The Buy & Apply option to buy pro upgrades for Tokens has been removed for vehicles requiring Kit Cards.
Elimination and Infected were removed from multiplayer on March 10 with a server-side update.
Cosmetic Changes
New app icon of an Infiniti Project Black S Special Edition.
New loading screen of an Infiniti Project Black S Special Edition in Patagonia with Lunar New Year decorations.
New icon type for the Festival Coin Pack which approaches the design of Card Packs in Asphalt 9: Legends.

This icon is only used in the New Year Festival.

New "Nitro Pickup" sign on the HUD to let the player know that a nitro bottle has just been picked up.

There are also medals relating to nitro bottles picked up in a race.

Lunar New Year versions of Crystal Lake and Avalanche Alley, called Snowy Spring Festival, were added with modified routes and are only accessible during certain Time-Limited Events.
Exclusive Vehicles
February 5-8, 2020
February 10-14, 2020
March 5-11, 2020
Events
Bugs/Glitches
Pro kit issues

: On Windows, the following issues were encountered with regards to Pro Kits. Although these issues disappeared 3-5 days after the update was released, they still occur intermittently on some devices as of February 18, 2020.

Selling a pro kit part for causes the game to crash.
The Cards inventory does not update when an entire stack of

Common

- or

Rare

-rarity pro kits is sold for .
The game now shows a "We are trying to connect to the server." message whenever a pro kit part is sold for regardless of the server's actual status.
Applying any pro kit upgrade causes the game to crash.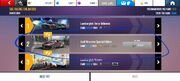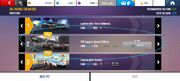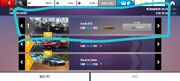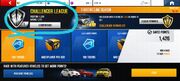 Multiplayer League Error

: The main screen for Multiplayer League can display an incorrect league. The player's position and rating are not affected and will receive the appropriate rewards for the correct league.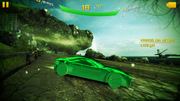 Drako GTE Rim Glitch: An error on the 3D model of the Drako GTE means that its rims are not visible when Infected, instead being covered with a green layer. The rims are visible when the car turns.
Post-Update Screen
Trailers
References
Community content is available under
CC-BY-SA
unless otherwise noted.