The 2021 Christmas Update is the 52nd update of Asphalt 8: Airborne.
Announcement
What's that chill? Is it the winter, or just the cold stares of your rivals? Either way, it's your chance to melt the competition in this hot holiday update!
**What's new**
- Holiday Customizations -
Don your best seasonal style with a new Winter Holiday Avatar, cool decals, and fresh profile icons to spark your spirit of giving (your all).
- The Winter Festival -
We couldn't get Santa's sleigh, but the Bugatti Vision Gran Turismo is still pure magic! And you can put your skills to the test to win it, and more, in the exciting Winter Festival. And be sure to keep an eye on the Calendar for more events and surprises!
New Vehicles
The new cars will need the following cards:
Game Changes
Cosmetic Changes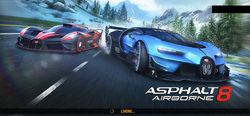 New splash loading screen of a Bugatti Bolide and Bugatti Vision Gran Turismo in the Alps.
The post-update screen has been redesigned.
The main menu shortcut for Festivals now has an animated background.
The icon in the main menu and garage for the inbox, inventory, garage, avatar, calendar, upgrades, and coloring now has text underneath the symbols.
The rarity ratings for 2D avatar icons were changed although some do not match the rarity of the corresponding avatar outfit set.
New "Sled Driver" and "Snowstorm" 2D avatar icons and "Snowstorm" avatar outfit.
The Lamborghini Centenario on the game's icon is now colored in red and at a different angle.
The car selection selection screen of Gauntlet is now animated to slide in instead of abruptly appearing.
In the garage, new Festival cars now have a red timer underneath the orange "Festival" box showing the amount of time remaining for the event.
In the vehicle selection screen for races with a recommended rank, only the upgrade symbol is now shown above the "Start Race" button.

In the upgrade screen, it is shown as "Recommended" with the upgrade symbol also appearing.
If a vehicle does not meet the recommended rank, there is a prompt to upgrade the vehicle to meet the rank.
Events
Bugatti Vision Gran Turismo Festival (December 24, 2021 - January 3, 2022)
Aston Martin V12 Speedster Festival (January 3 - January 13, 2022)
Vision 1789 Festival (January 14 - January 24, 2022)
Gifts
Between December 22 - 31, 2021, as part of Christmas, players were given the following gifts for logging into the game:
Bugs / Glitches
The Aston Martin V12 Speedster's upgrade cost is not discounted even if the player has its Pro Kits discount card.

This has since been fixed.

Even if player watched Milestone ad, Multi-credits ad, and free nitro starter ads, the rewards are not given for some reason. This happens randomly.(Android)
Bugs that still persist:
Game crashes are still frequent on Windows PC.
Players losing some or all in-game data on multiple platforms.
Post-update screen