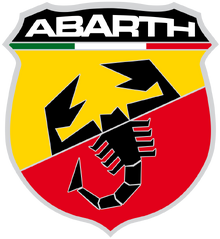 Abarth & C. S.p.A. is a racing car and road car maker founded by Carlo Abarth in 1949. Its logo is a shield with a stylized scorpion on a red and yellow background. Abarth & C. S.p.a. is a fully owned subsidiary of FCA Italy S.p.A. (formerly Fiat Group Automobiles S.p.A.), the subsidiary of Fiat Chrysler Automobiles (formerly of Fiat S.p.A.) controlling its European automotive production activities.
Overview
Carlo Abarth had been sporting director of the Cisitalia factory racing team since 1947. In 1948 begun the financial downfall of Cisitalia, spurred by the investments needed to put the 202 coupé into production; the following year the manufacturer went under, and founder Piero Dusio flew to Argentina. Carlo Abarth, funded by Armando Scagliarini, took over Cisitalia's assets and on 31 March 1949 Abarth & C. was founded in Bologna. Carlo's astrological sign, Scorpio, was chosen as the company logo. From the Cisitalia liquidation Abarth obtained five 204 sports cars (two complete Spiders and three unfinished), a D46 single seater and various spares.
Tier 1/D Cars
Gallery
Community content is available under
CC-BY-SA
unless otherwise noted.