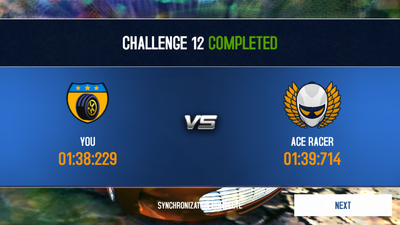 The Ace Race is a variant of the Versus-based Ultimate AI Challenge race type used for Enduro Double Down in Asphalt 8: Airborne.
Overview
The Ace Race works exactly the same as an Ultimate AI Challenge, except the other racer is a orange-colored ghost car named the "ACE RACER". Ace Races are always found at the end of each Enduro Tier. The Ace Race must be won in order to not only advance to the next Enduro Tier, but also be able to save scored EP (

), double the amount of points for the next tier, or both. The goal of the Ace Race initially read, "Beat the ghost's time!" before being changed to "Beat the Ace Racer!" in the Car Blueprints Update.
Winning
Just finish the race before the ACE RACER does. The difficulty of this will vary according to the recommended rank.
Quotes
| | | |
| --- | --- | --- |
| " | This is it. This is for all the marbles. Best the Weber Faster One here, and you'll win fame forever... go! Race like you've never raced before! | " |
| | Tier 11, Challenge 55 | |
| | | |
| --- | --- | --- |
| " | This is the big one -- make sure your car is fully upgraded, boosted to the max, and then give it all you got to win he One-77! | " |
| | Tier 11, Challenge 59 | |
| | | |
| --- | --- | --- |
| " | It's been a wild ride, friend. But now the time has come: Beat this BXR Bailey Blade GT1 and you can keep it! | " |
| | Tier 10, Challenge 50 | |
| | | |
| --- | --- | --- |
| " | Your car fully upgraded? Got boosters? Because this is IT! The final Icona Vulcano V12 Hybrid Showdown! | " |
| | Tier 10, Challenge 59 | |
| | | |
| --- | --- | --- |
| " | *clap clap* You did it, kid... Well, this is what you've waited for. Win here and the Falcon F7 is yours! | " |
| | Tier 10, Challenge 50 | |
| | | |
| --- | --- | --- |
| " | I'm so REVVED for this! You in the Aventador SV one more time for all the marbles in a final Ace Race... Good luck! | " |
| | Tier 9, Challenge 50 | |
| | | |
| --- | --- | --- |
| " | This is it, champ! Win and the Sbarro Sparta is yours by virtue of your skill, sweat and pure perseverance! | " |
| | Tier 9, Challenge 50 | |
| | | |
| --- | --- | --- |
| " | I'm more than impressed; I'm truly excited to see a driver like you in the final Ace Race for the Grand Sport! | " |
| | Tier 10, Challenge 59 | |
| | | |
| --- | --- | --- |
| " | The final Ace Race! It all ends here. What will be, racer: victory or defeat? You decide! | " |
| | Tier 9, Challenge 50 | |
| | | |
| --- | --- | --- |
| " | You've put it all on the line for this shot. Win this Ace Race! You've got it in you. | " |
| | Tier 9, Challenge 50 | |
| | | |
| --- | --- | --- |
| " | This is it... this one's for all the marbles. Win this final Ace Race, and the Yamaha FZ-10 is ALL YOURS! | " |
| | Tier 9, Challenge 50 | |
See also