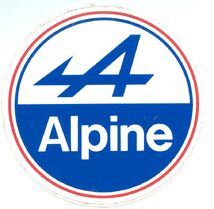 Alpine is a French car manufacturer that produces sports cars that uses rear-mounted Renault engines. It is available in Asphalt 7: Heat and Asphalt Overdrive. The only production car is the Renault Alpine A110-50.
Overview
Jean Rédélé, the founder of Alpine, was originally a Dieppe garage proprietor, who began to achieve considerable competition success in one of the few French cars produced just after the Second World War. The company was bought in 1973 by Renault.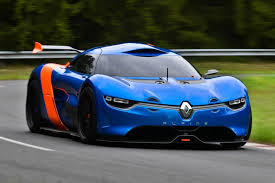 In February 2009, Renault confirmed that plans to revive the Alpine brand have been frozen as a direct result of the 2008-2009 global financial crisis and recession. In May 2012, images of a new Renault Alpine concept titled as Renault Alpine A110-50 were leaked prior to its debut in Monaco. Its styling was based on the Renault DeZir presented in 2010. In 2013, as part of the promotional activities for the future launching of Alpine roadcars, Renault partnered with Signatech to enter a Nissan-powered, Oreca-built prototype into the European Le Mans Series championship's LMP2 class. Signatech-Alpine achieved the teams' championship. They returned for the 2014 season.
Tier 4 Cars
Trivia
The Renault Alpine 108 was produced in Brazil from 1962 to 1966, under license by Willys-Overland do Brasil, branded "Willys Interlagos". It was the first Brazilian sports car.
Bulgaria produced its own version of the Renault Alpine, known as Bulgaralpine from 1967 to 1969. About 100 vehicles were produced.
Community content is available under
CC-BY-SA
unless otherwise noted.