The Apollo N is a mid-engined hypercar by Gumpert/Apollo Automobil GmbH.
Description
The Apollo N was unveiled at the 2016 Geneva Motor Show as an updated version of the Gumpert Apollo. The 'N' in the name symbolizes the Nürburgring, the race track Apollo plans to use to hone all of its future cars.
The specifications of the N match those of Gumpert's most recent Apollo, the Apollo S. Power comes from an Audi twin-turbocharged 4.2-liter V8, rated at 690 horsepower and 649 pound-feet of torque. Drive is to the rear wheels only, via a 7-speed sequential transmission.
Asphalt 9: Legends
The Apollo N was added in the Road Kings Update as a high Class B car with the following rank statistics:
Performance
At its stock rank, the Apollo N has a top speed rating of exactly 360, high acceleration rating (73), subpar handling rating (42.36) combined with a relatively wide drift radius, and average nitro efficiency rating (47.57). Similar to a number of other cars with subpar handling ratings, such as the Arrinera Hussarya, the N tends to lose a lot of speed while cornering, drifting, or driving on rough surfaces.
The Apollo N's upgrades give the greatest improvements to handling, followed by nitro and acceleration, with the least improvements to top speed. Without applying any Epic Import Parts, the N's upgraded top speed rating is 372.9, higher than most other Class B and A cars, with notable exceptions being the McLaren F1 LM, McLaren 570S Spider, and Aston Martin Valhalla. The N's higher acceleration also gives it better starts than many other cars, especially during Slipstream seasons, where it can reach its top speed in a matter of seconds through nitrosurfing. However, the N remains somewhat deficient in terms of handling and still loses a considerable amount of speed while turning/drifting sharply or driving on rough surfaces.
Usage
With its high top speed and acceleration but lackluster handling, the Apollo N excels on tracks with long straight sections, like Cairo and the Himalayas, where it can reach its top speed and pull away from or catch up to other cars, while it is not as dominant on technical tracks, such as The Caribbean and Osaka, where cars with better handling and nitro efficiency, such as the Chevrolet Corvette Grand Sport, Porsche 911 GT3 RS, and Lamborghini Huracán EVO Spyder, generally post faster lap times.
In multiplayer, the Apollo N's top speed and acceleration ratings make it a very usable car in Gold League, while ensuring that it still remains a somewhat viable car at the lower end of Platinum League. It cannot match up to Legend League cars as their vastly improved overall stats become hard counters to the N's strengths.
Availability
The Apollo N's blueprints can be purchased from the Legend Store once the player reaches Garage Lv 14 or obtained at random from most limited-time car packs. The blueprints can also be obtained from its own Car Hunt event, held at infrequent intervals.
Asphalt 8: Airborne
Summary
The Apollo N was added in the 2018 Spring Update as a high-end Class B car with the following rank statistics:
Starting rank: 1530
MAX rank: 1630 (+100)
MAX+PRO rank: 1700 (+70)

This was changed to 1666 (+53) in the 2019 Spring Update.

Tuning Kit bonus: +26

This was changed to +28 in the 2019 Spring Update.

Stock to MAX+PRO rank difference: 170

This was changed to 136 in the 2019 Spring Update.

Upgrade rank percentages: 20/30/20/30
Speed Multiplier: 100.65%
Nitro Efficiency: 6/11/15
Performance
The Apollo N is a very well-rounded car, with great acceleration, far better than other top-end B Class cars like the BMW M2 Special Edition, though not as quick as the McLaren MP4/8's. It also has great handling, drifting, and nitro duration. The Apollo N has a maximum real total speed of 448.7 km/h - 278.6 mph at MAX+PRO with Tuning Kit activated. Unlike most other Class B cars, the Apollo N has a low raw speed increase when upgraded, the same as that of the Porsche Cayman GT4.
With its high starting rank, subpar performance for its overall rank and low Tuning Kit bonus, it can be considered as a Class B version of the Arash AF10.
The Apollo N is only a collector's car as its performance is inferior to the McLaren MP4/8 in all aspects. Furthermore, the Apollo N's steep upgrade costs, restrictive availability, and difficult Championship event diminishes any usability. Its required engines can instead be used for better cars like the Chevrolet Corvette Grand Sport.
Usage
The Apollo N is not very useful for TLEs due to its performance. The Mazda RX-8 Special Edition, BMW M2 Special Edition, Mercedes-AMG GT3, and even the McLaren MP4/8 are better for TLEs.
The Apollo N is a poor choice for multiplayer as its starting rank of 1530 puts it in races with multiplayer tuned Audi R8 e-tron Special Editions, McLaren MP4/8s, Apollo Intensa Emozione, Porsche Carrera GTs, and Mercedes-Benz SLK 55 AMG Special Editions, all of which the Apollo N is guaranteed to lose against. Its multiplayer competitiveness is very similar to that of the Ferrari LaFerrari, albeit with a stronger focus on nitro. Plus, the LaFerrari is already faster at MAX+PRO, albeit only by 1.4 km/h/0.9 mph.
Price & Availability
The Apollo N was initially only obtainable from its Championship event. As of the 2020 Halloween Update, the can be purchased for

 1,560,000. During the Black Friday Sprint between November 23-24 2018, it was available for

 6,500, a 24% discount from

 8,500.
The car was available as an exclusive vehicle during the following dates:
The Apollo N is part of the 49th Multiplayer Season, Burnout Season 3, as a Champion League reward. Players who already own the car would win a Free Class A Upgrade instead.
Upgrades cost

 ? while Pro Kits require 15 of each Rare component card, 60 Rare engines & techs each, and

 ?.
Championship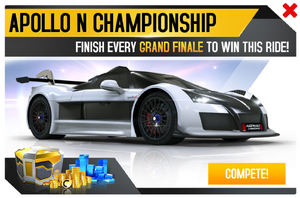 Main article: Apollo N (Championship)
The Apollo N's Championship was launched on April 11, 2018 after the Lamborghini Aventador LP 750-4 SV's revived EDD event. It was revived on January 4, 2019 in the Holiday Update as part of that update's Asphalt Moments series. Players are given 4 days to start the event and 7 days to complete it.

Vehicles in Asphalt 8: Airborne