Description
The Aprilia Tuono V4 1100 RR is a super naked bike based on Aprilia's RSV4 1,000cc class superbike. It was first released in 2002 as a naked version of the Aprilia RSV Mille, a 998 cc V-Twin motorcycle.
That V2 model of the Tuono stayed in production through 2011 before giving way to the Tuono as we know it. The Tuono built around Aprilia's 1000cc 65-degree V4 powerplant from the RSV4 superbike.
Without the racing restrictions imposed on the RSV4 to remain in racing, the Tuono got a displacement bump in 2015 to 1,077 cc, along with a new name: The Aprilia Tuono V4 1100 RR. This bike shares the frame, gearbox, some of the suspension, and the electronics of the RSV4 sportbike, but with relaxed ergonomics and power tuned more for the street.
The 2017 Aprilia Tuono makes 153 horsepower and 78 pound-feet of torque, has an electronics package rivalling that of any race-bred superbike, and was updated this year with a new full-color TFT screen and improved suspension.
Summary
The Aprilia Tuono V4 1100 RR my2017 is a mid Class S motorcycle originally planned to be released in the Munich Update, but delayed to the Fifth Anniversary Update.
The Aprilia Tuono has the following rank statistics:
Performance
The Aprilia Tuono V4 1100 RR my2017 can be described as the third best-performing motorcycle in the game, only inferior to the Kawasaki Ninja H2R and the Lightning LS-218. It has typical traits of a motorcycle: good acceleration, handling and drifting. Though it has the third highest top speed of all motorcycles without supercharged nitro, strangely, with supercharged nitro, it is slower than the Suzuki Hayabusa despite having a higher rank, as the Hayabusa can go 491.6 kph with supercharged nitro, while the Aprilia can go 481.5.
Usage
Price
Main article: Car Mastery/Aprilia Tuono V4 1100 RR my2017
The Aprilia Tuono was originally meant to be assembled with Blueprints in the Munich Update but was updated to R&D-only in the Fifth Anniversary Update. It was made available between January 31, 2019 to April 1, 2019 with a price of

 11,000.
Upgrades cost
 2,522,800 while Pro Kits require
 1,291,725, 10 of each Class S Bike Part, 8 Mid-Techs, 4 Rare Techs, 4 Advanced Techs, 4 Pro Techs and 8 Forced Four-Stroke Engines.
Research & Development
Main article: Research & Development/Aprilia Tuono V4 1100 RR my2017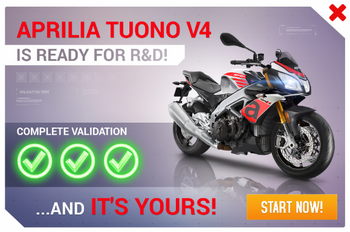 The Aprilia Tuono's Research & Development event was launched on September 29, 2018 after the SCG 003S' Championship. However, the event is only available in countries where Aprilia is licensed. Players are given 4 days to start and 12 days to complete the event with 60 Tests spanning 4 Labs. 
The event was originally intended to be launched on November 20, 2017, but due to potential licensing issues, its originally intended event was replaced with a second rerun of the Arash AF10's R&D.