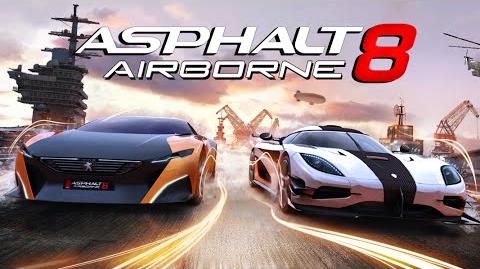 The Exclusive Metal Events are special events exclusive to the iOS 8+ version of Asphalt 8: Airborne, added in the San Diego Harbor Update. These events are only available on iOS devices with a 64-bit processor and that have been updated to iOS 8 or higher:
iPhone 5s onwards
iPad Air onwards
iPad mini with Retina display onwards (iPad Mini 2)
iPod touch 6th Generation
Overview
The Exclusive Metal Events are events that all consist of 24 racers (the player and 23 other AI racers), spanning across almost all locations in the game (with the sole exceptions of Tokyo and Westminster Bridge). Any lapped race is always one lap long. If the race mode is Elimination, the elimination period will last 10 seconds instead of the usual 30 seconds, which would have made the event last almost 12 minutes.
All Exclusive Metal Events reward up to

 3,520 for finishing in first place.
Exclusive Metal Events are great ways to practice new tracks currently unavailable in Quick Solo Race, although the recommended ranks for events from the Sector 8 tracks onwards are very high (reaching even as high as 1796, the HTT Pléthore LC 750's MAX+PRO rank).
None of the Exclusive Metal Events have Bonus Stars of any kind. Because of this, completing them is not necessary.
Lists of Events
Since listing all 50 events in one page would make the page too long to comfortably navigate through, all events have been categorized by year of introduction.
Community content is available under
CC-BY-SA
unless otherwise noted.