Beyond is the penultimate of 10 seasons in Asphalt 8: Airborne. There are 555 stars (333 podium finish + 222 Bonus Stars) available through 111 races (~32.7% of all 339 Career Mode races). This season has a race for every car in the game, including the Premium Cars. This season requires 600 stars to unlock.
A prerequisite to race is that the car needed for a race must be maxed out to its highest rank, as it's not possible to run a race without a maxed-out car. Every race is a one-lap Classic race, and thus due to short race times, the Season 9: Beyond is excellent for farming Credits. To earn five stars in every race the player must win the race within a certain time limit and reach another objective. All races have 6 racers. Further info about farming Credits in Season 9: Beyond can be found on the Farming / Rewards Page & Base Credits Accumulation Rate in Season 9: Beyond and Vehicles of Asphalt 8 -pages. Also the race times of Season 9 races are discussed in Forum thread What are your average race times for Season 9 races and on Dj458's User Blog Maxed car times in season 9.
With the addition of this season, the Dodge Dart GT finally gains an in-game concept art, depicted in Venice.
Race 1 (Audi R8 e-tron)
Race 2 (Dodge Dart GT)
Race 3 (Tesla Model S)
Race 4 (Cadillac ATS)
Race 5 (Cadillac XTS)
Race 6 (Scion FR-S)
Race 7 (Mini Cooper S Roadster)
Race 8 (Alfa Romeo MiTo GTA)
Race 9 (Audi S4)
Race 10 (Nissan 370Z)
Race 11 (Audi RS 3 Sportback)
Race 12 (Mercedes-Benz SLS AMG Electric Drive)
Race 13 (Audi TTS Coupé)
Race 14 (Chevrolet Camaro GS)
Race 15 (Ford Focus RS)
Race 16 (Lamborghini Urus)
Race 17 (Infiniti FX50)
Race 18 (Lotus Exige S Coupe)
Race 19 (Audi RS 4 Avant)
Race 20 (Alfa Romeo 8C Competizione)
Race 21 (Citroën Survolt)
Race 22 (Aston Martin DB9 Coupé)
Race 23 (Lamborghini Countach 25th Anniversary)
Race 24 (Maserati GranTurismo Sport)
Race 25 (Bentley Continental GT V8)
Race 26 (Aston Martin V12 Zagato)
Race 27 (Aston Martin V12 Vantage)
Race 28 (Nissan GT-R (R35))
Race 29 (Ferrari 458 Italia)
Race 30 (Ford Shelby GT500)
Race 31 (Cadillac CTS-V Coupe Race Car)
Race 32 (Mercedes-Benz SL 65 AMG Black Series)
Race 33 (Dodge Viper SRT10 ACR-X)
Race 34 (Chevrolet Corvette C7)
Race 35 (McLaren 12C Spider)
Race 36 (Pagani Zonda R)
Race 37 (Ferrari F12berlinetta)
Race 38 (Lamborghini Sesto Elemento)
Race 39 (RUF RT 12 S)
Race 40 (GTA Spano)
Race 41 (RUF CTR 3)
Race 42 (Ferrari FXX Evoluzione)
Race 43 (Bugatti 16.4 Grand Sport Vitesse)
Race 44 (Mercedes-Benz Silver Lightning)
Race 45 (Koenigsegg Agera R)
Race 46 (Marussia B2)
Race 47 (Renault CLIO R.S. 200 EDC)
Race 48 (Lotus Evora Enduro GT)
Race 49 (BMW M6)
Race 50 (Ferrari F430)
Race 51 (Ferrari 599XX)
Race 52 (W Motors Lykan HyperSport)
Race 53 (Lamborghini Veneno)
Race 54 (Lamborghini Gallardo LP 560-4 2013)
Race 55 (Ferrari LaFerrari)
Race 56 (Pagani Huayra)
Race 57 (SRT 2013 Dodge Challenger SRT8)
Race 58 (Ferrari Testarossa)
Race 59 (McLaren P1)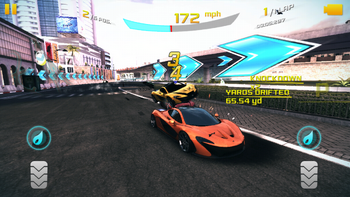 Race 60 (SSC Tuatara)
Race 61 (Ford F-150)
Race 62 (2015 Ford Mustang)
Race 63 (Chrysler ME412)
Race 64 (Ford 2006 GT)
Race 65 (Mercedes-Benz CLK GTR AMG)
Race 66 (Jaguar C-X75)
Race 67 (Mercedes-Benz SLS AMG GT Coupé Final Edition)
Race 68 (Ferrari FF)
Race 69 (Hennessey Venom GT)
Race 70 (Jaguar F-Type R)
Race 71 (Mercedes-Benz Biome)
Race 72 (Nissan GT-R NISMO)
Race 73 (Savage Rivale Roadyacht GTS)
Race 74 (SSC Ultimate Aero XT)
Race 75 (Mazda Furai)
Race 76 (Peugeot Onyx)
Race 77 (Koenigsegg One:1)
Race 78 (Maserati MC12)
Race 79 (Savage Rivale GTR)
Race 80 (9FF GT9 VMAX)
Race 81 (Arrinera Hussarya)
Race 82 (Felino cB7)
Race 83 (Ferrari 308 GTS)
Race 84 (Acura NSX 2005)
Race 85 (Lucra L148)
Race 86 (Renault DeZir)
Race 87 (Rimac Concept One)
Race 88 (Spada Codatronca TSS)
Race 89 (Tramontana XTR)
Race 90 (Volkswagen W12)
Race 91 (Ferrari 612 Scaglietti)
Race 92 (Ferrari Enzo Ferrari)
Race 93 (Ferrari F40)
Race 94 (Ferrari F50)
Race 95 (Ferrari 330 P4)
Race 96 (Audi R8 LMS Ultra)
Race 97 (BMW M1)
Race 98 (BMW M3 Sedan)
Race 99 (Geely GC9)
Race 100 (HTT Pléthore LC 750)
Race 101 (Lamborghini Aventador LP 700-4)
Race 102 (ONUK Sazan LM)
Race 103 (Volkswagen Golf Design Vision GTI)
Race 104 (McLaren 675LT)
Race 105 (McLaren P1 GTR)
Race 106 (Camaro Z/28)
Race 107 (Datsun 280Z)
Race 108 (Shelby Cobra 427)
Race 109 (Mercedes-Benz SLK 55 AMG)
Race 110 (Peugeot SR1)
Race 111 (ED Design Torq)
Race 112 ()
Race 113 (Volkswagen Golf Design Vision GTI)
Race 114 (McLaren 675LT)
Race 115 (McLaren P1 GTR)
Race 116 (Camaro Z/28)
Race 117 (Datsun 280Z)
Race 118 (Shelby Cobra 427)
Race 119 (Mercedes-Benz SLK 55 AMG)
Race 120 (Peugeot SR1)
Race 121 (ED Design Torq)
Race 122 (ONUK Sazan LM)
Race 123 (Volkswagen Golf Design Vision GTI)
Race 124 (McLaren 675LT)
Race 125 (McLaren P1 GTR)
Race 126 (Camaro Z/28)
Race 127 (Datsun 280Z)
Race 128 (Shelby Cobra 427)
Race 129 (Mercedes-Benz SLK 55 AMG)
Race 130 (Peugeot SR1)
Race 131 (ED Design Torq)
---
Race 132 (Mazda RX-8)