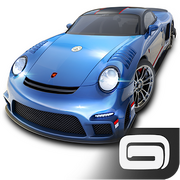 Asphalt Nitro is a spin-off of the Asphalt series, based on the 2013 mainline rendition Asphalt 8: Airborne. Exclusive to Android, Asphalt Nitro was officially released on May 13, 2015, with a huge overhaul over the beta version.
Advertising
Beta concept: 15 MB of pure velocity!
Old concept: 25 MB of pure velocity!
New concept: 35 MB of pure velocity!
          : Download fast , drive faster!

Race Modes
There are 8 race modes available:k
In addition to multiplayer and career mode, Quick Solo Race mode also appears in Asphalt Nitro. Here, the player can play any mode with any car on any tracks, but Credits won't be earned.
Tracks
There are 6 locations in the game and 16 playable tracks total. Ordered by Quick Race. Each location's picture in the game is the flag of that country.
Cars
Main article: Vehicles of Asphalt Nitro
There are four upgrade aspects in this game. The player can buy 5 levels of each upgrade for each car:
Acceleration
Top Speed – the most expensive upgrade
Handling – cheapest upgrade
Previously, Asphalt Nitro had no Pro Kits system.
However, recently, with the new concept, the Pro Kits are now integrated into the upgrade system making the game upgrade individual parts like upgrades but now Pro Kit cards are required.
Career Mode
The Career mode is divided into 6 seasons:
Achievement Sets
Asphalt Nitro has 7 Achievement Sets. The player must complete all of the Achievements in the set to claim them. They are largely similar to the achievements in Asphalt 8: Airborne, except this time, they now grant rewards.
Buyer Set (reward:15000 credits)

New-Car Smell: Buy a new car.
Car Buff: Buy 3 cars.
Car Enthusiast: Buy 5 cars.
Car Collector: Buy all cars.
D is for Drift: Own all the cars from Class D.
C is for Cars: Own all the cars from Class C.
B is for Burnout: Own all the cars from Class B.
A is for Awesome: Own all the cars from Class A.
S is for Superior: Own all the cars from Class S.

Hotspur Set (reward:7000 credits)

Who's Next?: Execute 25 Knockdowns.
Knockdown Titan: Execute 100 Knockdowns.
The Destroyer: Execute 500 Knockdowns.
Baby Steps: Drift 1 km / mile
Burning Rubber: Drift 10 km / miles
Drifting Away: Drift 100 km / miles
High Flier: Total 10 minutes of air time! (10 minutes is equal to 600.00 seconds)
Target Acquired: Knock down the same car 5 times in a single race.
Nice Guy: Come in last place. (Basically, that means to finish a race in last place. It's unknown if this achievement can be unlocked by getting eliminated at last place. Being disqualified does not unlock this achievement)

Superstar Set (reward:3 Tuning Kit)

Asphalt Newcomer: Have 50 Stars.
Asphalt Aficionado: Have 100 Stars.
Asphalt Connoisseur: Have 150 Stars.
Asphalt Fiend: Have 200 Stars.
Asphalt Devotee: Have 250 Stars.
Asphalt Freak: Have 350 Stars.
Asphalt Expert: Have 400 Stars.
Asphalt Master: Have 450 Stars.
Asphalt Grandmaster: Have 550 Stars -- every star in the game!

King of the hill Set (reward: 5x Extra Tank)

First One In The Bag: Beat Season 1.
Going For Seconds: Beat Season 2.
Third Time's The Charm: Beat Season 3.
Four Of A Kind: Beat Season 4.
High Five!: Beat Season 5.
Just A Beginner: complete 30 different races in Career mode
Good Job: complete 60 different races in Career mode
Almost The King: complete 90 different races in Career mode

Street racer Set (reward: 5x Tuning Kit)

Handyman: Buy your first car upgrade.
A Fine Racing Machine: Fully upgrade one stat of any car.
Max Power: Fully upgrade 1 car.
To The Max: Fully upgrade 3 car.
Crank It Up: Fully upgrade 5 car.
Ultimate Upgrades: Fully upgrade 7 car.
Fully Armed: Fully upgrade all the cars.
Perfect Nitro!: Perform 50 Perfect Nitro boosts. (Doesn't have to be in a single race)
Clean Win: Win a race without using Nitro.

Mode expert Set (reward: 1x Double Credits)

Classic Win: Win a Classic Race event.
Ahead Of The Curve: Win an Elimination event.
Last Man Standing: Win a Knockdown event.
Mano A Mano: Win a Versus event.
Drifting Through Life: Win a Gate Drift event.
Zombie Survivor: Win an Infected event.
Good Cop: Win a Catch event.
Hurry Up!: Win an Escape event.
Best Of The Best: Win an event in all mode once. (similar to Jack of All Trades in Asphalt 8 with Catch and Escape mode)

Open world Set (reward: 5x Tuning Kit)

First Blood: Win a Multiplayer match.
Earned Your Stripes: Win 10 Multiplayer matches.
Furious Fifty: Win 50 Multiplayer matches.
Centurion: Win 100 Multiplayer matches.
Multi Expert: Win 500 Multiplayer matches.
King Of The King: Win 1,000 Multiplayer matches.
Get Connected: Have 1 friend.
Plugged In: Connect to Facebook
That Showed 'em: Win a race against a friend.
VIP System
Main article: VIP System
Music
Asphalt Nitro has 3 songs (2 songs in old concept): One for the main menu and an additional two for races (only one song in old concept). They are Gameloft original songs. However, Chemistry / DJ Gontran, from Asphalt 8: Airborne, was used in the old trailer. The new trailer uses a composed soundtrack. The main menu song is made by DJ Zephyr as Known As Anthony Dominguez Flores.
Trivia
The first teaser trailer was released in April 29, 2015.
The Career Mode doesn't reference old Asphalt titles.
The only social network that is allowed to connect to the game on Gameloft Store version is Facebook. On Google Play Store version, the social networks that are allowed to connect to the game are Facebook and Google Play Games.
The claimed 25 MB tiny size of Asphalt Nitro can actually become 181 MB when the game is installed. This can even expand to 200+ MB.
Asphalt Nitro had a heavy overhaul on November, including a release in the Play Store for free, the addition of the VIP systems, and increasing the max limits on cars in a class to more than five.

The VIP system would eventually be carried over to Asphalt 8: Airborne in the Rio Update.

The Ford Shelby GT500 used in the game is now the 2013 version instead of the 2010 version.
From Update 1 onwards, there is a daily rewards system similar to Asphalt 8: Airborne's Daily Bonus but with more rewards each day. On the 90th day, a Mercedes-Benz Silver Lightning is awarded.

A similar system would also eventually be carried over to Asphalt 8: Airborne in the Rio Update also.
Videos