Asphalt Street Storm Racing, also known as Asphalt Streetstorm or simply Asphalt: Storm (also abbreviated as AST or ASSR), is the third street-based spinoff of the Asphalt series, with a focus on drag racing, similar to the CSR Racing series.
Race modes
Seasonal Leagues (Multiplayer, formerly Challenge Mode)
4P Race Mode (in the Multiplayer lobby)
4P Pinks Race (in the lobby)
Quick Race
Locations
Career mode
The Career mode in is the main game mode where the player progresses with the game. The first 4 events of New York are part of the tutorial (mandatory), while the rest of them can be played by choice. Progressing in this game mode is required to unlock the Cash 

prices of the cars. See Vehicle list for an overview.
Gift Boxes
Main article: Gift Box
Like many other games, Asphalt Streetstorm has random containers which offer blueprints and other items. They are named Gift Boxes and come in three main variants:
Vehicles
Main article: Vehicle List (Asphalt Streetstorm)
Trivia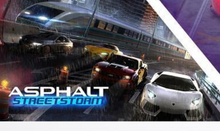 In Gameloft's 2016 investor presentation document, a yellow Toyota FT-1 can be seen along with a 2012 Chevrolet Camaro ZL1, a BMW M4 GTS and a Lamborghini Aventador LP700-4 in a promotional artwork of the game. However, neither the Camaro ZL1 nor the FT-1 were added to the game; the latter was due to the licensing issues of Toyota.
Updates
Community content is available under
CC-BY-SA
unless otherwise noted.