All contributors
Player



Trials
until
Jan 31, 2020

Trials
since
Feb 1, 2020

Trials
total


A newbie Driver 9351 (posts)
413
189
602
Alido Kadri (posts)
0
95
95
Androgeos Exeunt (posts)
3,065
277
3,342
AntoniuCalacean (posts)
393
0
393
AR8K (posts)
514
341
855
Audi R8 tyke (posts)
6
0
6
Bassrox (posts)
42
0
42
Bigbadboy1972 (posts)
7
0
7
Cjy621584 (posts)
106
0
106
CrazyTriangle333 (posts)
687
314
1,001
Damian103 (posts)
619
27
646
Dboling (posts)
24
0
24
Geceo (posts)
0
70
70
Gokuuusss (posts)
534
153
687
Guy Bukzi Montag (offline)
24,140
907
25,047
Hsawaknow3 (posts)
30
0
30
JMDias (posts)
0
62
62
Johnny Holmes Official (posts)
390
0
390
KoninaElena (posts)
116
0
116
Laowailong (posts)
7
0
7
Literatinon (posts)
278
0
278
Magnetic Sparkle (offline)
2,316
0
2,316
Nianasto (posts)
8
0
8
Non-VIP Forever! (posts)
398
257
655
NukeStar (posts)
8
0
8
RostandR (posts)
1,068
0
1,068
Schenkopp (posts)
301
0
301
TheGoldenRetrieverAU (posts)
890
630
1,520
Tobias mann (posts)
423
90
513
TransportFan2014 (posts)
170
0
170
WKPQ (posts)
13,705
155
13,860
The table to the right shows the number of all contributions as of February 28, 2020. It is updated manually, so it can take some days until your contributions are listed.
You can check your contributions here:
Processed contributions:

Click on the "posts" link after your username or go to

Pending contributions:
First Anniversary
News
WikiProject Statistics celebrates 40,000 cards and its first birthday! [Edit]
Jan 14, 2020 – Guy Bukzi Montag – STATISTICS

It's just two months since the 30,000 cards milestone, and now you players have already helped us reach a new one! We'd like to thank all of you who contribute to

WikiProject Statistics

for your dedication and all the work you invest. You have made Asphalt Wiki the largest and most precise statistical database for Asphalt in the world!

And as a birthday is something special, we have something special for you, too: The top ten data contributors will receive a total of

1,000,000
and

10,000
that will be distributed according to the number of cards/ads each player has contributed! Details can be found on the
Contributors
page. Thanks again for your work, and thanks to Pepper from Gameloft who made this possible.
Winners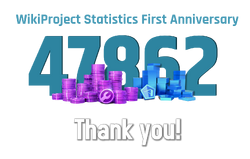 Deadline: February 1, 2020, 0:00 UTC.
THE COMPETITION IS CLOSED.
Winners and rewards as of February 1, 2020, 0:00 UTC:
Rank
Player
Player
ID
OS
Trials
Rewards
1
Androgeos Exeunt
✔
✔
3,065
 

369,945

*
 

3,699

2
RostandR
✔
✔
1,068
 

128,908

 

1,289

3
TheGoldenRetrieverAU
✔
✔
890
 

107,423

 

1,074

4
CrazyTriangle333
✔
✔
687
 

82,921

 

829

5
Gokuuusss
✔
✔
534
 

64,454

 

645

6
AR8K
✔
✔
514
 

62,040

 

620

7
Tobias mann
✔
✔
423
 

51,056

 

511

8
A newbie Driver 9351
✔
✔
413
 

49,849

 

498

9
Johnny Holmes Official
✔
✔
390
 

47,073

 

471

10
Schenkopp
✔
✔
301
 

36,331

 

364

*
11
Literatinon
✔
✔
278
12
Cjy621584
106
13
Bassrox
42
14
Hsawaknow3
30
15
Dboling
24
* Due to rounding, the total number of Fusion Coins was

 1,000,001 and that of Tokens

 9,999. Therefore

 1 was subtracted from the highest reward, and

 1 was added to the lowest reward.
Players can check their contributions here:
Rules
Here's how to get the rewards:
The amount of  

1,000,000

and  

10,000

donated by Gameloft is distributed among the top ten data contributors according to the number of contributed trials (cards/ads). Asphalt Wiki administrators are excluded.
The deadline is Saturday, February 1, 2020, 0:00 UTC. Until this date, data contributions are accepted and can increase your rewards. You also have to provide your Gameloft Player ID and platform until this date.

Your Gameloft Player ID and platform (Android, iOS, Windows) are needed by Gameloft to send the rewards to your account. You can find your Gameloft Player ID in

Settings | Info | About

, see screenshot to the right. Please post your ID and platform on Guy Bukzi Montag's Message Wall or send it via Discord (username on profile page). Gameloft will only get a list of Player IDs, not your Asphalt Wiki username.
Players can renounce in favour of the other players, for example if they quit the game and have no use for in-game currency.
Players who have not provided their ID/platform until the deadline are taken from the list. The following players will then move up one place, and the rewards will be redistributed among the remaining players according to their contributions.
If less than 10 players have provided their ID/platform until the deadline, the rewards will be redistributed among the players who have, according to their contributions.
The rewards will be sent to the players on Monday, February 3, 2020.
A special mention goes to Magnetic Sparkle who would have been rewarded

 377,383 and

 3,774 but donated the rewards to the other players because he quit the game. Thanks also to AntoniuCalacean, KoninaElena, Non-VIP Forever! and TransportFan2014 who donated their rewards.
Community content is available under
CC-BY-SA
unless otherwise noted.