The Asphalt Xtreme Soft Launch Release (v1.0.3) is the first release of Asphalt Xtreme. It was first made available for Android and iOS for certain countries as part of an early launch.
Announcement
Break through to uncharted territory with Asphalt Xtreme! Rip around dunes, charge through canyons, drift across the mud and fly past your opponents to reach the finish line!
35 MONSTER MACHINES: Release your inner beast in a Monster Truck. Feed your passion for speed with a Muscle Car. Or just go wild on the track in a Buggy, Pickup, Rally Car, SUV or Truck!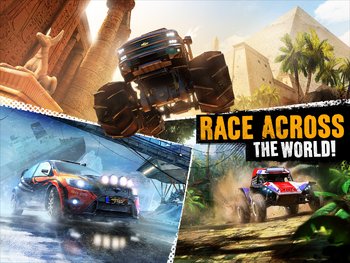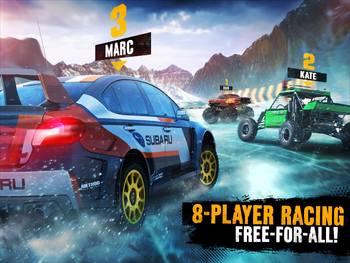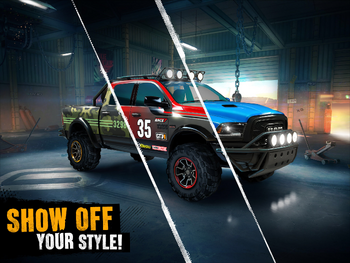 UNLEASH YOUR STYLE: All 7 off-road vehicle types deliver unique flavours of gameplay, allowing you to constantly discover fresh and challenging experiences.
REAL-TIME MULTIPLAYER: Go head-to-head in 8-player simultaneous free-for-alls! You'll be facing some tight competition, so stay on top of your game!
THE WORLD IS YOUR RACETRACK: Race in a variety of exotic locations from all over the globe, including the glaciers of Svalbard, the dunes of the Nile Valley, the lush jungles of Phuket in Thailand, the industrial might of Detroit's steel mills & more.
CUSTOMISE YOUR RIDE: Want to pump up your car's power? Feel like decking out its style? There's an impressive collection of upgrades for all of that.
GET THE FULL OFF-ROAD EXPERIENCE: With 5 game modes, 400+ Career events, 500+ Mastery challenges, Limited-Time Events and more on the way, prepare for a truckload of new content!
AN UNRIVALLED EXPERIENCE: You won't experience graphics more intense, or action more mind-blowing, in any other racer. So gas up and take off!
New Cars
Since this is the first large-scale public release, all of the cars are new
Version Patches
v1.0.7 on November 1 2016. Minor bugs fixed
v1.0.8 on November 2 2016. Minor bugs fixed and global launch
v1.0.9 on November 7 2016. Fixed connection issues that prevented some players from logging in and racing
Trivia
The vehicles in this version of the game was first revealed in a Twitch broadcast (the video has since been deleted) by Gameloft Mexico during a gameplay exhibition in early October 2016.
Screenshots