The 2018 Aston Martin Vantage is a Grand Tourer serving as the successor to the V8 Vantage.
Overview
The Aston Martin Vantage is a two-seater sports car manufactured by British luxury car manufacturer Aston Martin as a successor to the previous outgoing model which had been in production for 12 years. It was unveiled on 21 November 2017.
The Vantage is based on new architecture shared with the DB11, and uses the powertrain and infotainment technology from Mercedes-Benz, as does the DB11. The Vantage uses Mercedes-AMG's M177 4.0-litre twin-turbocharged V8 engine that has a power output of 510 PS (375 kW; 503 hp) and 505 lb⋅ft (685 N⋅m) of torque as is equipped with the Mercedes COMAND system. The Vantage is capable of accelerating from 0–100 km/h (0–62 mph) in 3.6 seconds, and attaining a top speed of 314 km/h (195 mph). The Vantage uses a rear-mounted 8-speed automatic gearbox manufactured by ZF Friedrichshafen, and will be the only vehicle that pairs the Mercedes-AMG V8 with a manual transmission when the combination is made available.The engine is positioned as far back with the chassis as possible, and a 50/50 front/rear weight distribution has been achieved with the car. The Vantage is also the first Aston Martin production car to feature an electronically controlled differential with torque vectoring, and is built around the same all-new bonded-aluminium platform as the DB11, although around 70% of its components are said to be unique to the Vantage.
Asphalt 8: Airborne
Summary
The Aston Martin Vantage 2018 was added in the Showdown Update as a high-end Class B car with the following statistics:
Performance
At stock, the 2018 Vantage has average stats with poor handling, above-average drifting, small nitro boost and slow acceleration. At MAX PRO, the 2018 Vantage can manage as a decent car for its placement but it cannot compete with the likes of the Falcon F7, McLaren MP4/8 or the BMW i8 Coupe.
Usage
Price
The Aston Martin Vantage 2018 was originally only obtainable from its R&D event. As of the 2020 Halloween Update, it can be purchased for

 1,190,000. It was previously sold as a limited-time offer on the following dates:
Upgrades cost

 1,800,000 while Pro Kits require

 600,800, 28 of each Class B Part, 16 Early & Initial Tech each, 36 Mid-Techs, and 48 V8 Engines.
Research & Development
Main article: Research & Development/Aston Martin Vantage 2018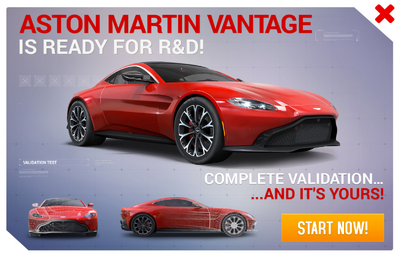 The Aston Martin Vantage 2018's Research & Development event was launched on June 20th, 2019 after the Spyker C8 Preliator's Championship. Players are given 5 days to start and 8 days to complete the event with 50 Tests spanning 4 Labs.

Vehicles in Asphalt 8: Airborne