The Aston Martin Vulcan (also abbreviated as AM Vulcan) is a track-only supercar that acts as Aston Martin's entry into the supercar market, based on the Aston Martin One-77.
Description
The Vulcan is a track-only hypercar launched in 2015 by Aston Martin at the 2015 Geneva Motor Show. It is a rear-wheel drive, track-only hypercar that runs on a new 7.0 L (6,949 cc; 424.1 cu in) naturally aspirated V12 engine mounted on an aluminium alloy chassis and carbon fibre body delivering 820 hp (611 kW) and 590 ft·lb (800 N·m) of torque. The Vulcan is fitted with carbon ceramic brakes, magnesium torque tube with a carbon fibre propeller shaft, limited-slip differential, Xtrac 6-speed sequential gearbox and has a kerb weight of 2998 lb (1360 kg). The Vulcan is designed by Aston Martin's creative officer Marek Reichman, taking inspirations from Aston Martin current models Vantage and DB9. The Vulcan is a limited edition vehicle, with only 24 cars, each priced at $2.3 million.
The Vulcan is capable of 0 - 60 mph (0 - 97 km/h) in 3 seconds and a top speed of at least 205 mph (330 km/h).
The Vulcan's name is a reference to the Cold War-era British bombers of the same name, as well as the Roman god of fire, Vulcan, whose Greek counterpart is Hephaestus.
Asphalt 9: Legends
Overview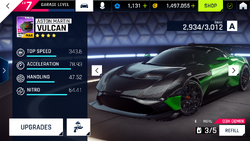 The Aston Martin Vulcan appears as a low Class A car with the following rank statistics:
Usage
Similar to its Asphalt 8: Airborne rendition, the Aston Martin Vulcan has a decent top speed, acceleration, nitro efficiency and average handling.
With its well-rounded stats, the Vulcan is a good choice for multiplayer if the player don't have better cars such as Ferrari J50 and is an excellent starting car for beginners.
Availability
Upgrades for the Vulcan require 20 uncommon import parts, 20 rare Class A parts, and 8 epic import parts.
The Vulcan is one of few cars available from the Daily Car Loot event; one blueprint can be obtained per day by beating the time limit using a Class B car.
The Vulcan's blueprints can also be obtained in various seasons in Career, especially in the Aston Martin season in Chapter 2 which up to 2 epic import parts are available.
Asphalt Street Storm Racing
Summary
The Aston Martin Vulcan appears as a Class S car.
Stock statistics:
(Bold numbers are provided in-game, others are calculated. Last checked: Sep 24, 2020.)
| | Metric | Imperial |
| --- | --- | --- |
| Rating | 555  | 555  |
| BHP | 604.76 kW (822.25 PS) | 811.00 hp |
| Grip | 12.00 | 12.00 |
| Acceleration | 2.33 s (0–100 km/h) | 2.24 s (0–60 mph) |
| Weight | 1,350.00 kg | 2,976.21 lb |
| Torque | 780.00 N⋅m | 575.3 lbf⋅ft |
| Top speed | 268.79 km/h | 167.02 mph |
| NOS torque | 50.00 N⋅m | 36.88 lbf⋅ft |
| NOS time | 1.50 s | 1.50 s |
Costs:
Price
Sale value
Vehicle

10

 

200,000

 
Specific paints

40,000

 
Default wheels
free
Generic wheels

15,000

 
Blueprint
Aston Martin Vulcan Blueprint – Last checked: Sep 24, 2020
Sale value:

19,950

 
Rarity:

Red

 (Class S)
Vehicle: Aston Martin Vulcan (10 to claim)
Availability: Gift Boxes, Seasonal Leagues rank reward
Statistical drop rates: 0.00 % | 0.00 % | 1.41 %
Sale values
Item
Sale value
Total
10 x

19,950

 

199,500

 

✘

200,000

 

✔
Selling 10 blueprints gives 500 

less Cash than claiming the car and then selling it. It is therefore recommended to first collect the blueprints, then claim the car and sell it, even if a player does not want the car.
Usage
The Vulcan is quite tolerant when it comes to Perfect Starts. This makes it a good choice for the "2 Perfect Starts" goal of Daily Tasks which can also be achieved with mere Test Drives.
Asphalt 8: Airborne
Summary
The Aston Martin Vulcan was added in the Championship Update as a high-end Class S car with the following rank statistics:
Starting rank: 1220
MAX rank: 1609 (+389)

This was changed to ? (+?) prior to the Sixth Anniversary Update.
This was changed to 1578 (+252) prior to the 2019 Holiday Update.

MAX+PRO rank: 1806 (+197)

This was changed to 1819 (+?) prior to the Sixth Anniversary Update.
This was changed to 1820 (+242) prior to the 2019 Holiday Update.

Tuning Kit bonus: +62

This was changed to +94 prior to the Sixth Anniversary Update.
This was changed to +54 prior to the 2019 Holiday Update.

Upgrade rank percentages: 5/55/15/25
Speed Modifier: 88.65%
Nitro Efficiency: 6/9.5/13.5
Performance
The Aston Martin Vulcan has very good performance in all aspects, making it capable of handling any track.
Within Class S, the Vulcan faces some rivalry from the Ferrari 488 Pista, Arrinera Hussarya GT, Lamborghini Aventador LP 750-4 SV, and McLaren MP4-31 on all tracks, but it is otherwise superior to most other vehicles. The Vulcan is inferior to the Devel Sixteen Prototype in Tokyo and occasionally to the McLaren MP4-31 in Dubai and some versions of Tenerife. The Vulcan is the fourth-fastest car in Class S (not counting the supercharged speed of the Kawasaki Ninja H2R), behind the Devel Sixteen (which has otherwise poor performance in all other aspects), the two-way tie between the Apollo Intensa Emozione and 2018 McLaren X2 (the latter two are superior against the Vulcan on all tracks), and the Lamborghini Centenario LP 770-4 (which is also superior against the Vulcan on all tracks).
Within the entire game (including Class A), the Vulcan can also be inferior to the Mercedes-Benz SLK 55 AMG Special Edition Chevrolet Corvette Grand Sport, Lightning LS-218, and possibly even the BMW 3.0 CSL Hommage in some situations (especially in Tokyo). However, these cars can only compete with the Vulcan on long and simple tracks due to their inferior acceleration, handling, drifting, and, in the case of the SLK SE and BMW Hommage, nitro efficiency.
The McLaren Mercedes MP4-25 and Rezvani Beast Alpha are also rivals to the Vulcan, Hussarya GT, and MP4-31 on short tracks, being only slightly inferior to those vehicles. Within the entire game, the Vulcan has the seventh-highest total speed (if not counting motorcycles), at 507.3 km/h - 315.0 mph.
Official review
This is the official review of the Aston Martin Vulcan on the Asphalt YouTube channel, made by TheHawtDawg1 and published on January 20, 2017:
Time to reach end of Tokyo straight: 7.028s
Perfect nitro duration: 10.560s
Triple nitro duration: 7.425s
French Guiana lap time: 53.856s
Final verdict: "The Aston Martin Vulcan is a truly amazing machine. Almost every statistic is perfect and the car can make insane times on all tracks. It is without a doubt the best car in Asphalt 8."
Usage
The Vulcan can actually be tuned for low-rank Multiplayer matches due to its low starting rank. On the other hand, a Multiplayer-tuned Vulcan below 1400 is mostly inferior to other low-rank Multiplayer favorites like the Range Rover Evoque Coupe HSE Dynamic, McLaren MP4/8, and TVR Sagaris. Because of this, the player is generally better off by tuning the Vulcan to 1562 or higher (0500 5050 tuning, which achieves maximum raw top speed), and if possible, getting it MAX+PRO, at which the Vulcan will show off its full potential.
The following are some of the better non-MAX+PRO multiplayer tunes for the Vulcan:
Max 0400 Pro 5050 = rank 1498 = 456.6 km/h (283.7 mph)
Max 0500 Pro 5050 = rank 1562 = 477 km/h (296 mph)
Max 0502 Pro 5050 = rank 1586 = 482 km/h (300 mph)
Max 1502 Pro 5052 = rank 1597 = 485 km/h (301 mph)
Max 5501 Pro 5555 = rank 1660 = 491 km/h (305 mph)
Max 2504 Pro 5054 = rank 1657 = 495 km/h (307.6 mph)
Max 5504 Pro 5055 = rank 1679 = 496.6 km/h (308.6 mph)

This is one of the most balanced tunings, with generally good matchmaking.

Max 5505 Pro 5555 = rank 1747 = 507.3 km/h (315.0 mph

This is the best tuning for the Vulcan following the introduction of the Apollo Intensa Emozione.
At lower ranks, it also faces competition against the Audi R8 e-tron Special Edition and Porsche Carrera GT, but is otherwise superior to them above rank 1586.
As of the Holiday Update, the Apollo IE, Lamborghini Centenario, Lightning LS-218 and McLaren X2 have surpassed the Vulcan in all respects. The Apollo IE and Centenario are upgraded versions of the Vulcan with more focus on raw speed, the LS-218 is the second-fastest vehicle in the game with slightly better acceleration and handling than the Vulcan, and the McLaren X2 is an upgraded McLaren MP4-31 with even higher instability. Despite this, the restrictive availability of the Apollo IE, Centenario and X2, as well as their higher upgrade costs and Pro Kit requirements and, in the case of the Centenario, its

-only upgrades, as well as the inherent instability of all motorbikes like the LS-218, make the Vulcan considerably easier to obtain, upgrade and drive. The Vulcan is the third-best Aston Martin vehicle, after the Aston Martin Valhalla (S1859) and the Aston Martin Valkyrie (S1860).
Price
The Aston Martin Vulcan is the fourth car to be released as a Multiplayer League reward, after the TVR Sagaris, McLaren 570S, and Chevrolet Corvette C3. It was an Elite League reward for the Winter Wonder Season in January 2017. After the season, it has a purchasable price of

 14,250.
As of the Fifteenth Anniversary Update, the Vulcan costs

 17,000 to purchase. As of the 2020 Christmas Update, the Vulcan now costs

 3,450,000.
The Vulcan is obtainable for reaching Tier 25 with the Premium upgrade in the Aston Martin Valkyrie Festival. Players who already own the car would win 10x

Wild Card - Superb instead.
Upgrades cost

 3,591,000 while Pro Kits require 15 of each

Legendary Drivetrain,

Legendary Exhaust,

Legendary Suspension,

Legendary Tires, 60

Legendary Tech, 60

Legendary Engine and

 3,720,000.

Vehicles in Asphalt 8: Airborne