This article is about the F13 model used from Asphalt 8: Airborne onwards. For the preceeding E63 model, see BMW M6 Coupe (E63).
The BMW M6 Coupe (F13) is a GT car based on the F06/F12/F13 BMW 6-Series. It is featured in Asphalt 8: Airborne and Asphalt Nitro.
Description
The 3rd generation BMW M6 is based on the F06/F12/F13 6-Series and inherits its 4.4 L (4,439 cc; 270.9 cu in) S63B44T0 twin-turbocharged V8 engine, seven-speed dual-clutch automatic transmission, and other technology from the 2012 BMW M5 (F10).
The F13-codenamed M6 Coupe has a carbon fiber roof and other weight saving measures, making it 44 lb (20 kg) lighter than the M5, standing at 4255 lb (1930 kg). However, it is 309 lb (140 kg) heavier than its predecessor, the E63 M6 Coupe. By comparison, the F12-codenamed M6 Convertible is 110 lb (50 kg) heavier than the preceeding E64 M6 Convertible.
The V8 produces 552 hp (412 kW) and 502 ft·lb (680 N·m), resulting in a power-to-weight ratio of 286 hp (213 kW) per tonne or 7.71 lb (3.5 kg) per horsepower. BMW's official performance figures for the M6 include 0 - 60 mph (97 km/h) in 4.1 seconds, 0 - 124 mph (200 km/h) in 12.6 seconds, and an electronically limited top speed of 155 mph (250 km/h) that can be raised to 189 mph (305 km/h) with the optional M Driver's Package. This engine was later developed into a more powerful 750 hp (559 kW) version for the SCG 003S.
The F06/F12/F13 M6 features a design language similar to M Series BMWs of the early 2010s, with the front sporting a newly designed M kidney grille with an "M6" badge, paying homage to the E24 M635 CSi/M6, which was the first generation of the M6.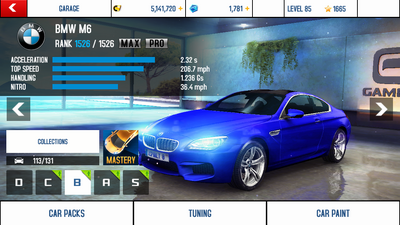 Summary
The BMW M6 Coupe (F13), shortened just to BMW M6, was added in the Free to Play Update. It appears as a low-end Class B car with the following rank statistics:
Starting rank: 1287
MAX rank: 1430 (+143)
MAX+PRO rank: 1526 (+96)
Tuning Kit bonus: +35
Stock to MAX+PRO rank difference: 239
Upgrade rank percentages: 10/40/20/30
Nitro Efficiency: 6/12/16
Performance
The M6, weighing 4255 lb (1930 kg), has a slow rate of acceleration, despite its mid-high nitro stat, and has subpar overall handling. Unlike most other cars in the game, the M6 interestingly gains the same amount of speed with the top speed maxed out as when the nitro is upgraded, although the M6 appears to be more nitro-focused. It has a maximum total speed of 248.5 mph/400.1 km/h at MAX+PRO with Tuning Kit.
Usage
While the M6 does appear in a few collections, the M6 isn't very useful, as attempting to tune it for Multiplayer is not considered a wise decision, whether tuning the vehicle via Nitro, Exhaust, and Suspension or Top Speed, Drivetrain, and Tires. Similarly, there are almost no Events that place the M6 as the top choice, but it is required for Season 4: Elite of Career Mode. The M6 is also one of the cars used in the Enduro Double Down event for the Icona Vulcano V12 Hybrid, the details of which can be seen here.
It was part of the 20th Multiplayer Season, Coldsnap Season 2, which started on March 15, 2018. Players who finish in the Pro League will get the car. A compensation of
 120,000 will be given for those who already have the car.
The BMW M6 counts towards the German Steel and BMW collection which awards a total of 30 tuning kits and
 675,000 when all 4 versions are completed.
Price
The BMW M6 had an original buying price of
 175,000 that has since been reduced to
 85,000. MAX requires
 332,375 while Pro Kits need
 179,260, 6 of each Class B Parts card, 4 V10 Engine cards, 4 Early & Initial Tech cards, and 8 Mid-Tech cards.
The BMW M6 was added in the fifth update for Asphalt Nitro. It is now a Class C car and costs
 485 to purchase.
A notable difference from the Airborne version is that the M6's final rank is decreased to 1512.
This section of an article is missing some information. Please try to add some relevant content.
Enduro

Double Down
Event
Boss Vehicle
Other

Enduro Vehicles

Weber Faster One

Weber Faster One
SRT 2013 Dodge Challenger SRT8 • Jaguar F-Type R • Nissan Skyline GT-R (R34) • Honda Integra Type-R • Nissan GT-R NISMO • Lamborghini Aventador LP 700-4 • W Motors Lykan HyperSport • Chrysler ME412
Aston Martin One-77

Aston Martin One-77
AC 378 GT Z • Aston Martin DB9 Coupé • Aston Martin V12 Zagato • Aston Martin V12 Vantage • Lucra L148 • Bentley EXP10 Speed 6 • Pagani Huayra • Peugeot Onyx
BXR Bailey Blade GT1

BXR Bailey Blade GT1
Alfa Romeo MiTo GTA • Mazda 6 • Ford Focus RS • Mitsubishi Eclipse • Nissan GT-R (R35) • Holden Coupe 60 • Dodge Viper SRT10 ACR-X • Mazzanti Evantra
Icona Vulcano V12 Hybrid

Icona Vulcano V12 Hybrid
Lotus Exige S Coupe • Felino cB7 • BMW M6 • Mazda Furai • Marussia B2 • Mercedes-Benz SLS AMG GT Coupé Final Edition • Mercedes-Benz Silver Lightning • Hennessey Venom GT
Falcon F7

Falcon F7
Audi S4 • Mitsubishi Lancer Evolution X • Infiniti FX50 • Ferrari 612 Scaglietti • Ferrari 458 Italia • Arrinera Hussarya • McLaren 12C Spider • Savage Rivale GTR
1967 Chevrolet Impala (Canceled)
1967 Chevrolet Impala
Camaro Z/28 • BMW M1 • Ferrari Testarossa • Maserati MC12 • Savage Rivale Roadyacht GTS • Chevrolet Corvette C3 • RUF CTR 3 • 9FF GT9 VMAX
Lamborghini Aventador LP 750-4 SV

Lamborghini Aventador LP 750-4 SV
Lamborghini Urus • Lamborghini Miura • Lamborghini Gallardo LP 560-4 2013 • Lamborghini Estoque • Lamborghini Sesto Elemento • Lamborghini Asterion • Lamborghini Huracán • Lamborghini Egoista
Sbarro Sparta

Sbarro Sparta
DS 3 Racing • Nissan Juke Nismo • Mercedes-Benz GLC Coupe • BMW M2 • Audi R8 LMS Ultra • Ferrari F50 • Savage Rivale Roadyacht GTS • Sbarro Alcador
Chevrolet Corvette Grand Sport

Chevrolet Corvette Grand Sport
1967 Chevrolet Impala • Volkswagen Golf Design Vision GTI • Maserati MC12 • Chevrolet SS • Chevrolet Corvette C7 • Chevrolet Corvette C3 • Chevrolet 2016 Camaro SS • 9FF GT9 VMAX
Porsche 918 Spyder with Weissach Package

Porsche 918 Spyder with Weissach Package
Scion FR-S • Porsche 959 • Audi RS 3 Sportback • Porsche 718 Boxster S • DS Survolt • Porsche Cayman GT4 • Dodge Viper SRT10 ACR-X • Porsche 911 GT3 RS
Mercedes-Benz SLR McLaren 722 Edition

Mercedes-Benz SLR McLaren 722 Edition
Mini Cooper S Roadster • Alfa Romeo MiTo GTA • Chevrolet Camaro GS • Ford Focus RS • Maserati GranTurismo Sport • Ferrari 458 Italia • Cadillac CTS-V Coupe Race Car • Mercedes-Benz SL 65 AMG Black Series
Yamaha FZ-10

Yamaha FZ-10
Suzuki GSX-R750 • Kawasaki Z800 • KTM 1290 Super Duke R • Yamaha YZF-R6 • Ducati Monster 1200 • Ducati SuperSport S • BMW S 1000 RR • Suzuki Hayabusa
Zenvo ST1

Zenvo ST1
Geely GC9 • Donkervoort D8 GTO • Volkswagen Golf Design Vision GTI • Jaguar F-TYPE Project 7 • 2010 Bentley Continental Supersports • Ferrari F50 • Lamborghini Aventador LP 700-4 • Jaguar XJ220S

Italics denote reward vehicles obtainable from the event.