The BMW i8 Coupe (also known as simply the BMW i8) is a mid-engined plug-in hybrid sports car produced by BMW since 2014.
Description
The i8 is part of BMW's electric fleet "Project i" being marketed as a new sub-brand, BMW i. The 2015 model year BMW i8 has a 7.1 kWh lithium-ion battery pack that delivers an all-electric range of 37 km (23 mi) under the New European Driving Cycle. Under the United States Environmental Protection Agency cycle, the range in EV mode is 24 km (15 mi) with a small amount of gasoline consumption. Its design is heavily influenced by the BMW M1 Hommage concept car, which in turn pays homage to BMW's last production mid-engined sports car prior to the i8: the BMW M1.
The BMW i8 can accelerate from a dead-stop to 100 km/h (62 mph) in 4.4 seconds and has an electronic limited top speed of 250 km/h (155 mph).
The initial turbodiesel concept car was unveiled at the 2009 International Motor Show Germany. The production version of the BMW i8 was unveiled at the 2013 Frankfurt Motor Show. The i8 was released in Germany in June 2014. Deliveries to retail customers in the U.S. began in August 2014. By early November 2016 global sales since mid-2014 totaled more than 10,000 BMW i8s, making the i8 the world's top-selling plug-in electrified sports car. The top selling markets are the United States, the United Kingdom and Germany.
Asphalt 8: Airborne
Summary
The BMW i8 Coupe was released in the Fast Lane Update. It is a high-end Class B car with the following statistics:
Starting rank: 1040 (924 under old rank system; shared with 2015 Ford Mustang)
MAX rank: 1417 (1457 under old rank system)
MAX+PRO rank: 1681 (1701 under old rank system)
Tuning Kit bonus: +101 (+76 under old rank system)
Stock to MAX+PRO rank difference: 641 (777 under old rank system)
Nitro Efficiency: 5/10/15
As of the Eighth Anniversary Update, the i8 is a high Class D with the following rank:
Performance
The BMW i8 has a total speed of 293.1 mph/472.0 km/h at MAX+PRO with a Tuning Kit, making it faster than the Mazda RX-8 Special Edition. However, in practice, it is slower than the RX-8 SE on all tracks due to having inferior acceleration, raw top speed, and overall handling. It has a moderately tight drifting radius, though this is impaired by its poor handling. The only advantage the i8 has over the RX-8 SE is an improved nitro efficiency, essentially making the i8 a slightly upgraded BMW M2 Special Edition.
Usage
Multiplayer
This section of an article is missing some information. Please try to add some relevant content.
Events
This section of an article is missing some information. Please try to add some relevant content.
Price
The BMW i8 was only obtainable from its R&D event. As of the 2020 Halloween Update, the i8 Coupe can be purchased for

 1,800,000.
It was made available between February 20 - April 1 2019 for

 11,000 and April 19 - 23, 2019 for

 12,000.
Between July 17-25, 2021, the i8 Coupe could be purchased for

 180,000.
Upgrades require

 ? while Pro Kits require 15 each of

Common Tires,

Common Suspension,

Common Drivetrain,

Common Exhaust, and

 1,500,000.
Research & Development
Main article: Research & Development/BMW i8 Coupe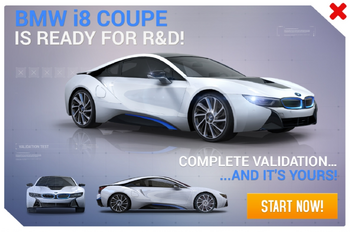 The BMW i8 Coupe's R&D event was launched on February 14, 2019. Players are given 12 days to complete the event with 50 Tests spanning 4 Labs.
The event was revived on August 16, 2019 after the 2018 McLaren X2's 4th Championship rerun. It was revived a second time on July 1, 2020 during the Torino Design Super Sport's Festival.

Vehicles in Asphalt 8: Airborne