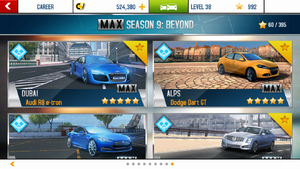 Main article: Asphalt 8: Beyond (Career Mode)
The Beyond season in Asphalt 8 is the ninth and final season in the game and is exclusively for maxed out cars. There are a total of 475 stars (285 podium finish + 190 Bonus Stars) in the season and this is the only season in the game to involve every car in the game. The 95 races (29.4% of all 323 Career Mode races) in the Beyond season also award a much bigger amount of credits than normal races about 15,000 to 20,000 and then 4,000 to 5,000 for re-playing the track. This season is excellent for getting credits if combined with the daily bonuses in the game. Each of the races also consists of only 1 lap and 6 racers that have the same maxed out car. However, since the March 2020 revision of the 2020 Lunar New Year Update, the credit payouts were significantly reduced.
Trivia
If you scroll down to the bottom of season 9 you can see what all the new cars are in the update even if there hasn't been a cup/event yet to win them.
Season 9 is excellent for credits farming because of the short races and high race rewards.

However, this was nullified in the March 2020 revision of the 2020 Lunar New Year Update, which credit rewards were significantly reduced to a few hundred credits.
Community content is available under
CC-BY-SA
unless otherwise noted.