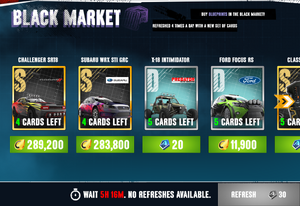 Introduced in its namesake update, the Black Market serves as the Asphalt Xtreme equivalent of Exclusive Deals.
Overview
Three to four offers are available at any time. Offers can be refreshed for

 30. Each offer is purchasable for up to 5 times before being sold out. Purchasing an offer will increase the price for the next purchase, preventing rare Blueprints from being easily obtained.
Offers
Cards usually have a

 Credits and a

 Tokens price. Players cannot choose; it is random which version is offered.
v1.9
Name

1

2

3

4

5

1968 Chevrolet Camaro Blueprint
 
 
 
 
 
Ariel Nomad Blueprint
 
 
 
 
 
Bentley Bentayga Blueprint
 
 
 
 
 
BMW X6 Blueprint
 

119,700

 
 
 
 
BXR Bailey Blade XT4 Blueprint
 

430,500

 
 
 
 
Chevrolet 3100 Blueprint
 

128,100

 
 
 
 
Chevrolet 3100 Pickup Blueprint
 
 
 
 
 
Chevrolet Bel Air Blueprint
 

44,100

 
 
 
 
Chevrolet C10 Blueprint
 

71,400

 

122,400

 
 
 
Chevrolet Camaro SS Blueprint
 

245,700

 

447,900

 
 
 
Chevrolet Camaro Z28 Blueprint
 

109,200

 
 
 
 
Chevrolet Colorado Z71 Blueprint
 

23,100

 

37,350

 

61,950

 

105,450

 

184,200

Chevrolet Colorado ZR2 Blueprint
 

392,700

 
 
 
 
Chevrolet Corvette Stingray Z51 Blueprint
 
 
 
 
 
Chevrolet El Camino 1980 Blueprint
 
 
 
 
 
Chevrolet Silverado 2500HD Blueprint
 

39,900

 

66,450

 
 
 
Chevrolet Silverado 2500HD Monster Blueprint
 

39,900

 
 
 
 
Chevrolet Silverado Centennial Edition Blueprint
 
 
 
 
 
Class-A Tool
 

84,000

 

145,050

 

257,550

 

470,550

 

886,050

Class-B Tool
 

23,100

 

37,350

 

61,950

 

105,450

 

184,200

Class-C Tool
 

12,600

 

19,800

 

31,800

 

52,350

 

88,350

Class-D Tool
 

6,300

 

9,600

 

14,850

 

23,550

 

38,250

Class-S Tool
 

163,800

 

292,500

 
 
 
DeLorean DMC-12 Blueprint
 

392,700

 

732,750

 
 
 
Dodge Challenger SRT8 Blueprint
 
 
 
 
 
Equus 2017 Bass 770 Blueprint
 
 
 
 
 
Ford 3-Window Coupé Blueprint
 

533,400

 
 
 
 
Ford Fiesta ST GRC Blueprint
 
 
 
 
 
Ford Focus RS Blueprint
 

35,700

 
 
 
 
Ford Mustang Mach 1 Blueprint
 

245,700

 
 
 
 
Ford Racing Ranger Dakar Blueprint
 

279,300

 
 
 
 
Ford Super Duty F-450 Platinum Blueprint
 

111,300

 
 
 
 
Gharial Blueprint
 
 
 
 
 
GMC Sierra 2500 HD Blueprint
 

119,700

 

210,450

 
 
 
GMC Vandura Blueprint
 
 
 
 
 
H&H Bulldog Extreme 4x4 Blueprint
 

71,400

 

122,400

 
 
 
Hummer H1 Blueprint
 

554,400

 
 
 
 
Hummer HX Blueprint
 

287,700

 
 
 
 
Jeep Wrangler Rubicon Blueprint
 

21,000

 

33,900

 

55,950

 

94,650

 

164,550

Land Rover Defender Blueprint
 

35,700

 
 
 
 
Lynx DCC 2016-J Blueprint
 

119,700

 

210,450

 
 
 
Lynx Mad Cat 2018 Turbo Blueprint
 

71,400

 

122,400

 

215,400

 

390,000

 
Lynx Raider Blueprint
 
 
 
 
 
MAN TGX D38 Blueprint
 

287,700

 
 
 
 
Mercedes-AMG C 63 Touring Car 2016 Blueprint
 

279,300

 
 
 
 
Mercedes-Benz Ener-G-Force Blueprint
 

128,100

 
 
 
 
Mercedes-Benz G 500 4x4(2) Blueprint
 
 
 
 
 
Mercedes-Benz Zetros Blueprint
 

497,700

 
 
 
 
Mini All4Racing X-Raid Blueprint
 

21,000

 

33,900

 

55,950

 

94,650

 

164,550

Mini John Cooper Works Blueprint
 

298,200

 

548,850

 
 
 
Mitsubishi Lancer Evolution X Blueprint
 
 
 
 
 
Mitsubishi R5 Blueprint
 

71,400

 
 
 
 
Nissan Titan XD Blueprint
 

96,600

 

168,000

 
 
 
Perlini 105F Red Tiger Blueprint
 
 
 
 
 
Peugeot 2008 DKR Blueprint
 

226,800

 
 
 
 
Peugeot 208 WRX Blueprint
 

119,700

 
 
 
 
Peugeot Hoggar Concept Blueprint
 

392,700

 
 
 
 
Polaris RZR XP 1000 EPS Blueprint
 

25,200

 
 
 
 
Porsche 911 SC Blueprint
 
 
 
 
 
Porsche Cayman GTS Blueprint
 
 
 
 
 
Porsche Macan Blueprint
 
 
 
 
 
Predator X-18 Intimidator Blueprint
 

35,700

 

59,100

 

100,350

 
 
Rage Comet R Blueprint
 

71,400

 
 
 
 
Ram 1500 Rebel Blueprint
 
 
 
 
 
Range Rover Evoque Blueprint
 

510,300

 

964,800

 
 
 
SMG Buggy Dakar Blueprint
 

415,800

 
 
 
 
Subaru WRX STI GRC Blueprint
 
 
 
 
 
Suzuki SX-4 S-Cross Blueprint
 

27,300

 
 
 
 
Unimog U 4023 Blueprint
 

39,900

 
 
 
 
Volkswagen Beetle GRC Blueprint
 

430,500

 
 
 
 
Volkswagen Polo R Blueprint
 

119,700

 
 
 
 
Volkswagen Type 2 (T1) Blueprint
 

94,500

 
 
 
 
Name

1

2

3

4

5

1968 Chevrolet Camaro Blueprint
 

412

 
 
 
 
Ariel Nomad Blueprint
 

712

 
 
 
 
Bentley Bentayga Blueprint
 

412

 
 
 
 
BMW X6 Blueprint
 

90

 
 
 
 
BXR Bailey Blade XT4 Blueprint
 
 
 
 
 
Chevrolet 3100 Blueprint
 
 
 
 
 
Chevrolet 3100 Pickup Blueprint
 

150

 
 
 
 
Chevrolet Bel Air Blueprint
 

37

 
 
 
 
Chevrolet C10 Blueprint
 
 
 
 
 
Chevrolet Camaro SS Blueprint
 
 
 
 
 
Chevrolet Camaro Z28 Blueprint
 

82

 
 
 
 
Chevrolet Colorado Z71 Blueprint
 

22

 
 
 
 
Chevrolet Colorado ZR2 Blueprint
 
 
 
 
 
Chevrolet Corvette Stingray Z51 Blueprint
 

712

 
 
 
 
Chevrolet El Camino 1980 Blueprint
 

225

 
 
 
 
Chevrolet Silverado 2500HD Blueprint
 

30

 
 
 
 
Chevrolet Silverado 2500HD Monster Blueprint
 

30

 
 
 
 
Chevrolet Silverado Centennial Edition Blueprint
 

412

 
 
 
 
Class-A Tool
 

60

 

75

 
 
 
Class-B Tool
 

22

 

30

 
 
 
Class-C Tool
 

9

 

15

 

22

 
 
Class-D Tool
 

4

 

7

 

15

 
 
Class-S Tool
 

120

 

150

 
 
 
DeLorean DMC-12 Blueprint
 
 
 
 
 
Dodge Challenger SRT8 Blueprint
 

375

 
 
 
 
Equus 2017 Bass 770 Blueprint
 

300

 
 
 
 
Ford 3-Window Coupé Blueprint
 
 
 
 
 
Ford Fiesta ST GRC Blueprint
 

412

 
 
 
 
Ford Focus RS Blueprint
 

30

 
 
 
 
Ford Mustang Mach 1 Blueprint
 

187

 
 
 
 
Ford Racing Ranger Dakar Blueprint
 

225

 
 
 
 
Ford Super Duty F-450 Platinum Blueprint
 
 
 
 
 
Gharial Blueprint
 
 
 
 
 
GMC Sierra 2500 HD Blueprint
 
 
 
 
 
GMC Vandura Blueprint
 

225

 
 
 
 
H&H Bulldog Extreme 4x4 Blueprint
 

52

 
 
 
 
Hummer H1 Blueprint
 
 
 
 
 
Hummer HX Blueprint
 
 
 
 
 
Jeep Wrangler Rubicon Blueprint
 

15

 

22

 

30

 

37

 

45

Land Rover Defender Blueprint
 

30

 
 
 
 
Lynx DCC 2016-J Blueprint
 

90

 
 
 
 
Lynx Mad Cat 2018 Turbo Blueprint
 
 
 
 
 
Lynx Raider Blueprint
 

337

 
 
 
 
MAN TGX D38 Blueprint
 

225

 
 
 
 
Mercedes-AMG C 63 Touring Car 2016 Blueprint
 
 
 
 
 
Mercedes-Benz Ener-G-Force Blueprint
 

97

 
 
 
 
Mercedes-Benz G 500 4x4(2) Blueprint
 

300

 
 
 
 
Mercedes-Benz Zetros Blueprint
 
 
 
 
 
Mini All4Racing X-Raid Blueprint
 
 
 
 
 
Mini John Cooper Works Blueprint
 

225

 
 
 
 
Mitsubishi Lancer Evolution X Blueprint
 

300

 

397

 
 
 
Mitsubishi R5 Blueprint
 

52

 
 
 
 
Nissan Titan XD Blueprint
 

75

 
 
 
 
Perlini 105F Red Tiger Blueprint
 
 
 
 
 
Peugeot 2008 DKR Blueprint
 

187

 
 
 
 
Peugeot 208 WRX Blueprint
 

90

 
 
 
 
Peugeot Hoggar Concept Blueprint
 
 
 
 
 
Polaris RZR XP 1000 EPS Blueprint
 

22

 
 
 
 
Porsche 911 SC Blueprint
 

712

 
 
 
 
Porsche Cayman GTS Blueprint
 

412

 
 
 
 
Porsche Macan Blueprint
 

412

 
 
 
 
Predator X-18 Intimidator Blueprint
 

30

 
 
 
 
Rage Comet R Blueprint
 

52

 
 
 
 
Ram 1500 Rebel Blueprint
 

300

 
 
 
 
Range Rover Evoque Blueprint
 
 
 
 
 
SMG Buggy Dakar Blueprint
 

300

 
 
 
 
Subaru WRX STI GRC Blueprint
 

337

 
 
 
 
Suzuki SX-4 S-Cross Blueprint
 

22

 
 
 
 
Unimog U 4023 Blueprint
 

30

 
 
 
 
Volkswagen Beetle GRC Blueprint
 
 
 
 
 
Volkswagen Polo R Blueprint
 

90

 
 
 
 
Volkswagen Type 2 (T1) Blueprint
 
 
 
 
 
v1.5 (Black Market Update)
Item
1st
purchase
2nd
purchase
3rd
purchase
4th
purchase
5th
purchase
Class-D Tool
 

2,100

or  

3

Class-C Tool
 

12,600

or  

6

Class-B Tool
 

15,400

or  

22

Class-A Tool
 

84,000

or  

40

Class-S Tool
 

54,600

or  

120

 

94,200

 

167,000

 

304,700

Ford Focus RS
 

11,900

or  

20

Predator X-18 Intimidator
 

23,800

or  

20

Land Rover Defender
 

23,800

or  

20

Mercedes UNIMOG U 4023
 

13,300

or  

20

Chevrolet Silverado 2500HD Monster
 

26,600

or  

20

Chevrolet Colorado Z71
Polaris RZR XP 1000 EPS
 

25,200

Suzuki SX-4 S-Cross
 

27,300

or  

15

 

44,550

or  

20

 

74,550

or  

25

 

127,950

or  

30

 

225,750

or  

40

Jeep Wrangler Rubicon
 

10

Mitsubishi R5
 

47,600-71,400

or  

35

Rage Comet R
 

47,600

H&H Bulldog Extreme 4X4
 

23,800

or  

35

Mini All4Racing X-Raid
Chevrolet Bel Air
 

29,400

or  

25

Chevrolet Silverado 2500HD
 

26,600

or  

30

Volkswagen Polo R
Lynx DCC 2016-J
 

119,700

or  

90

BMW X6
 

60

Perlini 105F Red Tiger
Volkswagen Type 2 (T1)
 

63,000

Ford Super Duty F-450 Platinum
 

111,300

Mercedes-Benz Ener-G-Force
Nissan Titan XD
 

64,400

or  

50

Camaro Z28
 

36,400

or  

55

Peugeot 208 WRX
 

79,800

SMG Buggy Dakar
 

200

1980 Chevrolet El Camino
Mercedes-Benz G 500 4X4 (2)
MAN TGX D38
Chevrolet 3100 Pickup
 

100

Peugeot 2008 DKR
 

125

Chevrolet Camaro SS
 

125

Ford Mustang Mach 1
 

245,700

or  

125

 

144,200

 

261,200

 

487,300

Ford Racing Ranger Dakar
 

93,100

Mini John Cooper Works
 

225

Ariel Nomad
Mercedes-Benz Zetros
Ranger Rover Evoque
 

170,100

Bentley Bentayga
Ford 3-Window Coupé
Ford Fiesta ST GRC
 

275

1968 Chevrolet Camaro
Hummer H1
Peugeot Hoggar Concept
 

130,900

 

235,900

 

437,900

 

838,400

Equus 2017 Bass 770
Chevrolet Colorado ZR2
DeLorean DMC-12
RAM 1500 Rebel
Mitsubishi Lancer Evolution X
Hummer HX
Volkswagen Beetle GRC
Bailey Blade XT4
 

225

Porsche 911 SC
 

712

Subaru WRX STI GRC
 

156,100

or  

225

 

283,800

 

531,700

SRT 2013 Dodge Challenger SRT8
 

158,900

 

289,200

 

542,300
See also