The Cadillac ATS-V Coupe is a two-door high-performance version of Cadillac's ATS sedan.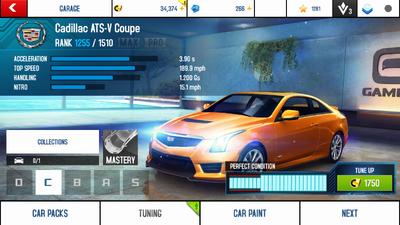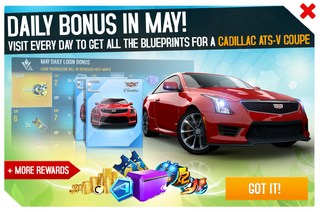 Summary
The Cadillac ATS-V Coupe was added to the game during the Rio de Janeiro Update. It is the second Cadillac to be added into the game.
The Cadillac ATS-V Coupe is a mid-high-end Elite Car. It has a starting rank of 1255, a MAX rank of 1409 and a MAX+PRO rank of 1510. The ATS-V receives a Tuning Kit bonus of +36 rank points. At its default Elite Tuning, the ATS-V's main rival is the Jaguar F-Type R; with a 0808 Elite Tuning, the ATS-V is similar to the Nissan GT-R (R35) in terms of performance.
Performance
Usage
Price
The Cadillac ATS-V Coupe could originally be purchased with
 250,000 or 

 2,050. As of the Car Blueprints Update, it can only be assembled after collecting 25 of its Common-rarity BP cards. Assembly takes 3 hours but can be skipped for up to

 232.
It costs
 1,435,975 /

 10,305 to MAX out. Pro kits require
 741,800, as well as 10 of each Class C part, 8 each of Early Tech, Initial Tech and Mid-Tech cards, and 12 V6 Engine cards. Tune-ups cost
 1,750 and take 1.5 hours to complete.
The Cadillac ATS-V Coupe's 25 BP cards were given out as a Daily Bonus reward if the player logged in for at least 25 days in May 2017, 30 days in January 2018 or 25 days in February 2018.
The Cadillac ATS-V Coupe has the distinction of being the first car to be awarded through the Daily Bonus via batches of BP cards accumulated throughout the mininum number of login days, instead of being awarded as a complete vehicle once the player has logged in for the minimum required number of days during the month; the last car to use the previous system was the BMW M1.