The Cadillac Cien Concept is a concept supercar built to celebrate Cadillac's 100th anniversary.
Description
The Cadillac Cien is a 2-door rear mid-engined, rear-wheel-drive high-performance concept car created by Cadillac, designed by Simon Cox, and unveiled at the 2002 Detroit Auto Show to celebrate Cadillac's 100th anniversary.
The Cadillac Cien had a longitudinally mounted 60-degree, 7.5-liter V12 which produced 750 hp (559 kW) and 650 lb⋅ft (881 N⋅m) of torque. This experimental engine featured Direct Injection and Displacement on demand, which allowed the engine to run on only eight or fewer cylinders under light load. The Cien was designed at General Motors' Advanced Design Studio in England and built as a fully working road-going vehicle with the help of the UK-based engineering and motorsport company Prodrive. The Cien's monocoque chassis and body are made of Aerogel composite and its design was inspired by the F-22 Raptor.
The Cien made its appearances in the films The Island and Transformers: Age of Extinction and in the games Midnight Club 3 and the Gran Turismo series (4, PSP, 5 and 6).
Asphalt 9: Legends
The Cadillac Cien Concept appears as a mid Class B car with the following rank statistics:
Performance
The Cien Concept has very good top speed, similar to the Ford GT. It also has average acceleration with decent handling, nitro boost, nitro efficiency, and drifting radius.
Usage
Overall, the Cien Concept is a very good option for Daily Events and Multiplayer and can be very competitive against other high-end Class B or low-end Class A cars with its high top speed and handling.
However, multiplayer usage is best advised at 3* or higher as the Cien's below-average acceleration and nitro efficiency at 1-2* will make it struggle against cars that are superior in those stats. The Cien Concept is required to obtain an extra pack in the Exclusive: VLF Force 1 V10 event. That pack has a chance to drop its Epic Import Part.
Exclusive: Cadillac Cien Concept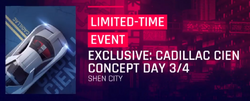 The Exclusive: Cadillac Cien Concept event was available as a TLE every 2 weeks for 4 days with Cien Concept blueprints and epic imports being obtainable from the event. Using the Rezvani Beast X allowed for all 3 packs to be obtained.
After the Grand Prix Update, the event is now available between every Wednesday and Thursday. Obtaining all of the packs now requires the Rezvani Beast X and the Acura 2017 NSX to be used.