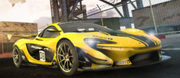 Car banners are banners in Asphalt 8: Airborne that depict a car in a certain color against a certain background, similar to how jackets are dedicated graphics for songs. These banners appear in cropped form in the Career Mode (except Season 9) and collections screens, and they appear in full form in the Season 9 Career Mode, Car Mastery, main menu, and Card Storage screens.
Collections
In the Collections screen (highlighting "Classic Collections"), when you open up a collection by clicking on its banner, you will find all the cars in that collection. Any cars you own that are in that collection will have their banners shown in full color. Any cars you don't own that are in that collection will have their banners in black-and-white.
Changes
In the v1.3.0 update, many cars had their banners revamped.
In v2.2.0, many old cars had their banners revamped or changed entirely again. These include:
In v.3.0.0, the Lamborghini Aventador SV's banner was slightly altered to accomodate changes made to the car's rims.
Gallery
This section is not complete. Anyone who is able to rip the graphics files should be able to rip the banners and upload them here to the wiki. Alternatively, players may obtain banners from the lower left section of the pro kits inventory, as well as tag racing (excluding motorcycles in the latter case), by taking a snapshot and then by cropping the snapshot to only include the banners.
Class D
Class C
Class B
Class A
Class S