A card is a random currency in Asphalt Nitro. It can only be obtained from dedicated random containers, the Kit Boxes. The system has been taken over from Pro Kits in Asphalt 8: Airborne, with the name of the cards being shortened to simply Kit as there are not pro upgrades in Asphalt Nitro.
As in Asphalt 8, Kit cards mark the introduction of simulated gambling as the cards are only granted by random processes. Now a player's progress in the game is no longer only dependent on skills and playing frequency (or money to buy resources), but also on pure luck.
Cards, together with

 Credits, are needed to upgrade vehicles.
Classification
Cards have two distinctive properties: type and rarity.
Types
There are three card types:
Part cards
Tool cards
Engine cards
A vehicle upgrade requires a certain amount of cards from one, two or all three types, combined with a sum of

 Credits.
Rarity
Rarity is an arbitrary classification of cards in
common

,

rare

, and

legendary

.
It provides a rough orientation about the probability of getting a card from a Kit Box.
Availability
Kit Boxes
Cards can only be obtained through Kit Boxes. The four permanent Kit Boxes can be bought in the shop:
If a time-limited box is offered, it replaces the Specialist Kit Box in the store during the offer.
Kit Boxes are also rewarded for high leaderboard positions in competitions, mostly for reaching the first place in Time-Limited Events or at least the top 50 in Rivals. Some selected Career races also reward a Kit Box when all five

 Stars are obtained.
Drop rates and probabilities
Every card as a drop rate which is the expected value of how many of this card players will get in the long run, when a large number of boxes are opened, expressed in percent. If a box has no official or hidden guarantees (for example "at least 1 will be Legendary"), a drop rate is also the probability of getting a card.
Asphalt Nitro does not publish drop rates except for

 Fuel and boosters, but WikiProject Statistics provides weighted averages of the statistical frequencies for each card which reflect both the probability of getting a card and the fact that some boxes are more frequent than others. Whenever a card's drop rate is mentioned on this page, it is a statistical value, not an official one.
Exchange system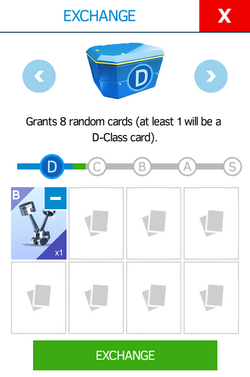 Cards can be exchanged to form new boxes. They have different values and are converted to internal unnamed and undocumented units. The Asphalt 8 equivalent for these units would be the former subsidiary currency

 Fusion points. Due to the lack of an official name, Asphalt Wiki uses "Exchange Points" for the Asphalt Nitro version. Transactions between Cards and Exchange Points are always lossy.
Although the game does not display numbers, the value of a card can be deduced by measuring the difference on the balance bar of the Exchange screen. The bar has five sections marking the thresholds for each of the five Boxes that can be obtained for Exchange Points. When a card is selected, the bar is extended by a certain amount of pixels (px). Sometimes several cards have to be selected to determine whether the pixel progress is an integer or not.
The following table shows card values in pixels at a screen resolution of 1920 x 1080 px. Exchange Points have been defined as the number of pixels multiplied by 2 in order to get integer values.
Card
Pixels
Exchange
Points
Engine
Tool
Part

Common

Common

3.5
7

Rare

Rare

7
14

i4

,

V6

,

V8

9
18

Hybrid

,

F6

11.5
23

V12

14
28

Forced-Ind. V8

Legendary

17.5
35

V10

20.5
41
When players have accumulated enough Exchange Points, they can exchange them for Exchange Boxes. The amounts of required common Part cards and the prices in Exchange Points for each box are listed below:
Tip: Holding the finger or mouse button on a selected card will select all cards of this type instead of having to tap separately for every card.
Cards
Asphalt Nitro does not display card names like Asphalt 8. Cards are only mentioned as Part cards, Tool cards and Engine cards. The description of some time-limited Kit Boxes also mentions Engine names which are the same as in Asphalt 8. Therefore Asphalt Wiki uses the following conventions:
Part cards are named after the upgrade section they are used for (acceleration, top speed, handling and nitro).
Tool cards are named after their rarity (common, rare, legendary).
Engine cards have the same names as in Asphalt 8.
Drop rates in this section are weighted averages of current relative frequencies based on 1,545 cards from the 10 most common boxes since the last changes.
Tools
Tools
Common Tool
Drop rate: 23.88 %
Rare Tool
Drop rate: 10.03 %
Legendary Tool
Drop rate: 2.78 %
Parts
Parts



Acceleration - D




Top speed - D




Handling - D




Nitro - D

Drop rates

Class D

: 15.41 %, ≈3.85 % each


Class C

: 12.68 %, ≈3.17 % each


Class B

: 14.69 %, ≈3.67 % each


Class A

: 7.38 %, ≈1.85 % each


Class S

: 5.5 %, ≈1.38 % each
Engines
See also
General:
Kit Box – main article with an overview of all boxes available in Asphalt Nitro
Statistics:
Most common boxes – table sortable by card, with realistic drop rates of cards regardless of their rarity, based on the most common boxes
Average card frequencies – tables sortable by box, indicating which box grants most of a specific card
WikiProject Statistics – a project investigating random processes in the Asphalt games

The statistical data on this page is part of WikiProject Statistics.
It contains original research which may be incomplete, incorrect or biased.
Community content is available under
CC-BY-SA
unless otherwise noted.