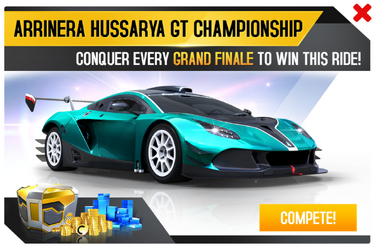 The Arrinera Hussarya GT's Championship was released as the 10th Championship event after the McLaren 650S GT3's R&D event and as part of the Munich Update on November 9, 2017. Players are given 10 days to complete the event. Unlike other championships, this event has a tire refill duration of 12 hours.
It was held again as the 35th Championship event in the Halloween Update's Asphalt Moments Series on November 8, 2018, alongside the Renault Trezor's and McLaren MP4/8's Championship events.
The relaunched event has several changes:
The time limit to complete was reduced to 8 days.
The tires still take 12 hours to refill, but with 1 tire restored in every 2 hours and 24 minutes.
Blueprints are no longer awarded as the player progresses, with the car only being awarded after completion of all the Grand Finales.
The locations will unlock in the following schedule:
Races
Race
Rank
Track
Race Mode
Main Goal
Skip Costs
Second Goal
Third Goal
Location 1 - Munich Subway
All goals onward are worth 2 trophies each
1/1
1349
Rooftop Raceway
Time Attack
Beat 1:25
 

65


 

40

Perfect Nitro Triggered: 4
Flat Spins: 1
1/2
1364
Mosaic Motorway
Time Attack
Beat 1:25
 

70


 

45

Drift Distance: 200
Perfect Nitro Triggered: 4
1/3
1379
NSTK
Market Square
Grand Finale
Finish First
 

120

-
-
Location 2 - French Guiana
2/1
1394
NSTK
Sprint 6
Time Attack
Beat 0:41
 

110


 

55

No Wrecks
Perfect Nitro Triggered: 3
2/2
1408
NS
Forwards
Elim.
Finish postion: 1
 

110


 

55

Total Air Time: 3s
Flat Spins in One Jump: 2
2/3
1423
Sprint 1
Time Attack
Beat 0:48
 

110


 

65

Perfect Nitro Triggered: 3
Perfect Runs: 1
2/4
1438
NSTK
Reverse
Grand Finale
Finish First
 

225

-
-
Location 3 - London
3/1
1452
Sprint 5
Time Attack
Beat 0:42:5
 

150


 

85

Perfect Nitro Triggered: 4
Total Air Time: 2s
3/2
1467
NSTK
Sprint 1
Time Attack
Beat 0:39
 

165


 

90

Perfect Runs: 1
Flat Spins in One Jump: 2
All goals onward are worth 3 trophies each
3/3
1481
Sprint 6
Time Attack
Beat 0:39
 

165


 

90

No Wrecks
Flat Spins: 4
3/4
1496
NSTK
London Eye
Grand Finale
Finish First
 

330

-
-
Location 4 - Barcelona
4/1
1510
Sprint 1
Time Attack
Beat 0:48
 

240


 

105

Perfect Nitro Triggered: 5
Flat Spins in One Jump: 2
4/2
1525
NS
Reverse
Elim.
Finish position: 1
 

240


 

105

Knockdowns: 4
Knockdowns without Wreck: 3
4/3
1539
NSTK
Sprint 3
Time Attack
Beat 0:40
 

250


 

135

Perfect Runs: 1
Perfect Nitro Triggered: 4
4/4
1554
Sprint 5
Time Attack
Beat 0:50:5
 

250


 

135

Perfect Nitro Triggered: 5
Flat Spins: 4
4/5
1572
Forwards
Grand Finale
Finish First
 

450

-
-
Location 5 - Tenerife
5/1
1589
Sprint 2
Time Attack
Beat 0:38
 

325


 

165

No Wrecks
Flat Spins in One Jump: 3
5/2
1607
Sprint 3
Time Attack
Beat 0:45
 

325


 

165

Perfect Nitro Triggered: 4
Total Air Time: 3s
5/3
1624
NSTK
Sprint 4
Time Attack
Beat 0:36:5
 

340


 

180

Perfect Runs: 1
Flat Spins: 3
5/4
1642
Sprint 6
Time Attack
Beat 0:42
 

340


 

180

Perfect Nitro Triggered: 4
Perfect Runs: 1
5/5
1646
Mount Teide
Grand Finale
Finish First
 

550

-
-
Location 6 - San Diego Harbor
6/1
1651
Sprint 3
Time Attack
Beat 0:37:5
 

430


 

220

Total Air Time: 5s
Barrel Rolls: 2
6/2
1655
NS
Forwards
Elim.
Finish position: 1
 

430


 

220

Perfect Nitro Triggered: 6
Knockdowns: 6
All goals onward are worth 4 trophies each
6/3
1660
NSTK
Sprint 6
Time Attack
Beat 0:35
 

465


 

240

Perfect Runs: 1
Flat Spins: 3
6/4
1664
Sprint 4
Time Attack
Beat 0:36:5
 

465


 

240

No Wrecks
Flat Spins in One Jump: 3
6/5
1669
TK
Sprint 2
Time Attack
Beat 0:41:5
 

480


 

250

Perfect Runs: 1
Perfect Nitro Triggered: 4
6/6
1674
NSTK
Reverse
Grand Finale
Finish First
 

660

-
-
Location 7 - Patagonia
7/1
1680
Sprint 1
Time Attack
Beat 0:36:5
 

510


 

250

Perfect Nitro Triggered: 5
Flat Spins: 3
7/2
1685
NSTK
Sprint 6
Time Attack
Beat 0:33
 

510


 

250

Barrel Rolls: 2
Beat 0:32
7/3
1690
Sprint 3
Time Attack
Beat 0:34
 

510


 

250

No Wrecks
Flat Spins: 2
All goals onward are worth 5 trophies each
7/4
1696
NS
Sprint 5
Time Attack
Beat 0:37
 

525


 

275

Perfect Runs: 1
Beat 0:36:5
7/5
1703
Sprint 2
Time Attack
Beat 0:34
 

525


 

275

Perfect Nitro Triggered: 6
Flat Spins: 3
7/6
1709
NSTK
Crystal Lake
Grand Finale
Finish First
 

775

-
-
Location 8 - Dubai
8/1
1716
NSTK
Sprint 1
Time Attack
Beat 0:30
 

560


 

300

Perfect Nitro Triggered: 4
No Wrecks
8/2
1722
Sprint 6
Time Attack
Beat 0:36
 

560


 

300

No Wrecks
Beat 0:35:5
8/3
1730
NS
The Rose of the Desert
Elim.
Finish position: 1
 

590


 

330

Knockdowns without Wreck: 5
Drift Distance: 400
8/4
1737
TK
Sprint 4
Time Attack
Beat 0:36:5
 

590


 

330

Flat Spins: 2
Beat 0:35:5
All goals onward are worth 6 trophies each
8/5
1745
Sprint 3
Time Attack
Beat 0:34:5
 

640


 

375

Perfect Nitro Triggered: 4
No Wrecks
All goals onward are worth 7 trophies each
8/6
1752
NSTK
Sprint 5
Time Attack
Beat 0:34
 

640


 

375

Barrel Rolls: 1
Beat 0:33:5
8/7
1760
NSTK
Dubai
Grand Finale
Finish First
 

870

-
-
Rewards
Main article: Championship/Arrinera Hussarya GT/Rewards
Arrinera Hussarya GT Championship Rookie Box
"Grants 7 cards for the Arrinera Hussarya GT!"
 Common:

14.29 %

 | Rare:

85.71 %


Observed:

1 V8 Engine

1 Mid-Tech

5 Class S Parts (random)
Arrinera Hussarya GT Championship Advanced Box
"Grants 12 cards for the Arrinera Hussarya GT!"
 Common:

16.67 %

 | Rare:

75 %

 | Legendary:

8.33 %


Observed:

2 V8 Engines

1 Advanced Tech

2 Mid-Tech

7 Class S Parts (random)
Arrinera Hussarya GT Championship Professional Box
"Grants 20 cards for the Arrinera Hussarya GT!"
 Common:

20 %

 | Rare:

70 %

 | Legendary:

10 %


Observed:

4 V8 Engines

2 Advanced Tech

3 Mid-Tech

11 Class S Parts (random)
Tips / Warnings
Quotes
Main article: Championship/Arrinera Hussarya GT/Quotes