The Chrysler ME412 is a concept hypercar developed by Chrysler in 2004. The name is a combination of the Mid-Engine with Four turbochargers on a Twelve-cylinder engine.
Description
The Chrysler ME412 is a former concept supercar produced by Chrysler in 2004, with only two units produced. The exterior design styling was done by Brian Nielander, while Mark Walters designed the interior. American rapper Birdman also reportedly purchased a Chrysler ME412, although there is no strong evidence to confirm this.
The Chrysler ME412's name is derived from its mid-engine configuration and 4 turbochargers on a 12-cylinder engine.
The Chrysler ME412 is powered by a lightweight aluminum 6.0L quad-turbocharged V12 sourced from Mercedes-Benz (M120), with the power rated at 850 hp (634 kW) and 848 ft·lb (1150 N·m). The ME412 was claimed to do 0-60 mph in 2.9 seconds and hit a top speed of 249 mph (400 km/h), which would have made it the fastest and most powerful production car at the time.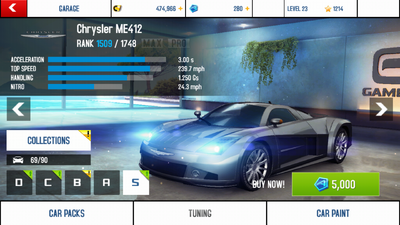 The Chrysler ME412 was added in the Fuel Events Update. The Chrysler ME412 and 2015 Ford Mustang were the first Premium Cars in the game, purchasable from the Airborne Premium Pack.
The Chrysler ME412 has a starting rank of 1509, a MAX rank of 1659, and a MAX+PRO rank of 1748. The car receives +33 from Tuning Kits. The ME412's main rival is the SSC Ultimate Aero XT.
The Chrysler ME412's high-power nitro leaves the ME412 with intense acceleration, making it the fastest accelerating Class S car until the TRION NEMESIS was added. The ME412's nitro efficiency rating combination of 9/11.5/16 is also unique to the car. The ME412's bias towards acceleration comes at the expense of most of its other performance traits, though; its top speed is lower than those of similarly ranked cars like the SSC Ultimate Aero XT and nanoFlowcell QUANT FE. Additionally, while having no problems with drifting whatsoever, the ME412 cannot tackle corners as easily, similar to the ED Design Torq. This can leave the ME412 at a disadvantage in tracks that involve many curves.
The ME412 can be purchased with

 5,000 as of the Decals Update. It costs

 2,401,050 to max out. It is the eighth car to be released as a Multiplayer League reward, and is part of the eighth Multiplayer Season, Earth Season, which started on April 13, 2017. On March 25, 2018, it now costs

 1,250,000.
The Chrysler ME412 was added to Asphalt Nitro in its fifth update.
The ME412, still a Class S car, now has a starting rank of 1515 and a maximum rank of 1752, due to its nitro stat being increased.
Vehicles in Asphalt 8: Airborne