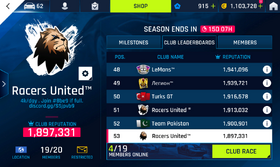 Clubs are a feature in Asphalt 9: Legends.
Overview
A club is a group of players accumulating reputation to compete with other clubs for accumulated points. A club can be created for 30

 30 and up to a maximum of 20 players can join a club.
Reputation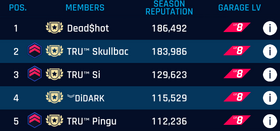 Reputation is a form of XP that is awarded when a race is completed. The member's section records the total amount of points earned by each member. Double reputation is given for Multiplayer races and reputation earned from Career races are not counted.
Milestones
Milestones are rewards that are earned after the club has reached a certain amount of reputation points. Milestones are only available a Club Season and include

,

, blueprints for vehicle and Epic Import Parts, and Card Packs.
Club Rewards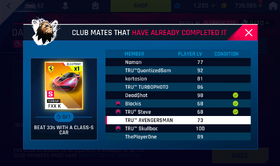 Club Rewards are rewards from race events that can be obtained once a certain number of club members have completed the race. The number of club members needed varies on the reward and the event. Players can check and see which members have completed the race.
Leaderboard
The club leaderboard shows the top 100 clubs that have the most points on each gaming platform. Clubs that consistently finish a Club Season in the top 10 have a chance to submit a custom logo to be used for their club.
Club Race
Main article: Club Race
Community content is available under
CC-BY-SA
unless otherwise noted.