The DS Survolt, also known as the Citroën Survolt (officially stylized as Citroën SURVOLT), is a concept electric race car produced by Citroën/DS Automobiles based on the Citroën REVOLTe concept car.
Description
The DS Survolt, based on the REVOLTe concept car, was showcased at the 2010 Geneva Motor Show. A fully electric race car, the Survolt is a zero-emissions vehicle and is powered by a pair of electric motors that give 300 hp (224 kW) and 354 ft·lb (480 N·m)[1] in total.
The Survolt is 12.63 ft (3.85 m) long, 6.14 ft (1.87 m) wide, and 3.94 ft (1.20 m) high and features a design with the front dominated by the vehicle's badge located above the large oval-shaped grill. The car's headlights are horizontal LEDs that consume less power than traditional filament bulbs — important in a battery-operated vehicle. At the rear, the Survolt retains the light cluster design used on the REVOLTe concept car but also has a spoiler added to increase downforce.
Citroën claims that the Survolt can accelerate from a standstill to 60 mph (97 km/h) in less than 5 seconds and reach a top speed of 162 mph (260 km/h), and that its batteries give a range of 124 mi (200 km).
This section of an article is missing some information. Please try to add some relevant content.
This section of an article is missing some information. Please try to add some relevant content.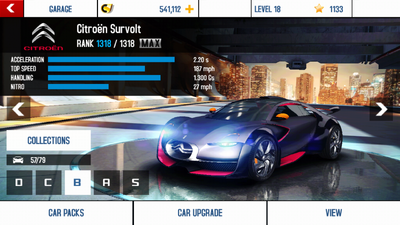 The DS Survolt, previously known as the Citroën Survolt prior to the Car Mastery Update, is the first of the 10 original Class B cars, with a starting rank of 1107, a MAX rank of 1318, and a MAX+PRO rank of 1386. The Survolt receives +49 from Tuning Kits.
The Survolt, being an electric car, features extremely quick acceleration. This comes in very handy for Multiplayer races, as well as the Career Mode all the way up to Season 7: Heat. It also has a very good nitro efficiency rating, at 5/10/15. On the other hand, the Survolt has the lowest top speed stat of all Class B cars, except the nitro-focused Honda Integra Type-R. It also suffers from the problem of a slightly wide drifting radius, although it handles better than the Aston Martin DB9 Coupé, which is unable to compete against the Survolt in any way despite being ranked higher.
As of the Motorcycles Update, the Survolt costs

 45,000 to purchase (originally

 8,500, then

 12,750). As of the 2019 Spring Update, upgrades cost

 315,000 while Pro Kits require

 50,400, 8 of each Class B Part and 4 Initial & Early Techs each.
The Survolt is one of the more popular cars in Multiplayer, and generally considered one of the best starter Class B cars overall due to its huge potential: it can finish many Class B-focused Career Mode races all the way up to Season 7: Heat, it is a gateway car to Multiplayer races, it counts towards two car collections, and its Season 9: Beyond race is one of the best early opportunities for farming Credits, with a base payout of

 4,420 for finishing in first place in a race that typically lasts less than 1:05:00.
Multiplayer
The Survolt can compete with many vehicles including the Pagani Zonda R and McLaren 12C Spider, in the 1300-1400 bracket which it excels in at MAX+PRO. In the hands of a skilled pilot, it can hold its own against the Donkervoort D8 GTO, Ariel Atom V8  and other Survolts with a boost advantage. It, however, cannot really compete against the McLaren MP4/8. Happily, it can compete against most vehicles, and considering its availability it is one of the best Multiplayer cars. It is confirmed that the Survolt can take a player to Champion League (2,000+), but from there it struggles with the numerous Donkervoorts and MP4/8s.
It is recommended to use the rapid acceleration of the Survolt to knock down stragglers such as the Lamborghini Countach 25th Anniversary and the Dodge Viper SRT10 ACR-X which sometimes appear in Multiplayer and have very slow acceleration. However one must be careful of D8s and MP4/8s as there is a chance in being knocked down by those faster-accelerating vehicles.
References
Vehicles in Asphalt 8: Airborne
Community content is available under
CC-BY-SA
unless otherwise noted.