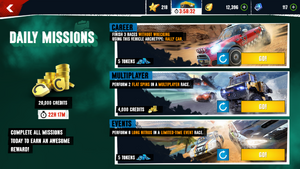 Daily Missions is a gameplay element in Asphalt Xtreme, comparable to Daily Tasks in Asphalt 8: Airborne. Players can complete three missions (tasks) per day, one from the sections Career, Multiplayer and Events. If a player has not yet earned enough

 Stars to unlock Events or Multiplayer, Career missions are displayed instead.
The timer is reset every 24 hours at 22:00 UTC.
When a mission is completed, the player is notified after the race (not during the race like in Asphalt 8). The mission reward is not granted automatically but has to be claimed. After completing all three missions, an additional streak reward can be claimed.
A new mission can be loaded by tapping the blue refresh button. Waiting time is 1 h 30 min and can be skipped by paying

 10 or less, according to the remaining time. Reasons for refreshing can be:
The goal is unachievable.
The player is speculating on another reward.
The player simply does not like it.
Missions and rewards
Wrong plurals ("1 knockdowns", "1 multiplayer races") are reproduced like in-game.
Career
Task
Reward
Finish 3

Career

events in

1st place

.
Iron Box
 

5

Finish 3

Career

events on this track:

Across Waterfalls

.
 

11,000

Finish 3

Career

events on this track:

Ancient Relics

.
 

10,000

Finish 3

Career

events on this track:

Dry Plains

.
 

9,000

Finish 3

Career

events on this track:

Steel Ruins

.
 

5


 

10,000

Finish 3

Career

events on this track:

Thai Beach

.
Iron Box
Finish 3

Career

events on this track:

The Factory

.
 

10

Finish 3

Career

events on this track:

Through the Avalanche

.
Bronze Box
Iron Box
 

11,000

Finish 3

Career

events on this track:

Urban Playground

.
 

11,000

Finish 3

Career

events using this vehicle archetype:

Muscle Car

.
 

11,000

Finish 3

Career

events using this vehicle archetype:

Rally Car

.
Iron Box
Finish 3

Career

events using this vehicle archetype:

Truck

.
 

11,000

Finish 3

Career

events using this vehicle class:

S

.
 

5

Finish 3 races

without wrecking

on this track:

Across Waterfalls

.
 

11,000

Finish 3 races

without wrecking

on this track:

Aircraft Boneyard

.
 

11,000

Finish 3 races

without wrecking

on this track:

Buried Ship

.
 

10,000

Finish 3 races

without wrecking

on this track:

Emerald Forest

.
 

5

Finish 3 races

without wrecking

on this track:

Mountain Village

.
 

9,000

Finish 3 races

without wrecking

on this track:

Steel Ruins

.
Iron Box
Finish 3 races

without wrecking

on this track:

Temple Race

.
 

10


 

5

Finish 3 races

without wrecking

using this vehicle archetype:

Buggy

.
 

9,000

Finish 3 races

without wrecking

using this vehicle archetype:

Pickup

.
 

5

Finish 3 races

without wrecking

using this vehicle archetype:

Rally Car

.
 

5

Finish 3 races

without wrecking

using this vehicle archetype:

Truck

.
 

10,000

Finish

first

in 3 races on this track:

Buried Ship

.
 

10,000

Finish

first

in 3 races on this track:

Ancient Relics

.
 

10

Finish

first

in 3 races on this track:

Forbidden Oasis

.
 

11,000

Finish

first

in 3 races on this track:

No Man's Land

.
Bronze Box
Finish

first

in 3 races on this track:

Steel Ruins

.
 

11,000

Finish

first

in 3 races on this track:

Temple Race

.
 

10

Finish

first

in 3 races using this vehicle archetype:

Buggy

.
 

9,000

Finish

first

in 3 races using this vehicle archetype:

SUV

.
 

10

Perform 3

Knockdowns

in any race using this vehicle archetype:

Monster Truck

.
 

11,000

Perform 10

Long Nitros

in any race using this vehicle archetype:

Buggy

.
 

10

Perform 10

Long Nitros

in any race using this vehicle archetype:

Pickup

.
 

11,000

Perform 10

Long Nitros

in any race using this vehicle archetype:

SUV

.
 

11,000

Perform 12

Long Nitros

in any race.
 

11,000

Perform 3

Barrel Rolls

in any race using this vehicle archetype:

Muscle Car

.
 

10,000

Perform 3

Flat Spins

in any race using this vehicle archetype:

Pickup

.
 

10,000

Perform 3

Flat Spins

in any race using this vehicle archetype:

Rally Car

.
 

11,000

Perform 3

Flat Spins

in any race using this vehicle archetype:

Truck

.
Iron Box
Perform 3

Flat Spins

in any race using this vehicle class:

A

.
Iron Box
 

5

Perform 9

Long Nitros

in any race using this vehicle class:

D

.
 

10,000

Perform 9

Long Nitros

in any race using this vehicle class:

S

.
 

5

Upgrade Class-D

vehicles 3 times.
 

11,000

Upgrade Monster Truck

vehicles 3 times.
Iron Box
 

10

Upgrade Muscle Car

vehicles 3 times.
 

5

Upgrade Rally Car

vehicles 3 times.
 

10

Upgrade Truck

vehicles 3 times.
 

10


 

9,000
Multiplayer
Task
Reward
Finish 1 multiplayer races

without wrecking

.
 

3


 

5,000

Finish 1

multiplayer

events in

3rd place or better

.
 

6,000

Finish 1

multiplayer

events using this vehicle archetype:

Buggy

.
Iron Box
 

3


 

4,000

Finish 1

multiplayer

events using this vehicle archetype:

Muscle Car

.
Iron Box
 

3


 

5,000

Finish 1

multiplayer

events using this vehicle archetype:

Rally Car

.
 

3


 

6,000

Finish 1

multiplayer

events using this vehicle archetype:

SUV

.
Iron Box
 

3


 

5,000


 

4,000

Finish 1

multiplayer

events using this vehicle archetype:

Truck

.
 

6,000


 

5,000

Finish 3

multiplayer

events using this vehicle archetype:

SUV

.
 

10

Finish 1

multiplayer

events using this vehicle class:

B

.
 

5


 

3


 

6,000


 

5,000

Finish 1

multiplayer

events using this vehicle class:

C

.
 

3

Finish 1

multiplayer

events using this vehicle class:

D

.
 

3

Finish 2

multiplayer

events.
Iron Box
 

6,000

Finish 2

multiplayer

events on this track:

Desert Dash

.
Iron Box
 

6,000


 

5,000


 

4,000

Finish 2

multiplayer

events on this track:

Racing Blast

.
 

6,000


 

5,000


 

4,000

Finish

first

in 1

multiplayer

races.
Iron Box
 

5,000

Perform 1

Barrel Rolls

in a

Multiplayer

race.
 

4,000

Perform 1

Knockdowns

in a

Multiplayer

race.
 

5


 

6,000

Perform 2

Flat Spins

in a

Multiplayer

race.
 

6,000


 

5,000


 

4,000

Perform 3

Flat Spins

in a

Multiplayer

race.
 

7,000

Perform 2

Knockdowns

in a

Multiplayer

race

without wrecking

.
 

6,000


 

5,000

Perform 4

Long Nitros

in a

Multiplayer

race.
 

6,000


 

5,000
Events
Task
Reward
Finish 2

Limited-Time Events

in

1st place

.
 

5


 

11,000


 

10,000


 

9,000

Finish 3

Limited-Time Events

.
Bronze Box
 

10


 

5


 

11,000


 

10,000

Finish 3 Limited-Time Event races

without wrecking

.
 

5


 

11,000


 

10,000

Finish

first

in 3

Limited-Time Event

races.
Bronze Box
Iron Box
 

10


 

5


 

11,000


 

9,000

Perform 3

Barrel Rolls

in a

Limited-Time Event

race.
 

10


 

5


 

10,000


 

9,000

Perform 4

Flat Spins

in a

Limited-Time Event

race.
 

10


 

11,000


 

10,000


 

9,000

Perform 4

Knockdowns

in a

Limited-Time Event

race.
Iron Box
 

10


 

11,000


 

10,000


 

9,000

Perform 4

Knockdowns

in a

Limited-Time Event

race

without wrecking

.
 

10


 

5


 

10,000

Perform 8

Long Nitros

in a

Limited-Time Event

race.
 

5


 

11,000


 

9,000
Streak rewards
Streak rewards can be: