Trivia
General
The Datsun 280Z is the oldest Japanese car in the entire Asphalt series.

Despite having "Datsun" in its name, the car is branded as Nissan and displays its logo in the games. This is because exported Nissan models would be renamed as Datsun. The Datsun 280Z can also be called as the Nissan S30 or Nissan Fairlady Z.
This is further evident with the Porsche Update as the 280Z shows up in the Nissan brand filter and the lack of a Datsun filter.

A similar case occurs with the Acura NSX 2005. Acura is a luxury marque branch of Honda and in certain countries are badged and branded as such.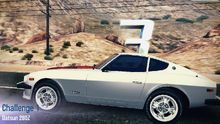 The Datsun 280Z outperforms the Nissan 370Z, 2 generations later in the Nissan Fairlady Z/Z-car series than the 280Z (280Z→300Z/300ZX→350Z→370Z).

This is yet another case of a car outperforming its successor(s) in the game.

The Datsun 280Z is the first Class C vehicle that costs more  

1,000,000

in terms of total cost of Pro Kits.
The Datsun 280Z is the only vehicle added an update later than The Great Wall Update that has a white license plate.
Before the Research & Development Update, no decals could be applied to the Datsun 280Z.
The Datsun 280Z is the only Car Mastery-unlockable car introduced in the Car Mastery Update that uses a pre-existing engine sound in the game as opposed to a brand new sound.

It is also the first car that uses the i6 Engine card introduced in that same update.

During a pre-race countdown, the rear wheels for the 280Z will be shown as being very close to the wheel arch. The garage view of the car does have the wheels properly aligned.

Vehicles in Asphalt 8: Airborne
Community content is available under
CC-BY-SA
unless otherwise noted.