Decals, also known as Visual Customizations, are visual customization items that can be applied to cars in the Asphalt series. Note that decals do not affect a car's performance characteristics, only visual appearance.
Asphalt 9: Legends
Decals were first introduced as a Special Event reward for the featured car with non-event specific designs being added in the Tune It Up Update. Decals can be unlocked as an Event or Career reward.
The following cars currently have decals as of the Tune-Up Update:
Asphalt Street Storm Racing
Decals in Asphalt Street Storm Racing are treated as items that can be bought with

 Cash or obtained from Gift Boxes. Decals from Gift Boxes are stored in the player's inventory and can be sold for Cash.
Unlike in Asphalt 8: Airborne, customization is more similar to real life: Changing a decal always costs Cash. Also, once a decal from Gift Boxes is applied, it disappears from the inventory and must be acquired again if another decal has been applied afterwards or if the player wants to use it for another vehicle.
Overview
Decals are divided into specific and generic.
Type
Inventory
Price
Comment
Specific
yes
Gift Boxes only.
Generic
no

9,000

  to

18,000

 
The first generic decal is the "no-decal". Applying it removes any previously applied decal and is free.
Generic decals
| On blue | On black |
| --- | --- |
| | |
When displaying the icon for a decal, the game takes into account the current color of the selected vehicle. This may result in some details not being shown appropriately, like for the
Racing I decal in the example to the right. All examples in the following table are shown on a BMW M2 Coupé in default blue.
Name

Price

Sale value

Example icon
Example image
Grunge

13,500

 
Racing I

18,000

 
Racing II

9,000

 
Stripes I

9,000

 
Stripes II

9,000

 
Techno

13,500

 
Asphalt Xtreme
Decals in Asphalt Xtreme are the only way to customize a vehicle. They are unlocked by completing certain Mastery challenges; some others can only be obtained as reward from Limited-Time Events.
Asphalt 8: Airborne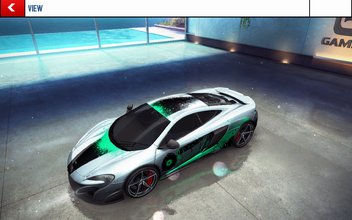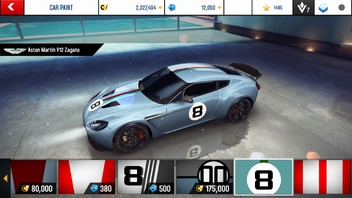 Introduced in the Decals Update in March 2015, decals may have to be purchased with in-game currency, although they are often available as prizes in Time-Limited Events. A number of them are also obtainable via Mastery Rewards. The value of a decal depends largely on the value of the car it is associated with, as well as its attractiveness. Decals range from simple stripes to more complex and/or attractive designs. Decals can cost either credits or tokens.
Decals start at

 6,000 and can reach as high as

 1,200,000. They also can cost Tokens, ranging from

 40 to

 6,000. The Koenigsegg One:1 and Savage Rivale GTR have decals by default; in this case, both cars actually have custom textures that were once selectable colors in the San Diego Harbor Update and Winter Update, albeit with each one marked as an "Unofficial color".
Since the Elite Cars Update, there are two Decal Packs that can be purchased as an IAP. One pack, costing US$29.99 and titled Top Contender Decal Pack (awards 3,000 VIP Points), grants decals from the most popular cars between the Decals Update and Santa's Gift Update, ranging from the Ferrari 330 P4 to the TRION NEMESIS. Another pack, costing US$74.99 and titled Garage Kingpin Decal Pack (awards 7,500 VIP Points), grants a huge selection of decals from almost all cars in the game all the way up to the Alfa Romeo 4C from the Lunar New Year Update. It is worth noting that this decal pack will actually give the player some decals that are normally not purchasable under normal circumstances.
Since the Rio de Janeiro Update, decals are awarded as Daily Login Bonus rewards by leveling up in the VIP System. VIP Level 2 users start receiving exclusive decals as Daily Bonus rewards, while VIP Level 9 users also start receiving the more exclusive Premium Decals as Daily Bonus rewards. The decals awarded depend on the player's VIP Level; for instance, a VIP Level 4 user may receive a decal for the Renault CLIO R.S. 200 EDC as their final Daily Bonus decal reward for the month, while a VIP Level 7 user may instead receive a decal for the Aston Martin V12 Zagato as their final Daily Bonus decal reward for the month. The VIP System may also give players special decals that are unlockable only through Events and/or Multiplayer League Seasons (like the one for the Aston Martin V12 Zagato pictured above). If the player already has the decal, the game will instead reward the player with credits as compensation.
Since the Multiplayer League Update, decals are awarded as Multiplayer League rewards for earning and saving points. Up to 8 decals can be earned for each Multiplayer League Season.
Decals that cost either tokens or are Event-exclusive decals are called "Premium Decals". However, not all token-purchasable decals can be classified as "Premium Decals".
If the player attempts to buy a decal for a car they currently do not own, the game will pull up a confirmation box saying that the player doesn't own that car yet and asking if they want to buy that decal anyway.
List of cars without decals
Cars that received decals after an update from being released
† Decals are no longer purchasable as of the Lunar New Year 2017 Update.
Asphalt 7: Heat and Asphalt Injection
Decals can be applied onto a car since the initial release of the game. Most decals must be unlocked by earning Stars.
Trivia
References
Community content is available under
CC-BY-SA
unless otherwise noted.