| | | |
| --- | --- | --- |
| " | Customize your cars & take down opponents with style! | " |
| | Gameloft's "What's New" Info box | |

The Decals Update, also called the Ferrari Update, is the v1.8.0 update of Asphalt 8: Airborne. It was released in March 2015 on iOS and Android and in April 2015 on Windows platform. It was later followed up by a mini-update, More Than 300 Decals Update, in April 2015. The decal customization feature was reintroduced, along with a redesign of the Garage. Five Ferrari cars were also added in this update.
Announcement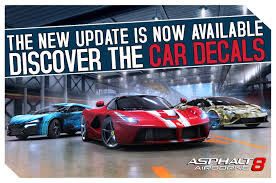 The following text was published on the Apple Store:
Discover the latest Asphalt 8 update and its amazing new features!
CAR DECALS

The most requested feature is finally here! Customise your cars & take down your oppponents with style!

5 NEW FERRARI CARS
GARAGE REDESIGN

Admire your beauties in an all-new environment!

NEW CAR COLLECTION

Time to stock your garage & get exclusive rewards!
New Cars
Class C
Class B
Class A
Class S
The new cars will need the following engine cards:
Game Changes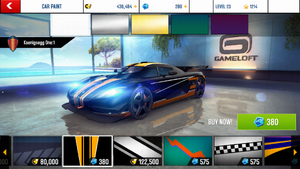 Customization was re-expanded in the Asphalt series by adding the possibility of purchasing various decals with Credits or Tokens.[1].[2]
The Garage has been redesigned into a more modern theme with trees in the background and a view of the sea, along with new particle effects around the vehicles (shown on right)
Two new car collections (Winter Came and Winter is Gone) added.
All vehicles can now be purchased separately, including the Premium cars (which now cost Tokens).

The four former two-car Car Packs were removed from the Car Packs screen, which, prior to the Decals Update, displayed Car Packs that were purchasable only with real money.

"Participated" race reward of Elimination races reduced by 80% in Career Mode, allowing no more than  

291

​ to be earned for finishing outside of the podium finish (3rd, 2nd, or 1st).
The Mirage added to Quick Solo Race for Windows.
The Audi RS 3 Sportback's acceleration stat has been changed to 4.80 s at stock.
v1.8.1 More Than 300 Decals Update
A subupdate was released on the week of April 2015 and added the following:
More than 300 new decals added. They are based on country flags and more unique designs.
Issues concerning Cloud Save have been fixed.
No new cars were added in this update.
Trivia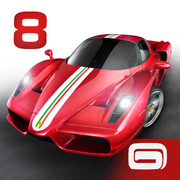 The Decals Update's artwork does not use new cars. Instead, it reuses old cars.
The Decals Update is the second major update that doesn't include any new Race Tracks.
For some reason, the update only added Ferrari cars in the missing files pre-update. This is also the reason why this update is alternatively called "Ferrari update".
One decal for the 9FF GT9 VMAX, which costs  

1,495

​, has been removed, along with another decal for the Mercedes-Benz SL 65 AMG Black Series, for depicting the Rising Sun Flag of Japan (the latter car's decal also depicts a samurai), causing controversy. The Rising Sun Flag is de facto banned in countries like South Korea and China due to Japan's actions against these countries during World War II and the years leading up to it.
Bugs / Glitches
Major Bugs
The Decals Update Cloud Sync Bug:[1]: In some cases all career progress (purchased cars (including all upgrades that had been applied to the cars), Credits, Tokens, Pro Kit cards, pending (unopened) Pro Kit boxes, free unused upgrades, free unused boosters, stars earned, gained levels and opened

seasons

) is lost after reinstalling the v1.8.0 version of the game (essentially forcing some players to start from Level 1 with one car every time they have reinstalled the game).

The core of this problem is a nonworking cloud sync, which after a reinstallation of the game doesn't in all cases prompt the user with formerly found dialogue, wheather the player would like to use an existing career (in the cloud) with such and such many cars or start a new career. Google+ Remote Account connection in some cases only brings back the Google+ name and Google+ Quests.
Tokens and Pro Kit cards, which reside in the Gameloft servers are in most cases synced correctly, but after the automated sync procedure (which was introduced in the Decals Update) has taken place, everything else is reset to the career progress situation that was found in the previous version (v1.7.2) of the game (the situation of March 4th, 2015 or in some cases to default, as if the player was starting from the beginning).
Reports of a nonworking cloud sync (slightly differing in nature, but the common denominator is the defunct cloud sync) have come from iOS and Android users and from single device as well as multiple device users. In essence, currently the game's cloud sync system on iOS and Android was a partial wayback machine, which allows the players to travel to history with their name, Tokens and Pro Kit cards.

Dodge Dart GT upgrades reset: During the Decals Update, it widely occurred that all the upgrades of Dodge Dart GT were wiped out without any refunds making the vehicle stock (Level 0) for most players. Later (March 9th), Gameloft compensated for the losses either with 10 free Class D upgrades, 20 free Class D upgrades (equivalent for maxing a stock Class D car) or  

125,000

​​ plus the 20 free Class D upgrades.[3] This is due to increased anti-cheating security measures.

A similar but bigger issue occurred in Asphalt 7: Heat, where certain users lost some of their cars along with all of their customizations without any refunds whenever the player updates the game, but it was fixed on March 19, 2013.
Zeremoniar on Gameloft Forum thread "No cloud sync?" page 8 comment #79:
Problem is that also guys with only one account will be affected by this. They are just not aware about it. But this can happen single device users and needs a working sync to avoid data loss:
Buy of a new device
Stop playing A8, delete it, then decide that life is poor without and start playing again
Reinstall due to software problems (Darksolid had this a couple of days ago)
Device broken and resetted after repair
The weird acount resetted to level zero sync bug
Others
Wrong Collection Banners: The "Red Stallions" collection's banner was erroneously that of "German Steel", while "Red Colts" used what is now "Red Stallions"'s banner. This was fixed in the Tenerife Update.
Gallery
References