This is an old booster version. See Double Credits (Asphalt 8) for the current version.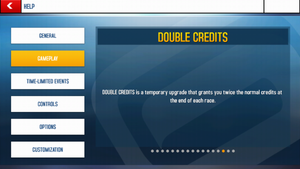 Double Credits is a booster in Asphalt 8: Airborne, which doubles the amount of Credits earned in races. As with other boosters, the Double Credits powerup is effective for a certain time, during which all the races a player starts are affected.
Usage
The Double Credits booster can be used before the race using a booster selection before starting a race (if you don't have one, it costs 100 Tokens to activate one unit). Each unit lasts one whole day (24 hours).
During this period, the amount of Credits earned in a race will be doubled.
The Double Credits power-up can be replenished only once by finishing the classic "Off the Charts" collection, and the MAX "Jaguars" collection, and can also be obtained in certain Apex Wednesday Booster cups, and sometimes in other cups (although rare). It can also be obtained through car mastery, Daily Bonus, as well as certain Exclusive Deals, which can offer up to three Double Credits for

 180.
If the Double Credits boost is activated, a boost icon will appear in the main menu along with a timer indicating how long the boost will last. A timer will also appear on the Boosts-screen indicating the remaining time of the activated boost.
Until the Sixth Anniversary Update, a limited version of Double Credits could also be obtained twice per day by watching an ad after a race. The amount of rewarded Credits was then doubled. The update replaced this bonus with Multi-Credits.
When not active, the Double-Credits bonus shows a greyed out 0.
Trivia
It is the rarest powerup in the game, as it is rarely awarded in Time-limited events and can be earned in collections. The first collection is named "Off the Charts". Completing this classic collection grants you the "Double Credits Booster" for two times (2X Double Credits).
As of the Lunar New Year 2017 Update, Double Credits is a possible reward from the Free Rewards videos.
Prior to the Winter 2014 Update, Double Credits used to cost $0.99 (£0.79), or may be obtained for free from win streaks.
It is the only powerup that does not affect your race results (other than the credits earned by winning).

As a result, this powerup does not show up in the Leaderboards.

This powerup can be duplicated with the Daily Credits or VIP bonuses and will stack with it for a larger multiplier of the initial credits payout.
The Double Credits booster (with Nitro Starter (simply called "Nitro" at that time) and Tuning Kit) was added in Update 1 in November 2013, when the game was made freemium and new cars were added along with Time-Limited Events and customizable controls. (source 1, source 2)
The Double Credits can be earned from certain Car Mastery challenges, notably the Ferrari 612 Scaglietti, AC 378 GT Z, Toyota Supra RZ (Mark IV), Ferrari F40, Nissan Skyline GT-R (R34), Ferrari F50, and Apollo N all being Challenge 5 rewards while the Lamborghini Egoista and Falcon F7 has it as a Challenge 10 reward.
Contrary to Gameloft Customer Care's FAQ page says, the Double Credits can be used even when offline.
See also
REDIRECT Template:Booster navbar a8