Drive Syndicate is an event type in Asphalt 9: Legends.
Overview
Unlike other Special Events, Drive Syndicates have missions with each mission having several sub missions to be completed. The event also has its own store, currency type and uses keys to unlock the featured cars.
Game Modes
Money Run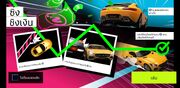 To win in this mode, players must finish the race with a certain amount of Syndicate Coins. Players will start with 

 3,000 and as the race progresses the amount of coins will decrease until there are none left. Knockdowns reward the player with 

 125 and Combo Knockdowns give 

 325 . Using Shockwave or gaining Air Time will stop the coins from decreasing. Damaging your vehicle (Hitting walls, destroying objects, slamming into other cars, or wrecking) Will decrease the coins more rapidly by 

 10,

 25 or

 50.
Hacker Run

Simillar to Time Attack, players much reach each Firewall before the timer runs out. X1 and X2 Time Multipliers can be picked up to increase your timer.
On The Run
To win in this mode, players must reach the finish line in time without getting busted. Simillar to Hunted, police will be dispatched while also adding barriers on the track which either slow the player's car down or wrecks the players resulting in a bust if the barrier is hit too hard.
Currencies
Syndicate Points
Syndicate Points are obtained from missions and are used to redeem rewards.
Syndicate Coins

Syndicate Coins are a currency type exclusive to Drive Syndicate Events. Syndicate Coins are used to purchase items from the Syndicate Market and to apply upgrades to the featured car.
Events
Community content is available under
CC-BY-SA
unless otherwise noted.