The Dubai Update is an update added in the v1.5.0 version of Asphalt 8: Airborne. It was released in August 2014. The Dubai track returned, and another new feature includes a special new Career Mode season.
Announcement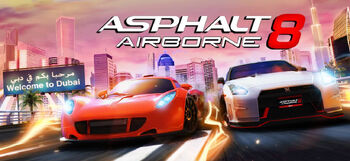 The following text was published on the Apple Store:
Tear up the asphalt with this brand-new and exciting update, and leave your rivals in the dust!
NEW LOCATION: DUBAI!

Discover the treasures of the Middle East with these exotic new tracks

5 NEW CARS!
NEW SEASON!

Test your driving skills in the brand-new 9th season with 74 high-octane events!

STREAM-UP

Twitch is now available on iPhone 5, iPhone 5c, and iPad (4th generation)!

LAP VOTING!
New Cars
Class C
Class B
Class A
Class S
Game Changes
Dubai track added.
MAX Collections added.
Voting for number of laps in World Series (now Multiplayer League) is now possible.
All lapped events in Quick Solo Race last two laps except on Iceland, Tokyo, Venice, and Monaco.
New Career Mode season added: Season 9: Beyond. This season's events require a maxed out car. Attempting to enter a race without a maxed out car will bring up the text "Maxed-out car required".
AI cars are no longer selected based on starting rank and MAX rank. The cars are tuned to either match your car's rank or be one or two full upgrade levels higher (except in Multiplayer, Quick Solo Race, and Tag Racing).
The Ford 2015 Mustang was renamed to 2015 Ford Mustang.
The price of the Airborne Premium Pack consisting of the 2015 Ford Mustang and Chrysler ME412 reduced by half.
Ramp design for all tracks except Dubai was changed to the one used in The Great Wall. This, however, would be reverted in the next update.
The car select screen has had a slight makeover.
The Jaguar C-X75 no longer has the pre-race revving sound of a muscle car.
Trivia
The icon for this update features the Hennessey Venom GT, last introduced in the Fuel Events Update.

The promotional banner for this update also features the Hennessey Venom GT and Nissan GT-R NISMO racing in the new Dubai track. This same image is used as a background image in the official Gameloft forums for the game.
Bugs / Glitches
Overranked AI Cars: There are various instances where a car is ranked higher than its MAX rank (e.g. Lamborghini Veneno ranked at S1666). This would eventually become the basis of Pro Kits and Elite Cars, introduced in the Winter Update and Elite Cars Update, respectively.

Even with the addition of Pro Kits, it is still impossible to have certain cars at a rank in the Dubai Update, like the Ford Focus RS being ranked at C1366 even though its current maximum rank is C1355.
With hacking, though, it is possible to make the cars ranked much higher to simulate the Dubai Update via Elite Tuning, although this may not work for all cars.
Update Trailer