The Ferrari 599XX is a track only version of the Ferrari 599 GTB Fiorano.
Description
The Ferrari 599XX is a track-only supercar, built by Ferrari essentially as a "rolling laboratory" for developing future road car technology and is based on the 599 GTB. The car was unveiled at the 2009 Geneva Auto Show. The car's rev limiter is raised to 9,000 rpm, with the 6.0 L (5,999 cc) Tipo F140 C naturally aspirated V12 engine rated for 730 PS (540 kW; 720 hp) at 9,000 rpm. Weight is reduced by cutting the weight of the engine unit components, and use of composites and carbon-fibre body parts, carbon-fibre brake pads. A new gearbox shift strategy is introduced to cut overall gear change time to 60 ms. Aerodynamics were retuned to give more downforce (280 kg (617 lb) at 124 mph, 630 kg (1,389 lb) at 186 mph). The car also includes 29/67 R19 front and 31/71 R19 rear tires with 19 x 11J wheel rims at the front and 19 x 12J at the rear.
This section of an article is missing some information. Please try to add some relevant content.
The Ferrari 599XX is a Tier 4 vehicle. It requires 365 stars to unlock and costs 1,500,000 Cash.
This section of an article is missing some information. Please try to add some relevant content.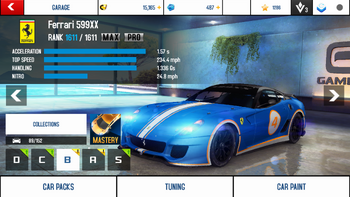 The Ferrari F99XX appears as a mid Class B car with the following rank statistics:
The Ferrari 599XX has a good acceleration, albeit not one of the best in Class B. The 599XX has a high top speed, rivaling the Ford Shelby GT500 and Lamborghini Gallardo LP 560-4 2013. This gives the 599XX an advantage on long tracks, such as Iceland or Tokyo. The 599XX is capable of handling corners well, another advantage on technical tracks like Monaco or Dubai. While the 599XX has a decent nitro boost speed, its efficiency is mediocre.
The Ferrari 599XX counts towards the Ferrari, Italian Stallions, New Blood, Euro Aces, Track Fiends and Red Colts collections. A total of 13 Free Upgrades (4 Class A, 2 Class D and 7 Class C),

 315,000, 10 Tuning Kits and 45 Extra Tanks are awarded when all 12 versions are completed.
As of the Fifteenth Anniversary Update, the Ferrari 599XX costs

 830,000 to purchase (previously

 300,000). As of the 2019 Spring Update, upgrades cost

 1,355,000 while Pro Kits require

 452,800, 28 of each Class B Part, 16 Initial & Early Techs each, 36 Mid-Techs and 48 V12 Engines.

Vehicles in Asphalt 8: Airborne
Community content is available under
CC-BY-SA
unless otherwise noted.