FIAT(Fabbrica Italiana Automobili Torino(English: Italian Automobile Factory of Turin) is the Largest Italian automaker, producing passenger Cars and Commercial Vehicles, and is part of FCA Italy S.p.A. Fiat is available in Asphalt Overdrive, the first Asphalt spinoff.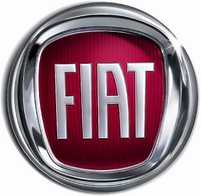 Overview
Since being founded July 11, 1899(116 years ago) in Turin,Italy, FIAT is widely known across the world, making cars all across the globe, including recently in the United States from 2009 onward after buying a 20% stake in Chrysler, ending a 25-year absence.
In addition to this, FIAT is known for owning other Italian car brands Lancia, Abarth, Alfa Romeo, Maserati, and (Formerly) Ferrari under the holding company Fiat S.p.A. This is now FCA Italy S.p.A., a division of Fiat Chrysler Automobiles, created after a merger with Chrysler LLC in 2014. This created the seventh-largest automaker in the world. Its most famous model, the Cinquecento (500) has been remade, retaining its city car roots, while also becoming a subject of tuning by Abarth (see below).
Fiat also has a rich motoring and Motorsports history, with cars like the 124 sport spider competing in the World Rally Championship. It won two races in its inaugural year of competition, one in the following '73 season, and had a full FIAT podium in the 1974 Portuguese TAP Rally. It was soon succeeded by the venerated 131 Abarth. This car drove to 20 victories in its five year career, taking home 3 WRC's for manufacturers in 1977, 1978, and 1980, getting two drivers championships in the latter two years. 22 years since the 131 ended competition (giving way to Lancia's rise in rallying), a Fiat Punto S1600 won the 2003 Italian Rally Championship. A Grande Punto S2000 won the FIA European Rally Championship three years later, scoring three successive wins in 2009, 2010, and 2011.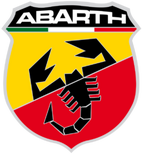 Abarth & C. S.p.A. is a racing car and road car maker founded by Carlo Abarth in 1949. Its logo is a shield with a stylized scorpion on a red and yellow background. Abarth & C. S.p.a. is a fully owned subsidiary of FCA Italy S.p.A. (formerly Fiat Group Automobiles S.p.A.), the subsidiary of Fiat Chrysler Automobiles (formerly of Fiat S.p.A.) controlling its European automotive production activities. Since their inception, they have created performance and models for FIAT, like the aforementioned 124 and 131 rally, the 500 Abarth, Punto Abarth, and upcoming 124 Spider Abarth and Abarth Rally (ND), as well as conversions and separate models, making it not entirely unlike what HSV is to Holden or what FPV is to Ford Australia.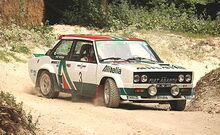 Tier 1 cars
Trivia
As you can see, compared to the real-life photo (shown above), the car is missing some sponsors on its livery. That is probably because of licensing, so this model used in game could be one of the 400 homologation specials used to certify it in Group 4 Rallying. However, if it is a homologation special, it is odd how it has the racing livery though.