The Formula E Update is the 40th update of Asphalt 8: Airborne.
Announcement
Formula E is Here!
Discover one of the biggest eSport races: Formula E is breaking into Asphalt 8! The coolest special events, including the Formula E Gen 2 festival and much, much more are waiting for you! Join now to win the fabulous rewards!
Enjoy and win!
Follow our social media posts to stay up to date with the latest news about special rewards from Formula E! Stay tuned and safe - join the Formula E event now!
New vehicles
All of these cars are Festival-Unlockable only, except for the KTM X-Bow GT4 which was a givenaway car.
The new cars will need the following engine cards:
Game changes
Gameplay changes
Name
Card
Fusion value

Extra

 

2,000

Prime

 

2,500

Superb

 

3,000

Festival

 

3,500
New card rarity names have been introduced for the existing color codes of Vehicle Kit Cards. The names are now displayed in the box info of Festival Kit Boxes and in the inventory. Only the Lamborghini Terzo Millennio Kit still has the old "Festival" name. It is unclear whether these are real rarity categories or just denote the value of the cards as there are no random processes that grant Vehicle Kit Cards so far.
Cosmetic changes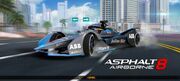 Events
Flower Multiplayer Season 2 May 4, 2020
Formula E Gen2 Festival May 8, 2020
Bugs/glitches
Pagani Huayra BC rank revert: On Android, the Pagani Huayra BC's rank was changed from the April 22, 2020 hotfix of 1860 back to its previous 1803.
Incorrect Formula E Gen2 model: On Android, it is possible for the Formula E Gen2 to appear as a 2018 McLaren X2 with distorted textures.
Post-update screen
Trailers
Trivia
References