The GT by CITROEN, sometimes spelled as GTbyCitroen and officially stylized as the GT by CITROËN, is a concept hypercar by Citroën.
Description
The GT by Citroen is a collaboration project between Citroen and Polyphony Digital, the developer of the Gran Turismo game series. Making its debut at the 2008 Paris Motor Show on October 2, 2008, the car was designed specially for that series, making its appearances in Gran Turismo 5 and Gran Turismo PSP.
The car's exterior design was made by Takumi Yamamoto, a Japanese designer from Jean-Pierre Ploué's Style Citroën design team. Takumi Yamamoto was a childhood friend of Kazunori Yamauchi, director of Polyphony Digital and creator of the popular Gran Turismo franchise, also known as "Gegge". According to a Yamauchi interview at the Paris Motor Show 2008, he and Yamamoto started collaborating on this project back in 2003. A press release published on the North American Gran Turismo official website describes the Citroën and Polyphony Digital collaboration as a "joint effort first talked about at the Geneva Motor Show past March". Yamamoto convinced Jean-Pierre Ploué to submit his concept to Citroën's head office in Paris who agreed to start the production process and manufacture the real car. The concept car's rear was carefully designed to fit what the gamers will actually see in the game since it is the more powerful featured vehicle, argues Yamamoto.
The Concept version uses a battery that powers four hydrogen-injected electric motors, delivering 793 hp (591 kW) and 1840 ft·lb (2495 N·m) of torque. The car weighs 3086 lb (1400 kg), giving it a power-to-weight ratio of 566 hp per tonne or 4 lb (2 kg) per hp. Top speed is stated as at least 250 mph (402 km/h).
In June 2009, Citroën confirmed plans to produce an extremely limited number of GTs for sale to the public. Only 6 would be built, each costing $2.1 million. In July 2010, rumors that production was suspended began to surface.
The GT also previously made its appearances in the discontinued Facebook game Car Town and in Racing Rivals as an unlockable car.
Asphalt 8: Airborne
Summary
The GT by CITROEN was added in the Multiplayer League Update as a mid Class S car with the following statistics:
Starting rank: 1584
MAX rank: 1712 (+128)
MAX+PRO rank: 1797 (+85)
Tuning Kit bonus: +31
Stock to MAX+PRO rank difference: 213
Upgrade rank percentages: 30/40/10/20
Nitro Efficiency: 7/12/17
Performance
The GT by CITROEN's performance is built on that of the Sbarro Alcador, albeit with much more grip and faster straight-line acceleration.
The GT by CITROEN's main focus is nitro, having a high nitro stat and above-average nitro efficiency at 7/12/17. This leaves the GT by CITROEN as a nitro-focused car even though it gains more speed from upgrading the top speed than the nitro. The GT by CITROEN has a maximum total speed of 302.6 mph/487.3 km/h, exactly the same as those of the Aston Martin One-77 and Rimac Concept S, and is unique in that it is one of several Class S cars with a speed multiplier of 100.00%, meaning that its displayed speed is exactly the same as its real speed.
Because of its large nitro stat, the GT by CITROEN's raw top speed is not very high; at most, it is 260.0 mph/418.7 km/h. In terms of handling, the GT by CITROEN handles relatively well despite its long wheelbase and weight of 3086 lb (1400 kg). It can drift through sharp corners with little to no trouble without having to turn early, although the car is a bit slower than other cars with a similar total speed due to its low top speed stat.
Official review
This is the official review of the GT by CITROËN on the Asphalt YouTube channel, made by Elite_HectorX and published on November 18, 2016:
Time to reach end of Tokyo straight: 7.425s
Perfect nitro duration: 8.877s
Triple nitro duration: 6.006s
French Guiana lap time: 56.562s
Final verdict: "GT by CITROËN can make 56.562 seconds on French Guiana. It is around 1 second slower than the Fenyr Supersport, a half second slower than Mosler GT and as fast as Weber (All R&D cars). It's performance could be ubicated between VMAX and McLaren F1, but those ones require 44 F6 and 52 V12 engine cards, respectively."
Usage
Despite what the GT by CITROEN's rank would suggest, it is only capable of rivaling high-end Class A cars like the McLaren 675LT, Aston Martin One-77, Mosler GT3, Jaguar XJ220S, and Ferrari 330 P4 and not high-end Class S cars. Cars like the Mosler Super GT, W Motors Fenyr SuperSport, and Rezvani Beast Alpha are capable of superior performance for similar or lower prices.
The GT by CITROEN has some use as Credits grinder with its 15th Car Mastery Challenge, with a 1st-place base Credits reward of

 6,185, although it has a small problem of having a Flawless race in The London Eye, although if this race was done between the Championship Update and Asphalt Moments Update, traffic would not be a concern. Additionally, just like the 2015 GTA Spano, its Mastery Challenges do not award any alternate rewards other than Credits and Licenses, meaning that players who own the car do not get any consolations except for two formidable farming races. The GT by CITROEN, if not MAX+PRO, can also be used for Credits-earning sessions in Mastery Challenge 14, a Flawless race set in San Diego Harbor, with a 1st-place base Credits award of

 5,670, but this race has a required rank of 1771.
In Events, the GT by CITROEN is not recommended for use in general Class S events as even at MAX+PRO and with the best driver, it has no chance of breaching the top 1000, regardless of the track. The only events where the car may come in handy are DS Automobiles-exclusive events and GT by CITROEN-only events. In Multiplayer, the GT by CITROEN is also not recommended, either. It has a low speed-to-rank ratio, with its aforementioned total speed of 302.6 mph/487.3 km/h at only rank 1797. Even at MAX+PRO, victory is almost impossible, as most likely, far superior cars like the Rezvani Beast Alpha, Apollo Intensa Emozione, Aston Martin Vulcan, and Chevrolet Corvette Grand Sport appear.
All in all, while the GT by CITROEN may have some niche use as a marginal upgrade to the McLaren 675LT and Sbarro Alcador, it is overall of little utility beyond as a collector's car, especially due to appearing in no collections. Even the McLaren P1™ GTR is a better buy for a lower tokens price, collection usability, and better Mastery rewards, including

 200. The McLaren P1™ GTR also has the advantage of not having as restrictive of an availability as the GT by CITROEN due to the latter car now being obtainable with only 18 GT by CITROEN BP cards. In addition, the Pagani Huayra BC can be considered a faster version of the GT by CITROEN but with a higher total speed and better handling.
Price & Availability
The GT by CITROEN was originally only obtainable by completing its R&D event but was updated in Car Blueprints Update to be assembled after collecting 18 of its Legendary Blueprints. Assembly takes 14 hours with a maximum skipping price of

 449.
As of the 2019 Holiday Update, the car no longer requires Blueprints to be assembled and has a full purchase price of

 12,500.
As of the 2019 Spring Update, upgrades cost

 2,836,000 while Pro Kits require

 944,800, 32 Class S Parts each, 64 Hybrid Engines, 60 Mid-Techs, and 40 Advanced Techs.
The GT by CITROEN was also part of the 20th and 38th Multiplayer Seasons, Coldsnap Season 2 and Sunset Season respectively, which started on March 15, 2018 and July 25, 2019 respectively. Players who finished in the Elite League would get all 18 BP cards (Coldsnap Season 2) or the actual car (Sunset Season).
Following its debut in the R&D event, the GT by CITROEN was made available for purchase between December 9-13 2016, for

 14,150.
Research & Development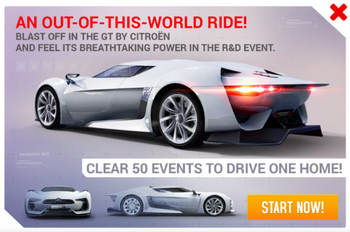 Main article: Research & Development/GT by CITROEN
The GT by CITROEN's Research & Development event was held on October 25, 2016, as the 15th R&D event in the game, after the Icona Vulcano V12 Hybrid's Enduro Double Down event.  It was revived as the 62nd R&D event on February 22, 2019, as part of the Fast Lane Update's Asphalt Moments Series, with a prerequisite of VIP Level 4. It has a total of 50 Tests spanning 4 Labs that must be cleared in 14 days once the event is started.
See also

Vehicles in Asphalt 8: Airborne
Community content is available under
CC-BY-SA
unless otherwise noted.