Asphalt 9: Legends
.
Overview
Grand Prix is a Time Limited Event that features one featured car that can be obtained from the event. The event consists of 20 players competing against each other in running the fastest times for the top rewards. There are a total of 3 - 7 stages with the final top 10 reaching the final round. This event does not contain any entry consumbles to enter the events besides the car's fuel system.
Stages
Qualification Rounds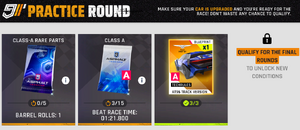 Practice
- The Practice round is the 1st stage in the Qualification Rounds. Players can practice their runs and improve their time without any limit. Rewards can also be earned by finishing the race, completing goals, or beating a certain time. Qualifying for the final round will unlock new conditions to beat to earn more rewards. The same track/variant used in the Practice round will also be used in the qualifiers. 
Qualifiers - The qualifiers round is the 2nd stage in the Qualification Rounds. Players will get a maximum of 3 attempts to place their fastest time in order to advance to the next qualifier (originally top 10 players, later top 20 of 50 players). If the player fail to make Top 20 on the Leaderboard, the player will have more chances to do so in qualifiers 2 and 3, and if the player were still not able to make Top 20, the player will be given a limited time chance to pay an entry fee with 

 Tokens to gain access to the final round. If the player successfully qualify in a Qualifier, playing further Qualifiers are not necessary.
Final Round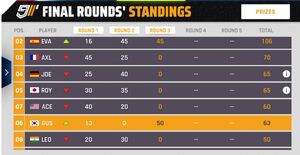 All players who successfully advanced into the final round will be put into groups of 20. Rewards will be given based on position finished when the Grand Prix is over. Top players will each receive a Car Key as well as exclusive decals for the featured event car; originally this was for the Top 3, but to discourage sandbagging, the Cayman GT4 Clubsport event introduced tiers where prize lists differ by the player's tier, determined by practice time performance (which also determines the qualifying matching).
Ghost 
Ghost is a feature in which a ghost of another player will appear while you are racing. If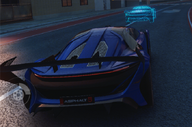 you haven't made an attempt, the ghost will use a player's time you need to beat to qualify. If you have qualified, the ghost will use a players time who is above you on the leaderboard. If you are Top 1, you will race your own ghost.
Events
Community content is available under
CC-BY-SA
unless otherwise noted.