The Holiday Update, also known as the Transylvania Update, is the 30th update for Asphalt 8: Airborne.
Announcement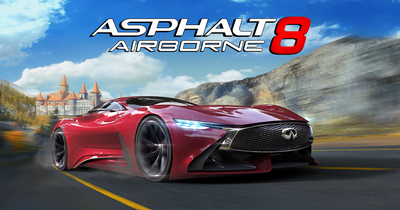 Celebrate the holiday season by unwrapping this new update to Asphalt 8, filled with a new environment, fresh events, and enough new rides to bring holiday cheer to racers everywhere!
**What's New**
SNOWFLURRY FESTIVAL
Welcome to the new Snowflurry Festival event! We're introducing a lot of all-new, all-fun activities and quests for you to complete everywhere in the game -- and of course, new prizes for the victors!
WELCOME TO TRANSYLVANIA
We're dedicated to delivering the best new racetracks we can, so get ready to brave the risky mountain roads and gorgeous medieval landscapes of Transylvania!
NISSAN 370Z SPECIAL EDITION
This classic Nissan race car is returning to the game -- this time with improved stats and a stylish new look! Catch this sweet new ride once it appears in the upcoming R&D Event.
WINTER HOLIDAY R&D
The Lamborghini Centenario -- the famous 770 HP, fully carbon hypercar -- is speeding into Asphalt 8 this winter! Check out our exclusive Winter R&D Event to add this car to your Lamborghini collection!
NEW MOTORCYCLE
Ride the Lightning LS-218. This superb motorcycle will arrive in the game with its own special event shortly. Check the game often for details!
THE HOLIDAYS ARE HERE!
The winter spirit -- and winter decorations -- are back to make the game even cooler. We couldn't be happier to celebrate the holidays with you!
DIRECTIONAL STEERING
Handle your vehicle with unmatched precision using a brand-new Directional Steering control scheme.
New Vehicles
Class C
Class B
Class A
Class S
The new vehicles will need the following engine cards:
V6 Engine

Nissan 370Z Special Edition (x36)

V8 Engine

V-Twin Engine

V12 Engine

Lamborghini Murciélago LP 640 (x28)

i6 Engine

TVR Sagaris Special Edition (x56)

Legendary Electric Engine

V12 MPI Engine

Lamborghini Centenario LP 770-4 (x60)
Game Changes
Gameplay Changes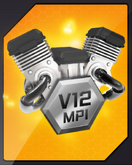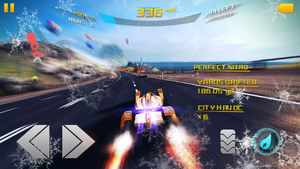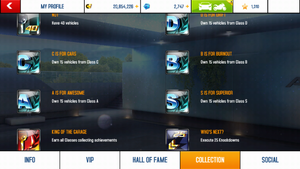 New track: Transylvania.
New engine type:

V12 MPI Engine

(Legendary rarity).

"MPI" stands for "multi-point injection", a type of fuel injection used in car engines.

Directional Steering is now available as a control scheme.
The handling of the Kawasaki Ninja H2R has been improved.
The tune-up time for the Hyundai i30 N has been reduced to 1 hour 20 minutes (from 2 hours 0 minutes).
The points rewards for ticketed multiplayer races have been substantially reduced in variety, frequency, and overall value.
The achievements D is for Drift, C is for Cars, B is for Burnout, A is for Awesome, S is for Superior, and King of the Garage can now be achieved by owning any 15 vehicles per class rather than by owning the original vehicles.

This change was likely done due to the Scion FR-S and both RUFs being no longer available for purchase due to licensing-related reasons.

Champion Kit Box now guarantees one

V8 Engine

card.
Optimal Split Boxes and Optimal Shuffle Boxes are now opened on the spot, rather than having to be opened in the inventory.
After December 26 2018, Exclusive Deals has offers that give more cards.

Most of these deals were made to be purchasable with Tokens only.
The number of deals was also reduced from 8 to 6.

The screen corresponding to Get Blueprints in incomplete Blueprint vehicles was updated, and a mechanic was introduced where certain Blueprints no longer drop from any Pro Kit Boxes or are offered in Exclusive Deals, as of December 26, 2018, along with the changes to EDs:
The Asphalt 8: Airborne-based mini-game that can be played while downloading an Update now ends when the player's car crosses the Finish Line, regardless of the amount of Credits collected. Previously, the race would only end once all Credits were collected, either on the track or by knocking down the AI opponents who had already collected the Credits.
Cosmetic Changes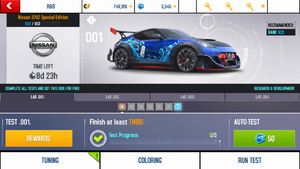 Out of bounds messages removed.

The warnings displayed when the player went off the track ("Stay on the road to win the race!", "Your ride is not a submarine!") no longer show up.

New app icon of the Lamborghini Centenario LP 770-4.

This icon has a bright silver reflective background as opposed to the white background with small road pieces used by many other icons for the game.

Iceland, Tokyo, and the Alps are decorated with Christmas scenery objects once again until January 2019.
In-game advertising of Asphalt 9: Legends was re-enabled from December 13, 2018, although the extra pre-race cinematics are no longer present.
The Lamborghini Centenario LP 770-4 R&D has a new Winter theme.
In the main screen for R&D events, an informational button repeating the introductory slides is now added, just like with the other Special Event types.
The Lamborghini Aventador LP 700-4 was renamed to Lamborghini Aventador Coupé in the v4.0.1 update. However, not all platforms saw this change.

This is likely due to Lamborghini dropping the "LP A-B" naming convention with cars after the Centenario LP 770-4.
Exclusive Vehicles
Note: The availability of the vehicles will vary for each player
Events
Bugs / Glitches
The following glitches still persist from the 2018 Spring Update:

Delayed loading (Android, partially fixed)
Gameplay lag (Android)
Aggressive AI after restarting races
No loading screen when replaying/restarting races (re-enabled yet again when online)

The following glitches still persist from the Halloween Update:
Loading screen music: When a Transylvania track is loaded, in-game race music begins to prematurely play before loading has finished.
Optimal split/shuffle box: When a player gets one of these boxes from daily ads and has a full inventory, a message of failed synchronization appears. The boxes are still rewarded and appear in the inventory though. The issue was resolved after update 4.0.1.
No Festival Coins in Tokyo and Transylvania: Races do not have any Festival coins to get and the coin counter does not appear.
Transylvania respawn glitch: Should the player wreck at the fence near the castle and successfully go out of the track in King's Highway, the player will respawn inside the castle, allowing for a shorter lap time.

No keeping Quality Check interface

: If the main goal of an R&D test is failed on a subsequent attempt, the game will not give the player the option of paying tokens to save quality checks.
Fixes
The following glitch(es) have been fixed:

No Hyundai i30 N Elite performance degradation
Gameplay lag (Windows)
Infected Maserati MC12 to Maserati Alfieri
R&D Quality Checks counter
Missing VIP bonuses during offline races
Missing title bar name on Windows
No stunt meter on motorcycles in a replayed offline race
Trailers
Post-Update Screen
v4.0.2
Released on January 30, 2019, this update adds the TVR Sagaris Special Edition and its Research & Development event.
Announcement
LUNAR NEW YEAR R&D
Happy Lunar New Year! To celebrate, we're giving you a special "Year of the Pig Edition" of one of the top B-Class cars! Stay tuned!
Trivia
This update has the following firsts:
This update and the Santa's Gift Update are the only updates of Asphalt 8: Airborne where more than one Lamborghini car was added.

Coincidentally, both updates were released in the month of December, in 2015 and 2018, respectively.
While the 2016 Lunar New Year Update added two Lamborghini cars, said update does not count as such due to one of them being postponed to the subsequent update.

This update continues the Fifth Anniversary Update's trends of adding a vehicle whose debut was in Asphalt 9: Legends into Asphalt 8: Airborne, as well as releasing a bike which was postponed indefinitely due to licensing-related reasons.
This update has the highest number of relaunched events, with 9, all of them being part of the Asphalt Moments series.

This update continues the tradition of being an update which has a higher percentage of relaunched events over new events (56% / 44%), following the Halloween Update.

With the Lamborghini Centenario LP 770-4's appearance on the Transylvania Update app icon, Lamborghini is the manufacturer featured in the most Asphalt 8: Airborne app icons to date, with six of them (one featuring the Lamborghini Veneno, two featuring the Lamborghini Aventador LP 700-4, and another two featuring the Lamborghini Egoista).
This update is the last update to include free upgrades as rewards in R&Ds.