The Hot Wheels Rip Rod™ (also known as simply Rip Rod™) is a stunt buggy designed by Fraser Campbell for Hot Wheels, who later collaborated with Ford to create the full-sized version.
Description
Is it a buggy? It is a hot rod? It doesn't matter what you call the Rip Rod because this diminutive Hot Wheels ride is ready to shake things up on any surface. This beast is equipped with a souped-up three-cylinder motor that makes better than 100 hp.
While that might not seem like much, in this rod, it is more than enough to thrill (or spill depending on your skills behind the wheel). One look at the suspension tells you this tricked out custom is ready for any terrain. This is a super lightweight tube chassis pro-built machine and it's all Hot Wheels. In short, the Rip Rod really rips.[1]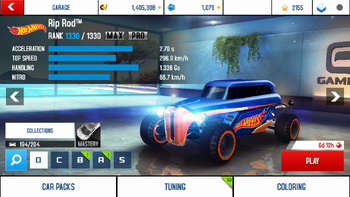 Summary
The Hot Wheels Rip Rod was added in the Hot Wheels Update as a mid Class D car with the following statistics:
Starting rank: 804

This was changed to 988 in the Showdown Update.

MAX rank: 1134 (+330)

This was changed to 1183 (+?) in the Showdown Update.

MAX+PRO rank: 1330 (+196)

This was changed to 1317 (+134) in the Showdown Update.

Tuning Kit bonus: +66

This was changed to +50 in the Showdown Update.

Stock-to-MAX+PRO rank difference: 526

This was changed to 329 in the Showdown Update.

Speed Multiplier: 95.75% (removed in the Showdown Update)
Performance
The Rip Rod is featured with a speed multipler of 95.75%, just like the nanoFlowcell QUANTINO in the same class. It has a real total speed of 224.5 mph/361.5 km/h.[2] It features quick acceleration, but is otherwise slower than the Ariel Atom V8 and Donkervoort D8 GTO. It also features good handling and drifting, but above average raw top speed.
Usage
Like the other two Hot Wheels cars, the lack of a Season 9 race and Mastery for the Rip Rod makes it nothing more than a collector's item.
Price
Outside of its Championship event, the Rip Rod was only available between March 15-27, 2018 at

 2,100 and in late April 2018 as a Car Pack bundle.
As of the 2019 Spring Update, upgrades cost

 526,000 while Pro Kits require

 175,200, 25 of each Class D Part, 30 Early & Initial Techs each, and 20 Hot Wheels Engines.
Main article: Championship/Hot Wheels Rip Rod™
The Rip Rod's Championship was released as the 13th event as part of the Hot Wheels Update on December 14, 2017. Players are given 10 days to complete the event.
See Also
References

Vehicles in Asphalt 8: Airborne