Line 7:
Line 7:
 

|prev = [[Munich Update]] (v3.3.0)

 

|prev = [[Munich Update]] (v3.3.0)

 

|next = [[Fall Out Boy Update]] (v3.5.0)

 

|next = [[Fall Out Boy Update]] (v3.5.0)

 
⚫

The '''Hot Wheels Update''', also known as the '''2018 Winter Update''', is the 24th update for [[Asphalt 8: Airborne]]. It adds [[wikipedia:Hot Wheels|Hot Wheels]] vehicles to the game. The update was first shown on Gameloft's YouTube channel with a [https://www.youtube.com/watch?v=uUtbd_2xtE8&ab_channel=Gameloft livestream] on December 6, 2017. The update was launched on December 13, 2017 on all platforms.

−

}}

 
⚫

The '''Hot Wheels Update''', also known as the '''2018 Winter Update''', is the 24th update for [[Asphalt 8: Airborne]]. It adds [[wikipedia:Hot Wheels|Hot Wheels]] vehicles to the game. The update was first shown on Gameloft's YouTube channel with a [https://www.youtube.com/watch?v=uUtbd_2xtE8&ab_channel=Gameloft livestream] on December 6, 2017. The update was launched on December 13, 2017 on all platforms.

 
 
 
 

== Announcement ==

 

== Announcement ==

Line 32:
Line 31:
 

*[[Hot Wheels Twin Mill™]] (Championship)

 

*[[Hot Wheels Twin Mill™]] (Championship)

 

;'''Class A'''

 

;'''Class A'''

−

*[[BMW S 1000 RR]] ([[Research & Development|R&D]], [[Blueprints|BP]] bike)

+

*[[BMW S 1000 RR]] ([[Research & Development|R&D]], [[Blueprints|BP]] bike)

 

;'''Class S'''

 

;'''Class S'''

 

*[[Pagani Huayra BC]] (R&D, BP car)

 

*[[Pagani Huayra BC]] (R&D, BP car)

 

; '''The new vehicles will need the following engine cards: '''

 

; '''The new vehicles will need the following engine cards: '''

 

*<span style="color:purple;">'''Hot Wheels Engine'''</span>

 

*<span style="color:purple;">'''Hot Wheels Engine'''</span>

 
+
 

**Hot Wheels Rip Rod™ (x12)

 

**Hot Wheels Rip Rod™ (x12)

 

**Hot Wheels Bone Shaker™ (x16)

 

**Hot Wheels Bone Shaker™ (x16)

Line 42:
Line 42:
 
 
 

*<span style="color:purple;">'''Electric Engine'''</span>

 

*<span style="color:purple;">'''Electric Engine'''</span>

 
+
 

**Renault Trezor (x8)

 

**Renault Trezor (x8)

 
 
 

*<span style="color:purple;">'''Forced Four-Stroke Engine'''</span>

 

*<span style="color:purple;">'''Forced Four-Stroke Engine'''</span>

 
+
 

**BMW S 1000 RR (x8)

 

**BMW S 1000 RR (x8)

 
 
 

*<span style="color:yellow;">'''V12 Engine'''</span>

 

*<span style="color:yellow;">'''V12 Engine'''</span>

 
+
 

**Pagani Huayra BC (x28)

 

**Pagani Huayra BC (x28)

 
 
Line 57:
Line 60:
 

* The [[Scion FR-S]]' Season 4 Gate Drift is now replaced by the [[Porsche 718 Boxster S]].

 

* The [[Scion FR-S]]' Season 4 Gate Drift is now replaced by the [[Porsche 718 Boxster S]].

 

** The same car also replaced the FR-S in the Classic event in Season 9 of Career mode set in Dubai Reverse.

 

** The same car also replaced the FR-S in the Classic event in Season 9 of Career mode set in Dubai Reverse.

 
+

*** As of [[2018 Summer Update]], the Season 9 duplicate race for the Porsche 718 Boxster S, set in Dubai Reverse, has been removed.

 

** Its Mastery challenges, however, remain for those who have owned it.

 

** Its Mastery challenges, however, remain for those who have owned it.

 

* The Motorcycle stunt camera can now be toggled on/off in the options menu

 

* The Motorcycle stunt camera can now be toggled on/off in the options menu

Line 80:
Line 84:
 

|-

 

|-

 

| style="text-align:center;"|[[Renault DeZir]]

 

| style="text-align:center;"|[[Renault DeZir]]

−

| style="text-align:center;" |{{A8Credits|26,000}}<br/>{{A8Tokens|200}}

+

| style="text-align:center;" |{{A8Credits|26,000}}<br/>{{A8Tokens|200}}

−

| style="text-align:center;" |{{A8Tokens|180}}<br/>{{Tokens|375}}

+

| style="text-align:center;" |{{A8Tokens|180}}<br/>{{Tokens|375}}

 

|-

 

|-

 

| style="text-align:center;"|[[BMW M3 Sedan]]

 

| style="text-align:center;"|[[BMW M3 Sedan]]

Line 185:
Line 189:
 

| style="text-align:center;"|[[Ferrari GTC4Lusso]]

 

| style="text-align:center;"|[[Ferrari GTC4Lusso]]

 

| style="text-align:center;"|{{A8Tokens|3,400}}

 

| style="text-align:center;"|{{A8Tokens|3,400}}

−

| style="text-align:center;" |{{A8CreditsTokens|1,000,000|6,425}}<br/>{{A8CreditsTokens|765,000|4,325}}

+

| style="text-align:center;" |{{A8CreditsTokens|1,000,000|6,425}}<br/>{{A8CreditsTokens|765,000|4,325}}

 

|-

 

|-

 

| style="text-align:center;"|[[Mercedes-AMG GT3]]

 

| style="text-align:center;"|[[Mercedes-AMG GT3]]

Line 192:
Line 196:
 

{{A8Tokens|6,700}}

 

{{A8Tokens|6,700}}

 

| style="text-align:center;" |{{A8Tokens|3,400}}

 

| style="text-align:center;" |{{A8Tokens|3,400}}

−
 
 

{{A8Tokens|4,650}}

 

{{A8Tokens|4,650}}

 

|-

 

|-
---
Revision as of 01:54, 16 June 2018
The Hot Wheels Update, also known as the 2018 Winter Update, is the 24th update for Asphalt 8: Airborne. It adds Hot Wheels vehicles to the game. The update was first shown on Gameloft's YouTube channel with a livestream on December 6, 2017. The update was launched on December 13, 2017 on all platforms.
Announcement
HOT WHEELS™ IS NOW IN ASPHALT 8!
Tear up the track with Hot Wheels™ originals - Bone Shaker™, Twin Mill™, and Rip Rod™! Try to win them in the upcoming Championships!
FERRARI 612 SCAGLIETTI CHRISTMAS CUP!
'Tis the season to enjoy racing gifts! Participate in the CHRISTMAS CUP (December 21-27) EVERY DAY to obtain a Ferrari 612 Scaglietti!
ALL-NEW RIDES
A hot selection of sleek new rides will be released in the coming events! Featuring the Renault Trezor, the Pagani Huayra BC, and more.
New Vehicles
Class D
Class C
Class B
Class A
Class S
The new vehicles will need the following engine cards:
Hot Wheels Rip Rod™ (x12)
Hot Wheels Bone Shaker™ (x16)
Hot Wheels Twin Mill™ (x20)
Forced Four-Stroke Engine
Game Changes
Gameplay Changes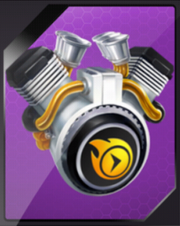 New engine type: Hot Wheels Engine (Rare rarity)

The card is based on the Serial Racing Engine's design but with the Hot Wheels logo in place of a checkered flag.

The Scion FR-S' Season 4 Gate Drift is now replaced by the Porsche 718 Boxster S.

The same car also replaced the FR-S in the Classic event in Season 9 of Career mode set in Dubai Reverse.

As of 2018 Summer Update, the Season 9 duplicate race for the Porsche 718 Boxster S, set in Dubai Reverse, has been removed.

Its Mastery challenges, however, remain for those who have owned it.

The Motorcycle stunt camera can now be toggled on/off in the options menu
The Fusion System no longer forces the player to claim a fusion box; cards can be indefinitely fused

The maximum fusion points that can be reached without claiming a box is now 1,000,000 points (worth approximately 200 Starter Boxes, 80 Extra Boxes, or 45 Ultra Boxes)

The game will now run at 60 FPS on the iPhone X
Multiplayer Levels have been extended to Level 99.
Munich Subway tracks are now available in Exclusive Metal Events
The CPU car choices in Time-limited Events become randomized every time the player restarts a race.
Restoration time for R&D Proto Keys is reverted back to three hours.
One color (red/blue rider overalls) was removed from Kawasaki Z800.
The following cars were credits-purchasable for a limited time:
New vehicle prices for iOS & Android on 19.01.2018: [1]
Model
Original Price(s)
New Price(s)
Renault DeZir
 

26,000


 

200

 

180


 

375

BMW M3 Sedan
 

1,300

 

1,200

NanoFlowcell QUANTINO
 

1,400

 

1,325

Mitsubishi Lancer Evolution X
 

1,825

 

1,425

Mazda RX-8
 

2,100

 

325,000

 or  

1,850

Donkervoort D8 GTO
 

2,400

 

2,375

Buick Avista Concept
 

2,400

 

425,000

 or  

2,400

Range Rover Evoque Coupe HSE Dynamic
 

1,100

 

525

Acura NSX 2005
 

100,000

 

90,000

 or  

750

SRT 2013 Dodge Challenger SRT8
 

1,300

 

1,100

Jaguar F-Type R
 

1,625

 

1,425

Volkswagen Golf Design Vision GTI
 

2,300

 

2,275

Mitsubishi Eclipse
 

2,400

 

395,000

 or  

2,300

Lotus Evora Enduro GT
 

630

 

625

Bentley Continental GT V8
 

1,100

 

750

Aston Martin V12 Zagato
 

75,000

 

950

Mazda Furai
 

1,625

 

1,250

Ferrari 458 Italia
 

1,825

 

1,475

Lamborghini Gallardo LP 560-4 2013
 

2,200

 

1,625

Audi R8 LMS Ultra
 

2,400

 

1,950

Spada Codatronca TSS
 

230,000

 

235,000

Ford Shelby GT500
 

2,000

 

2,150

Mercedes-Benz CLK GTR AMG
 

375,000

 

210,000

Chevrolet SS
 

400,000

 or  

3,500

 

425,000

 or  

?

TVR Sagaris
 

1,500,000

 or  

6,500

 

930,000

 or  

?

Lamborghini Estoque
 

6,600

 

4,175

Ferrari GTC4Lusso
 

3,400

 

1,000,000

 or  

6,425


 

765,000

 or  

4,325

Mercedes-AMG GT3
 

1,000,000

or  

6,425

 6,700

 

3,400

 4,650

2010 Bentley Continental Supersports
 

1,100,000

 or  

6,525

 

975,000

 or  

4,925

Cadillac CTS-V Coupe Race Car
 

720

 

725

Ferrari F430
 

720

 

950

Mercedes-Benz SLS AMG GT Coupé Final Edition
 

1,300

 

110,000

McLaren 12C Spider
 

100,000

 

1,100

Lamborghini Sesto Elemento
 

1,625

 

1,350

Ferrari FF
 

250,000

 

160,000

Jaguar C-X75
 

2,400

 

1,850

Ferrari LaFerrari
 

2,925

 

235,000

 or  

1,975

Mazzanti Evantra
 

350,000

 or  

?

 

250,000

 or  

?

Savage Rivale GTR
 

3,500

 

2,950

Nissan GT-R NISMO
 

450,000

 

375,000

Volkswagen W12
 

550,000

 or  

?

 

475,000

 or  

3,450

Tramontana XTR
 

650,000

 

525,000

Lamborghini Aventador LP 700-4
 

5,000

 

4,750

McLaren 675LT
 

6,500

 

4,850

Mosler GT3
 

6,700

 

985,000

 or  

5,325

Chevrolet 2016 Camaro SS
 

7,000

 

5,750

Jaguar XJ220S
 

7,600

 

1,275,000

 or  

5,975

Pagani Huayra
 

1,300

 

1,275

NanoFlowcell QUANT FE
 

900,000

 or  

4,800

 

950,000

 or  

?

Chrysler ME412
 

1,100,000

 

1,250,000

SSC Ultimate Aero XT
 

6,750

 

6,475

HTT Pléthore LC 750
 

8,900

 

8,975

Renault Sport R.S. 01
 

1,950,000

 or  

9,900

 

1,950,000

 or  

9,925

Mosler Land Shark
 

2,250,000

 or  

17,825

 

2,250,000

 or  

10,975

TRION NEMESIS
 

4,000,000

 or  

14,000

 

3,275,000

 or  

13,975

Devel Sixteen Prototype
 

14,500

 

4,950,000

 or  

14,500
Tilt Jumps and Barrel Rolls in One Jump now appear as sub-goals. They are introduced for the BMW S 1000 RR's Research & Development event (Lab 002 Test 017) and Hot Wheels Twin Mill™'s Championship event (Rio de Janerio, Qualifier 3, as third sub-goal), respectively.
Cosmetic Changes
New app icon of a Hot Wheels Twin Mill™
The color on the Ferrari F50's Blueprint card has been changed to Ferrari red from the original Turquoise blue

The advertisement for the Starlight Multiplayer season also has the new color

Exclusive Deals now has the captions "Cards to assemble now", "Complete Vehicle" and "Great Deal!"
Munich Subway's arrow signs now have increased visibility

Munich Subway's trains are now in a blue & white color

Sector 8 has been cosmetically redesigned to resemble a Hot Wheels track

This change only applies to the Hot Wheels Championships

Alps, Iceland and Tokyo are decorated with Christmas gifts (which count towards City Havoc) and other festive decorations until January 12th, 2018.
The engine sound for the KTM 1290 Super Duke R is now reduced in volume.
Close button of pop-up ads promoting in-game items are now smaller

The Back (<) button at top-left corner (when present) is also reduced in size
Events
Bugs / Glitches
No Hot Wheels Events: Despite having a Mastery icon in the garage, the Hot Wheels cars do not have Car Mastery or Season 9 events.
No Blueprints from 14 Day Login Giveaway: Numerous players have reported that they have not received Blueprint boxes from the 14 day BMW M2 giveaway.

A possible solution is to wait at the main menu for the game to synchronize with the server

60 FPS time advantage: For iPhone X users, the increased frame rate means that faster lap times can be achieved even if there are no changes in the player's driving style. This was fixed in an update on December 18, 2017.
Free McLaren P1™ GTR: For a few minutes on December 27, 2017, many players were able to purchase a McLaren P1™ GTR for  

0

shortly after the start of its limited-time discount period (December 27-30, 2017); players who did not encounter this bug saw a discounted price of  

2,400,000

. The discounted price for the P1™ GTR was thereafter corrected to  

2,700,000

for all players.
Motorcycles knockdown glitch: Should the player knock down a motorcycle AI with a bike on the rear wheel without the nitro triggered, the knockdown counter keeps increasing for a period of time. This glitch was fixed in the Fall Out Boy Update.

Video showing the knockdown glitch on motorcycles
The following bugs/glitches have been fixed:
No "Synchronizing Data / Synchronization Complete" in R&D
Card Box Glitch-Some players may receive card boxes they did or did not purchase. This occurred when purchasing an upgrade with Tokens, then restarting Asphalt 8. It is unknown why this glitch worked
Game crashes on Android
Post-Update Screen
Trailer
Trivia
This update marks the firsts of the following:

The first to add toy-based vehicles.
The first since the Porsche Update not to show the entire lineup of new special events on the post-update screens.
The first since the Motorcycles Update to add vehicles which are not blueprint-buildable.
The first since the Car Blueprints Update to add vehicles whose special events do not give blueprints for building them. In this case, Hot Wheels cars & Renault Trezor are awarded only after completing all Grand Finale races of their Championships.
The first since the Daily Bonus Update to add a Pagani car.
The first since the Championship Update to add a BMW vehicle.

This now makes BMW as the first manufacturer in the game to contain both cars and motorcycles.

The first and only update in 2017 to add a new electric car.
The first since the Lunar New Year 2017 Update to have a car postponed from its previous update.
The first since the Multiplayer League Update to add an electric vehicle.

This update marks the final update of 2017.
This is the second since the Motorcycles Update to neither have any new Enduro Double Down events nor any Elite Vehicles.
This is the second update to add fictional vehicles based on a different type of entertainment, namely toy-based vehicles produced by Hot Wheels. The first was the preceding Munich Update which added a film-based (Despicable Me 3) fictional vehicle produced by Universal Pictures.
This is the second update since the Lunar New Year 2017 update to add a Renault car.
Players have reported obtaining Blueprints for the Yamaha FZ-10 and BMW M2 Special Edition. As these were not announced by Gameloft, it is likely both were still undergoing testing and meant for a future update.
References
↑

This is not an exhaustive list and the prices can vary from what is listed
Community content is available under
CC-BY-SA
unless otherwise noted.