The Hyundai i30 N (PD) is a four-door sport hatchback.
Summary
Although its data was added into the game in the Fifth Anniversary Update, the Hyundai i30 N was only released during the Halloween Update as a high-end Class D Elite Car with the following rank statistics:
Starting rank: 890
MAX rank: 1194 (+304)
MAX+PRO rank: 1370 (+176)
0808 Elite Tuning rank: 1378 (+8)
Tuning Kit bonus: +60
Stock to MAX+PRO rank difference: 480
Upgrade rank percentages: 15/25/15/45
Nitro Efficiency: 7/11/14
Performance
The Hyundai i30 N has a maximum total speed of 236.3 mph/380.5 km/h at MAX+PRO with Tuning Kit and 0808 Elite Tuning, making it the fastest Class D car in terms of total speed, beating long-time record holder Mazda RX-8 (with 234.9 mph/378.2 km/h) and excluding the deleted Despicable Me "Villain Wheels".
The Hyundai i30 N's slower acceleration might make it slower than the RX-8, but the Halloween Update nerfed the RX-8's acceleration, thus allowing the i30 N to dominate over it on almost every track, especially Tokyo.
Usage (Multiplayer)
The i30 N's moderate acceleration, coupled with its restrictive usability as an Elite Car, makes it unsuitable for Multiplayer races compared to the Donkervoort D8 GTO, Porsche 959, or Ariel Atom V8.
Price
The Hyundai i30 N is only obtainable from its R&D event. The Hyundai i30 N has a hidden purchase price of

 11,000​​​​​​, the highest of any Class D car. Upgrades cost
 1,105,960 or 

 6,695 while Pro Kits require
 549,350​​​​​​, 13 of each Class D Part, 48 i4 Engines and 22 Early & Initial Techs each.
Tune-ups cost
 1,500​​​​​ and take 1h 20 min to finish.
Research & Development
Main article: Research & Development/Hyundai i30 N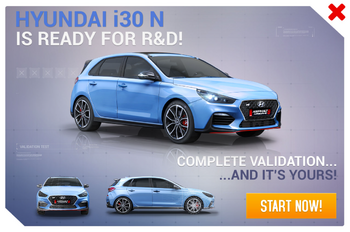 The Hyundai i30 N's R&D event was launched on October 25, 2018 after the Mercedes-Benz SLS AMG Coupé Black Series's R&D. Players are given 4 days to participate and 7 days to complete the event with 50 Tests spanning 4 Labs.