The Kawasaki Z800 was a four-cylinder standard motorcycle made by Kawasaki from 2013 through 2016, and was replaced by the Z900 for 2017.
Description
Text originally from Topspeed.com
The motorcycle's centerpiece is an 806 cm3 liquid-cooled, 4-stroke, in-line four engine that offers increased performance at all RPM. The engine is paired with a six-speed transmission and delivers a maximum output of 113 PS at 10,200 rpm and 83.0 N.m of torque at 8,000 rpm.
The ride quality is kept in check by a 41 mm inverted fork and a Piggyback-reservoir-equipped rear shock. As far as brakes are concerned, you get front semi-floating 310 mm petal discs and a rear single 250 mm petal disc.
Asphalt 8: Airborne
Summary
The Kawasaki Z800 was added in the Munich Update as a low Class D motorcycle with the following rank statistics:
Starting rank: 774
MAX rank: 1029 (+255)

This was changed to 1121 (+165) in the Showdown Update.

MAX+PRO rank: 1183 (+154)

This was changed to 1223 (+102) in the Showdown Update.

Tuning Kit bonus: +51

This was changed to +34 in the Showdown Update.

Stock to MAX+PRO rank difference: 409

This was changed to 267 in the Showdown Update

Nitro Efficiency: 6/10.5/15
Performance
The Kawasaki has great acceleration, handling and drifting. If compared to other motorcycles, it does not excel at anything in particular, and has a low top speed and average nitro efficiency.
Usage
The Kawasaki Z800 competes in the D1143 to D1232 rank bracket of the Classic Multiplayer Season at full-MAX, where it can compete decently well if the rider is proficient with motorcycles, especially with its Supercharge ability. However, as the that rank bracket is highly competitive and aggressive, with large hordes of Chevrolet Corvette C3 and Infiniti FX50s, the Z800 is undesirable. Despite its fast acceleration and fair total speed, the Z800 can easily be caught up and wrecked, as cars can wreck motorcycles with ease. As expected from a motorcycle, the Z800 is unstable, which can be a serious issue on tracks like Munich Subway. In a way, the Z800 can be considered to be a two-wheeled twist of a competitive car in this bracket; while possessing strong acceleration and Supercharge ability, it suffers from instability and ease of knockdowns inherent to motorcycles, compared to relevant vehicles in its rank bracket.
Price & Availability
The Kawasaki Z800 previously required 4 Common-rarity blueprints to be assembled however due to its Blueprint removal in the Showdown Update, it costs

 350 to purchase.
The Z800 was part of the 22nd and 29th Multiplayer Seasons, Earth Season 2 and Nightshade Season 3 respectively as an Amateur League reward with the bike awarded in its Blueprint form.
The Z800 originally had

-only upgrades when it was first released, however, the TOUs were changed to allow for payment with either

or

following strong negative feedback from many players over the "conversion" of several existing cars to

only upgrades.
As of the Fifteenth Anniversary Update, the Z800 has no longer

upgrades, but 10

levels instead, which cost total

 ??. Previously the upgrades costed

 206,000 while Pro Kits required

 68,000, 5 of each Class D Bike Part, 20 Common Tech and 4 Four-Stroke Engines.
Championship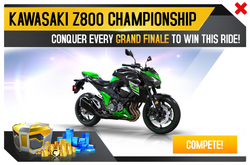 Main article: Kawasaki Z800 (Championship)
The Kawasaki Z800's Championship was released as the 8th Championship event after the Lamborghini Aventador LP 750-4 SV's revived EDD and as part of the Munich Update on October 24, 2017 (November 2, 2017 on Windows, along with the McLaren 650S GT3's R&D). Players are given 7 days to complete the event.

Vehicles in Asphalt 8: Airborne