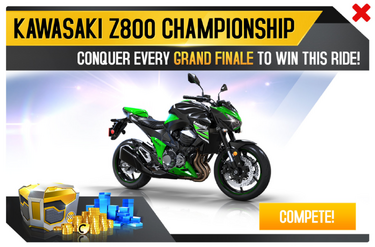 The Kawasaki Z800's Championship was released as the 8th Championship event after the Lamborghini Aventador LP 750-4 SV's EDD and as part of the Munich Update on October 24, 2017 (November 2, 2017 on Windows, along with McLaren 650S GT3's R&D). Players are given 7 days to complete the event.
The locations will unlock in the following schedule:
The number below the race number in brackets & bold indicate how many trophies each goal is worth.
Race
Rank
Track
Race Mode
Main Goal
Skip Cost
Second Goal
Third Goal
Skip Cost
Location 1 - Munich Subway
1/1
(2)
774
Mosaic Motorway
Time Attack
Beat 1:45
 

25

Perfect Nitro Triggered: 2
Drift Distance: 250 yd/m
 

15

1/2
774
Market Square
Time Attack
Beat 1:45
 

25

Stunts: 2
Quick Stunts: 2
 

15

1/3
783
TK
Rooftop Raceway
Grand Finale
Finish First
 

60

-
-
-
Location 2 - Azure Coast
2/1
787
Azure Coast Sprint 2 (Forwards)
Time Attack
Beat 1:02
 

45

Perfect Runs: 1
Perfect Nitro Triggered: 3
 

20

2/2
791
NS
Reverse
Elimination
Finish Position: 1
 

45

No Wrecks
Drift Distance: 200 yd/m
 

20

2/3
796
NSTK
Azure Coast Sprint 3 (Forwards)
Time Attack
Beat 0:52
 

50

Perfect Nitro Triggered: 3
No Wrecks
 

20

2/4
800
TK
Forwards
Grand Finale
Finish First
 

75

-
-
-
Location 3 - Tokyo
3/1
804
Tokyo Sprint 2 (Forwards)
Time Attack
Beat 1:08
 

50

Perfect Nitro Triggered: 3
Drift Distance: 200 yd/m
 

25

3/2
809
Tokyo Sprint 4 (Reverse)
Time Attack
Beat 1:07
 

50

Mid Stunts: 1
Flat Spins: 2
 

25

3/3
(3)
813
NSTK
Tokyo Sprint 3 (Forwards)
Time Attack
Beat 1:09
 

60

Perfect Runs: 1
Perfect Nitro Triggered: 3
 

25

3/4
821
Forwards
Grand Finale
Finish First
 

85

-
-
-
Location 4 - Venice
4/1
830
Venice Sprint 1 (Forwards)
Time Attack
Beat 1:00
 

65

Stunts: 2
Flat Spins: 2
 

30

4/2
838
TK
Venice Reverse
Elimination
Finish Position: 1
 

65

Perfect Nitro Triggered: 3
No Wrecks
 

30

4/3
847
NSTK
Venice Sprint 3 (Forwards)
Time Attack
Beat 0:55
 

65

Perfect Runs: 1
Quick Stunts: 2
 

30

4/4
855
Venice Sprint
Time Attack
Beat 1:02
 

70

Perfect Nitro Triggered: 3
Flat Spins: 2
 

35

4/5
864
TK
Forwards
Grand Finale
Finish First
 

95

-
-
-
Location 5 - Iceland
5/1
872
NS
Iceland Sprint 1 (Forwards)
Time Attack
Beat 1:11
 

75

Perfect Nitro Triggered: 3
Perfect Runs: 1
 

35

5/2
881
Iceland Sprint 5 (Reverse)
Time Attack
Beat 1:17
 

75

Drift Distance: 300 yd/m
No Wrecks
 

35

5/3
889
Iceland Sprint 2 (Forwards)
Time Attack
Beat 1:06
 

75

Wheelie Distance: 100 yd/m
Beat 1:04
 

35

5/4
902
NSTK
Iceland Sprint 6 (Reverse)
Time Attack
Beat 0:55
 

85

Perfect Runs: 1
Perfect Nitro Triggered: 3
 

40

5/5
914
TK
Reverse
Grand Finale
Finish First
 

110

-
-
-
Location 6 - Alps
6/1
927
Alps Sprint 6 (Reverse)
Time Attack
Beat 1:05
 

85

Mid Stunts: 1
No Wrecks
 

40

6/2
936
NSTK
Alps Sprint 1 (Forwards)
Time Attack
Beat 0:51
 

85

Apex Stunts: 1
Beat 0:50
 

40

6/3
(4)
944
NS
Alps Reverse
Elimination
Finish Position: 1
 

85

Flat Spins in One Jump: 2
Perfect Stunts: 2
 

40

6/4
953
Alps Sprint 2 (Forwards)
Time Attack
Beat 0:50
 

85

Perfect Nitro Triggered: 4
Quick Stunts: 2
 

40

6/5
961
NSTK
Alps Sprint 4 (Reverse)
Time Attack
Beat 0:40:5
 

95

Wheelie Distance: 100 yd/m
Beat 0:39:5
 

45

6/6
970
TK
Forwards
Grand Finale
Finish First
 

130

-
-
-
Location 7 - Barcelona
7/1
978
Barcelona Sprint 2 (Forwards)
Time Attack
Beat 1:00
 

95

Flat Spins in One Jump: 2
Beat 0:58
 

45

7/2
995
NSTK
Barcelona Sprint 1 (Forwards)
Time Attack
Beat 1:01:5
 

95

No Wrecks
Stunts: 3
 

45

7/3
1,012
Barcelona Sprint 6 (Reverse)
Time Attack
Beat 1:02
 

95

Apex Stunts: 1
Beat 1:00
 

45

7/4
(5)
1,029
Barcelona Sprint 3 (Forwards)
Time Attack
Beat 1:01
 

100

Drift Distance: 300 yd/m
Wheelie Distance: 150yd/m
 

45

7/5
1,036
NSTK
Barcelona Sprint 4 (Reverse)
Time Attack
Beat 1:02
 

100

Mid Stunts: 1
Perfect Stunts: 2
 

45

7/6
1,043
Reverse
Grand Finale
Finish First
 

160

-
-
-
Location 8 - London
8/1
1,050
London Sprint 1 (London)
Time Attack
Beat 0:57
 

100

Perfect Runs: 2
Perfect Nitro Triggered: 6
 

45

8/2
1,058
NSTK
London Sprint 5 (London Eye)
Time Attack
Beat 0:51
 

105

Beat 0:50
Beat 0:49
 

45

8/3
1,067
NS
Westminster Bridge
Elimination
Finish Postion: 1
 

105

Mid Stunts: 1
Wheelie Distance: 100yd/m
 

45

8/4
1,075
NSTK
London Sprint 3 (Westminster Bridge)
Time Attack
Beat 0:49:5
 

110

Beat 0:49
Beat 0:48:5
 

50

8/5
(6)
1,085
London Sprint 6 (London Eye)
Time Attack
Beat 0:50
 

110

Quick Stunts: 2
Perfect Stunts: 2
 

50

8/6
(7)
1,095
NSTK
London Sprint 2 (London)
Time Attack
Beat 0:59
 

120

Beat 0:58:5
Beat 0:58
 

50

8/7
1,106
TK
The London Eye
Grand Finale
Finish First
 

200

-
-
-
Rewards
Main article: Kawasaki Z800 (Championship)/Rewards
Quotes
Main article: Kawasaki Z800 (Championship)/Quotes