The Koenigsegg Regera (Swedish for "to reign" or "to rule") is a plug-in hybrid targa-top hypercar created by Swedish supercar manufacturer Koenigsegg and unveiled at the 2015 Geneva International Motor Show.
Description
Debuting at the 2015 Geneva International Motor Show, the Koenigsegg Regera is Koenigsegg's first hybrid car and a more practical/luxury hypercar compared to the rest of Koenigsegg's line-up, which includes the Koenigsegg One:1 and Agera RS.
The Regera produces a reported total of 1797 hp (1340 kW) and 1608 ft·lb (2180 N·m) through a hybrid powertrain. However, because the internal combustion engine (ICE) in the Regera has a fixed gear instead of a gearbox and therefore only delivers peak power at a very high speed while the electrical motors in the Regera deliver their peak power at a lower speed, the power peaks of the ICE and the electrical motors are spread out, or not simultaneous, leaving a maximum combined mechanical output of 1479 hp (1103 kW) and 1475 ft·lb (2000 N·m) of torque. The ICE is a mid-rear mounted, in-house developed, twin-turbocharged V8 engine with a 5.0 L (5,032 cc; 307.1 cu in) capacity. It produces 1100 hp (820 kW) at 7,800 rpm and 944 ft·lb (1280 N·m) of torque at 4,100 rpm. It works in conjunction with three YASA electric motors with a total capacity of 697 hp (520 kW) and 664 ft·lb (900 N·m) of torque. One 215 hp (160 kW) electric motor on the crankshaft supplies torque fill while acting as both a generator and a starter motor and two 241 hp (180 kW) wheel shaft mounted electric motors drive the rear wheels and provide torque vectoring. The electric motors are powered by a 4.5 kWh, 800V, 165 lb (75 kg) liquid cooled battery pack developed by Rimac Automobili, making it the first 800 volt production car. Koenigsegg claims that the battery pack is the most power-dense battery pack ever created for a production car.
Christian von Koenigsegg invented the Koenigsegg Direct Drive System (KDD) and it was developed for the Regera by the Koenigsegg Advanced Engineering Team. The KDD system effectively eliminates the need for a transmission and allows for a pure EV (electric vehicle) mode. The Regera doesn't have a traditional multi-gear transmission but instead features a single-speed fixed gear transmission, often called a direct drive, with a 2.73:1 reduction ratio, meaning the crankshaft mounted on the ICE will rotate 2.73 times for every 1 time that the output shaft of the direct drive mechanism will rotate. At speeds below 30 mph (48 km/h), mostly the wheel shaft electric motors propel the car through the use of a hydraulic coupling that lets the ICE and the crankshaft mounted electric motor slip. In reverse, only the wheel shaft electric motors propel the car. Above 30 mph (48 km/h), the rpm of the crankshaft mounted electric motor and internal combustion engine are proportional to wheel speed through locking of the hydraulic coupling.
However, in the first driving footage from the Regera through Koenigsegg's official YouTube channel, Christian von Koenigsegg described and demonstrated how the Regera features a steering wheel mounted paddle that simulates a traditional downshift by initiating slip of the hydraulic coupling connecting the crankshaft to the output shaft. This results in higher rpm of the ICE and the crankshaft mounted electric motor and therefore higher power at lower speeds than what would have been possible if the coupling would have been locked at all times. Koenigsegg reported that the omission of a gearbox and addition of electric motors and battery only added 194 lb (88 kg) compared to what the Regera would have weighed with the same combustion engine but a 7-speed dual-clutch transmission and no electric motors or batteries. The Regera has a weight of 3506 lb (1590 kg), resulting in a power-to-weight ratio of 930 hp (694 kW) per tonne or 2.37 lb (1.08 kg) per horsepower.[note 1]
The Regera also has an aero package that is available for purchase. This aero option adds carbon fiber canards to the front of the Regera's bumper and includes small wings that extend off the top of the rear fenders and angle back towards the active wing.
Asphalt 9: Legends
The Koenigsegg Regera appears as a high-end Class S car with the following rank statistics:
Performance
The Regera has the third-highest top speed of any car in the game (after the Koenigsegg Jesko and SSC Tuatara), at 273 mph (440 km/h). This comes at the cost of handling, drifting, and nitro efficiency; performance aspects that the Bugatti Chiron is superior in. However, if managed properly, it can be competitive in multiplayer and events.
Availability
After the King of the Fall Update, blueprints for the Regera can be obtained from the Legend Store or card packs if the player has a level 17 garage.
Special Event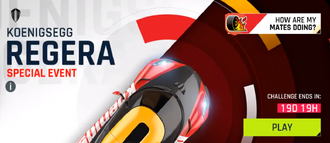 Main article: Koenigsegg Regera (Special Event)
Between February 1-22, 2019, a Koenigsegg Regera Special Event and Leaderboard were available with up to 124 Regera blueprints being obtainable, divided into 77 obtained on player's own and 47 from clubs.
In response to the criticism surrounding the Bugatti Chiron Special Event, several changes were made, including a Car Hunt segment for one of the involved cars, the Vencer Sarthe on the second day, as well as ability to watch advertisements to obtain Blueprints for the other involved car, Apollo N; blueprints for both can still be obtained by tokens. In addition, previous Unleashed cars, Acura NSX (2017), Porsche 918 Spyder, and Pagani Huayra BC were also involved; the Special Event had been preceded by Encores for the latter two and a Car Hunt for the NSX, as well as the leaderboard segment on the final day made free try. However, there were no Regera-specific blueprint packs available for purchase, meaning that completing the event is the only way to obtain Regera blueprints during the event. (Car-specific pack for special events would return for Lamborghini Veneno's event.) The club-based blueprints goal also attracted behavior from players called club hopping, where players would make arrangements to move to clubs that have completed club goals to claim the blueprints from there on the late days of the event; as a result, club goals were discontinued from Ferrari LaFerrari Aperta's special event, as well as introduction of condition requirements in later events beginning from the McLaren Senna event.
Between May 31 and June 7, 2019, Koenigsegg Regera specific packs were available in the shop.
Asphalt 8: Airborne
Summary
The Koenigsegg Regera won in the 2016 Community Car Poll alongside the Arrinera Hussarya GT, Aston Martin One-77, DC Avanti, Ferrari FXX K, Honda Civic Type R, Lamborghini Centenario LP 770-4, Lexus LFA, Saleen S5S Raptor, and W Motors Fenyr SuperSport.
The Regera was added in the Showdown Update, three years after its initial appearance in the 2016 Community Car Poll.
The Koenigsegg Regera is a high-end Class S car with the following statistics:
Starting rank: 1626
MAX rank: 1759 (+133)

This was changed to 1749 (+123) in the 2019 Halloween Update

MAX+PRO rank: 1862 (+103)

This was changed to 1862 (+113) in the 2019 Halloween Update.

Tuning Kit bonus: +67

This was changed to +56 in the 2019 Halloween Update.

Upgrade rank percentages: 4/43/4/49
Nitro Efficiency: 6/11/15
Performance & Usage
The Koenigsegg Regera has decent acceleration, high top speed, decent handling with mediocre drift radius, and decent nitro efficiency.
While the Regera has the top speed and nitro duration to rival the 2018 McLaren X2, McLaren 600LT, Lamborghini Centenario LP 770-4, McLaren Senna and Koenigsegg Jesko, it lacks the acceleration needed to be competitive in multiplayer.
As such, outside of an event that has the Regera as the top car, it is only a collector's item; its Season 9 race on Transylvania also makes it unsuitable for credits grinding.
Price
As of the 2020 Halloween Update, the Koenigsegg Regera can be purchased for

 4,000,000 which was previously only obtainable from its R&D event.
The Regera was available for limited time during the following dates:
Upgrades cost

 2,765,000 +

 10,000 while Pro Kits require

 1,375,200, 50 of each Class S Part, 92 V8 Engines and 160 Advanced Techs.
Research & Development
Main article: Koenigsegg Regera (Research & Development)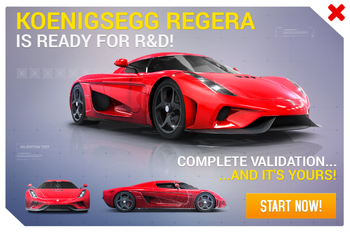 The Koenigsegg Regera's Research & Development event was launched on August 1, 2019 after the Maserati Alfieri's R&D revival. Players are given 4 days to start and 14 days to complete the event with 65 Tests spanning 4 Labs. It was revived on July 22, 2020 after the Zeus Twelve Sigma's R&D.
Notes
↑

Calculated with power of 1479 hp (1103 kW).

Vehicles in Asphalt 8: Airborne
Special Event

Event
Featured Vehicle
Other Featured Cars
Bugatti Chiron

Bugatti Chiron
Maserati Alfieri • McLaren 570S Spider
Koenigsegg Regera

Koenigsegg Regera
Apollo N • Vencer Sarthe
Lamborghini Huracán EVO Spyder

Lamborghini Huracán EVO Spyder
N/A
Lamborghini Terzo Millennio

Lamborghini Terzo Millennio
Lamborghini Aventador J
Ferrari LaFerrari Aperta

Ferrari LaFerrari Aperta
Porsche 911 Targa 4S • Mercedes-Benz SLR McLaren
McLaren Senna

McLaren Senna
Arrinera Hussarya • Aston Martin Vantage GT12
Zenvo TS1 GT 10th Anniversary Edition

Zenvo TS1 GT 10th Anniversary Edition
Artega Scalo Superelletra • Porsche 911 GT3 RS (991.2)
Pininfarina Battista

Pininfarina Battista
Aston Martin DBS Superleggera • Vanda Electrics Dendrobium
Lotus Evija

Lotus Evija
Honda Civic Type-R (FK8)
Porsche Carrera GT

Porsche Carrera GT
*Porsche 718 Cayman GT4 Clubsport • Porsche 911 GT1 Evolution • *Porsche 911 GT2 RS Clubsport
Lamborghini Veneno

Lamborghini Veneno
*Lamborghini SC18
Lamborghini Sián FKP 37

Lamborghini Sián FKP 37
*Lamborghini SC18 • Lamborghini Gallardo LP 560-4 2013
BXR Bailey Blade GT1

BXR Bailey Blade GT1
Chevrolet Corvette Stingray
SSC Tuatara (2020)
*Ford GT MK II • *Chevrolet Corvette C7.R
Aston Martin Valhalla
N/A
McLaren Speedtail

McLaren Speedtail
Bentley Mulliner Bacalar • *McLaren F1 LM
Ferrari F8 Tributo
Ferrari F40 • *Ferrari 599XX Evo
Ferrari SF90 Stradale
Ferrari F40 • *Ferrari 599XX Evo • *Ferrari 488 GTB Challenge Evo

* - Released in seperate events
Community content is available under
CC-BY-SA
unless otherwise noted.